Pandora has been lobbying Washington to cut the royalty rates it has to pay artists. Now, the Internet radio company is taking its argument to customers. In a blog post yesterday, Pandora founder Tim Westergren said the popular music service will place a limit of 40 hours a month on free U.S. listening via mobile devices, citing a rise in royalty costs.
Pandora users who hit the 40-hour cap will still be able to listen for free on computers, pay 99 cents for unlimited mobile listening the rest of the month, or pay $3.99 a month to subscribe to the company's unlimited, ad-free Pandora One product. Westergren called the move "a very unusual thing to do," but said "Pandora's per-track royalty rates have increased more than 25 percent over the last three years, including nine percent in 2013 alone and are scheduled to increase an additional 16 percent over the next two years." He noted that fewer than four percent of Pandora's total active monthly listeners will ever hit the limit.
The listening cap doesn't arrive in a vacuum, however. As Politico reports, Pandora is still in the midst of an "all-out" effort to cut the royalty rates it must pay artists. Westergren took his argument to conservative Heritage Foundation on Tuesday. And a spokesman for Rep. Jason Chaffettz (R-Utah) told Politico the congressman will soon reintroduce a modified version of last year's so-called Internet Radio Fairness Act. Although championed heavily by Pandora, the original bill stalled. A long list of artists, from Rihanna to Brian Wilson, voiced their opposition to the legislation; so did the American Association of Independent Music, which represents many leading indie labels.
At the same time, as The New York Times reported in January, the music industry's shift from a sales-based model toward streaming services such as Pandora, Spotify, and YouTube has stirred debate about how much less music-makers receive in royalties from streaming services. An iTunes download, for instance, might earn an average musician 7 to 10 cents in royalties. Based on Google data, Psy earned about 0.6 cents for each of his billion-plus YouTube views. Which isn't a lot unless your video is "Gangnam Style." A cellist named Zoe Keating said she received roughly 0.1 cents for each of 1.5 million plays her music got on Pandora in six months.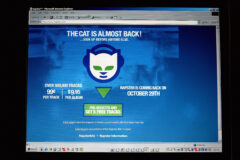 That said, there's no dispute streaming services are becoming a growing part of the industry. A report earlier found that the music industry's global revenue increased last year for the first time since 1999. Revenue from downloading and subscription-driven outlets rose nine percent to $5.6 billion, while the number of subscribers to streaming services grew by 44 percent to 20 million users.
Pandora, as a publicly traded company, has what's called a fiduciary duty to create value for shareholders. Musicians create the raw materials that Pandora streams, but the company came up with the service that gets the music to listeners, and legally, after an era of rampant illegal file-sharing. So the question remains how much of its revenues should go back to musicians and how much should go to the giant investment firms that hold the bulk of Pandora's stock.
As Westergren lobbies for royalty cuts on Capitol Hill, this mobile-listening cap has given him a chance to make his case to his own customers. It shouldn't be a surprise his blog post fails to mention that he's asking Washington to help lower his bills at musicians' expense.