SPIN Rating:
Release Date:
February 02, 2013
Label:
Self-released
I feel a little sorry for kids in their 20s now, for whom My Bloody Valentine's Loveless is a monument, a museum piece, one more item on the part of the syllabus sub-headed "Sonic Youth, Nirvana, and the Year Punk Broke." If you were young in the fall of 1991, all you knew about the record, or cared about, was that Loveless was the sound of a band breaking every last fucking thing inside you and shaking the shards to produce the most beautiful, unholy, ear-bleeding racket ever to score your puny narcissistic dreams.
So, yeah, kids, your elders might be a little sentimental about My Bloody Valentine.
The backstory is Behind the Music-ready: Band releases amazing debut album (1988's Isn't Anything); nearly bankrupts record label recording game-changing follow-up, which elevates them to media-darling status; band signs to a major and huge expectations for rumored third album lead to paralysis of impossible, cactus-like bandleader; nothing happens for years and years; band reunites in 2008 as elder statesmen to cause permanent hearing loss in younger generation of fans, reissues old material, is rumored to be working on new material; decades after their classic, third album finally appears, released on the Internet on a Saturday night.
And even that skips some Wikipedia-entry-level stuff about how when Kevin Shields announced in 2008 that Isn't Anything and Loveless were being remastered, I pre-ordered the reissues on Amazon. They came out four years later. So when Shields said last year that MBV's first record in 22 years would be out by the end of 2012, I went into full-on "won't get fooled again" mode. And I was right. But here we are in February 2013 and, yes, Virginia, there is a new My Bloody Valentine album.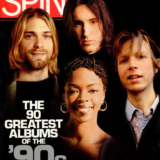 And it sounds an awful lot like prime My Bloody Valentine. Opener "She Found Now" picks up that swirly, processed backwards-guitar thing, mined by a million bands since Loveless, from the fallow field where Shields dropped it 20 years ago, and it is just as gorgeous, just as new, just as now. It sounds like pink snow (I'm on a tight deadline here).
In fact, m b v seems like both the "logical next step" after Loveless (as if bands were subject to teleological pressures) and utterly contemporary. In part that's because MBV's early records are a major part of the conversation indie rock is still having with itself, often to the point of tedium. What was baffling in 1991 has been assimilated; what-the-fuck-is-that? has become convention. Loveless took the guitar bath of Psychocandy and ran it through a Cuisinart, adding rhythms that wouldn't have been out of place on a Pet Shop Boys record and suffusing the whole thing in a defiantly abrasive mix. It inspired records by U2 and Radiohead that, in turn, would define indie rock for the next 20 years. Even metal bands sound like MBV now (cf. Jesu, Amesoeurs, Boris). My Bloody Valentine couldn't astound listeners today unless they went Nashville. But it would be useless to try to consider this record "objectively," without reference to its predecessor. After you've made London Calling or Pet Sounds, everything else you do carries an asterisk. There are worse fates.
A superficial comparison with the pure pop of yesteryear suggests a more straightforwardly rocking role in the mix for the guitars — on "Only Tomorrow," they sound like squealing tires — and more martial rhythms. But for the most part, this is exactly the sort of less epochal but still splendid record that usually follows major statements like Loveless. On "Who Sees You," Bilinda Butcher warbles and Shields bends his soaring notes as if Boris Yeltsin had just clambered up on a tank. The cheekily titled "New You" — an early, propulsive favorite — is as catchy as the most modest mouse. "Nothing Is" stomps grapes like late Tom Waits.
A few songs betray their long, frustrating gestation in a studio vacuum: The surprisingly keyb-driven "Is This and Yes" sounds like a Stereolab outtake. "If I Am" is MBV-by-numbers. "In Another Way" seems composed of the parts that didn't work on the last Portishead record. And the lyrics remain on the level of "something comes and pins me to the sky" when they're intelligible at all. But no one ever listened to these guys for lyrics.
Or for simple pleasures, not that there's anything wrong with simple pleasures. This is a band whose music aspires to the condition of wind tunnels, buzz saws, ocean liners — anything suggestive of both churning chaos and pastoral lull. Like late Sonic Youth and Swans, MBV alternate between hyper-stylized prettiness and raucous monotony. Lack one lacks both, and if this is the standard post-punk dialectic, then what matters are song form and craft. Like The Eternal and The Seer, m b v is a late-period return of the repressed, a middle-aged freak-out tempered by hard-won mastery.
I'm inclined to get all "Tintern Abbey" over Loveless not only because it's a great album, but because I heard it at an age when a song could seem as significant, as world-projecting, as a sacred text. Two decades later, mystic meaning has yielded to more sober colorings — for me and, I assume, for Kevin Shields. This is why so many people become wrongly convinced that pop music has gone downhill since they were young. I don't know what I'd have made of m b v if I'd heard it in 1991, or what a 21-year-old might make of it today. I don't think it will change anyone's life, even Shields'. But who's asking it to?