Kurt Vile's been teasing his upcoming "all rock, no-cheese" album, Wakin on a Pretty Daze, for a while. Late last year, the Philly native helped unveil a public mural that doubles as the cover art to his Smoke Ring for My Halo follow-up, and just last week, he shared a video documenting said mural's genesis.
Now, Vile has revealed the LP's track list (see below), official release date (April 9 via Matador), and even shared the record's first song, the pseudo-title track "Wakin on a Pretty Day," which can be heard up above. It's nine-and-a-half-minutes of what the Philly native recently dubbed "prog-pop."
"I did know that these certain songs had real epic vibes and I just wanted to take it further than I ever did before," Vile said. "It's about trying to do what nobody else has done exactly, yet, but making it listenable and pop-sensible. I started to joke and say the music was like 'prog-pop,' like this new genre."
Vile also announced tour dates (via Pitchfork), including stops at Coachella and Barcelona's Primavera Sound. Head upward to listen to "Wakin on a Pretty Day" and watch the accompanying video, which contains footage from Matador's "making of the mural" doc featuring street artist Steve Powers, a.k.a. ESPO. Scroll down for the album's track list and Vile's tour dates.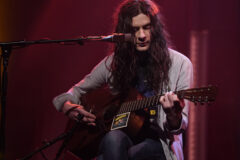 Wakin on a Pretty Daze track list:
1. "Wakin on a Pretty Day"
2. "KV Crimes"
3. "Was All Talk"
4. "Girl Called Alex"
5. "Never Run Away"
6. "Pure Pain"
7. "Too Hard"
8. "Shame Chamber"
9. "Snowflakes Are Dancing"
10. "Air Bud"
11. "Goldtone"
April 14 – Indio, CA @ Coachella
April 21 – Indio, CA @ Coachella
May 4-5 – Atlanta, GA @ Shaky Knees Festival
May 7 – Los Angeles, CA @ Echoplex %#
May 8 – San Francisco, CA @ Independent %#
May 10 – Portland, OR @ Doug Fir %#
May 11 – Vancouver, British Columbia @ Biltmore %#
May 12 – Seattle, WA @ Neumos %#
May 14 – Chicago, IL @ Lincoln Hall #
May 16 – New York, NY @ Bowery Ballroom #*
May 17 – Boston, MA @ The Sinclair #*
May 18 – Philadelphia, PA @ Union Transfer #*
May 24 – Barcelona, Spain @ Primavera Sound
May 25 – London, England @ Field Day
May 26 – Brussels, Belgium @ AB
May 27 – Amsterdam, Netherlands @ Paradiso
May 28 – Hamburg, Germany @ Knust
May 29 – Copenhagen, Denmark @ Amager Bio
% with the Fresh & Onlys
# with Steve Gunn
* with Angel Olsen