No matter if it's fashion, art or music, every underground scene has needed a dedicated publication to act as its hub and documentarian. When it comes to the dark, minimalist, androgynous, designer-centric world of men's clothes that has gained popularity with artists as distinct as Cold Cave and A$AP Rocky, StyleZeitgeist has provided that particular scene with a foundation. Starting as a Web-based community and since branching off into a print magazine, StyleZeitgeist is where the bold, the obsessive and the trendsetters go to discuss the minutiae of Ann Demeuelemeester's necklaces, Carol Christian Poell's leather treatments and Maurizio Amadei's fabric sourcing. Finding StyleZeitgeist was one of my true fashion awakenings, as I learned about designers that brush past the mainstream, purchased and traded clothes second-hand, and witnessed grown men squabble over who is biting who. As someone who grew up in the hardcore scene, it sure felt like home.
Celebrating the release of their third printed volume, and in conjunction with the excellent Graymarket clothing shop, StyleZeitgeist is throwing a party February 7 at the Wythe Hotel in Brooklyn. I spoke with StyleZeitgeist founder Eugene Rabkin briefly about his creation, confirming my suspicions that he is as deliberate as Richie Hawtin and as mad as Legs McNeil.
What prompted the existence of StyleZeitgeist Magazine, particularly in a time when most print magazines are closing up shop?
Six years ago I started a fashion forums website, stylezeitgeist.com, because I had no one in my so-called "real" life to talk about the kind of fashion I liked, which was all Belgian and Japanese and too black and too weird. It turned out that on the Internet there are many people with similar tastes. Who knew? One evening, about two years ago, I was having dinner with a forum member and a friend and we were reminiscing about how much better the magazines used to be, and he suggested that I start one. A couple of months later I met another forum member, Daniel Franco, who was also thinking to start a magazine, and he became my business partner. For Daniel and I the magazine was a perfect medium to expand the aesthetic universe that stylezeitgeist.com jump-started. Doing print today is a challenging endeavor, but the Internet cannot replicate the physicality of the printed magazine, especially one that aims to be a collector's item.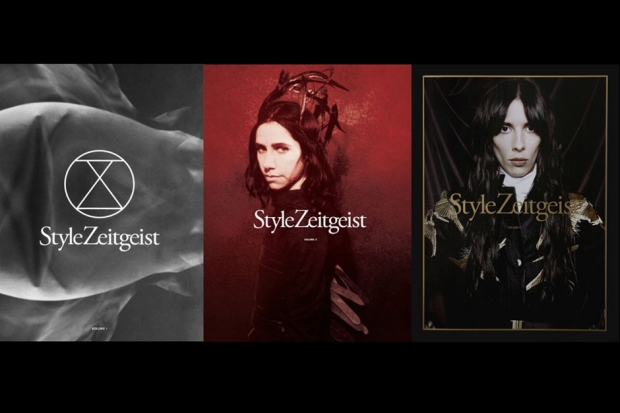 There are always interesting musicians or DJs performing at your parties. How crucial is music to the StyleZeitgeist aesthetic? What guides your musical choices?
Music is an immense part of my life. I got into fashion because of music in the first place. As a teenager in the early '90s I listened to a lot of hair metal, until a friend of mine lent me a copy of The Downward Spiral by Nine Inch Nails. A few days later I happened to see the video for "March of the Pigs." It was so raw and real and hardcore — this was the music that I've been looking for all along, that I could relate to. And not only the music, but the look as well. Watching Trent Reznor in that video made me realize that what you wear on the outside can bear direct relationship to how you feel on the inside. Years later I came across a quote by Frank Zappa, "No change in musical style will survive unless it is accompanied by a change in clothing style," which made perfect sense.
I am cautious with the term "StyleZeitgeist aesthetic", because I am leery of being pigeonholed, since my own appreciation for fashion extends beyond it, but there is something like an aesthetic consensus in the StyleZeitgeist universe. That aesthetic tends to be dark, monochromatic, at times severe. The parallels with music are very direct because many forum members are into metal, industrial, and noise. I entertain a fantasy that they are all goth kids who refused to put down their arms and surrender to society. My own musical choices don't necessarily fit neatly with the gothic style of StyleZeitgeist. I still listen to Nine Inch Nails and Joy Division a lot, but also to Leonard Cohen, Tom Waits, Gogol Bordello, and PJ Harvey. Basically, I like musicians with a fire in their soul. Maybe that's why I can't relate to indie rock — it seems so sterile to me.
We've made it past multiple doomsdays and are living in 2013. Do you have any fashion predictions for this year?
I predict that people will stop wearing Uggs and Hollister (the real apocalypse) and instead will drape themselves in black wool and leather. Or maybe that's just wishful thinking. But while I indulge, may I also predict that Limp Bizkit will never write another song?