A vague "who's in charge here?" feeling carried over most of this year's Grammy awards show. Chaos, though, was a rare commodity. When it came to picking highlights from the night's performances, the artists who reminded us music can be cathartic — or at least kept us awake — stood out. Here's our list of the best and worst from tonight's Grammy performances, from Jack White's dual-band stage-lashing to Alicia Keys and Maroon 5's perfection of bland.
1. Jack White
When Jack White and his all-female band the Peacocks followed Lumineers to deliver Blunderbuss' disarmingly languid "Love Interruption," it was easy to wonder what the hell the former White Stripes frontman was doing here. Then he brought out his boys, the Buzzards, for an especially unhinged "Freedom at 21," and his purpose became clear. He was destroying the place.
https://youtube.com/watch?v=Bs3LfpVdBG0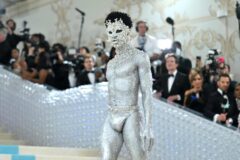 2. LL Cool J, Chuck D, Tom Morello, Z-Trip, and Travis Barker
Call it dad rap if you must, but these are the dads you'd want to be. Chuck D, Tom Morello, Z-Trip, and Travis Barker joined LL Cool J for one of the night's most energetic performances. As SPIN's live blog put it, their rambunctious medley was "doing right what every rap-rock band did wrong from 1994-2003." Not even being preempted by, first, a Hilton commercial, and, then, a Delta commercial, can take that away.
https://youtube.com/watch?v=981AYa-i1rU
3. Frank Ocean
Okay, so Frank Ocean's rendition of channel ORANGE finale "Forrest Gump" was a little pitchy, and he could've chosen a better song from the album. But his effects-assisted jogging performance was still a rare moment of surprise and joy in a night that tended toward tedium. "You run my mind, boy," he sang. Chris Brown still loses.
https://youtube.com/watch?v=H_W2rtcXJbs
4. Bob Marley tribute featuring Bruno Mars, Sting, Rihanna, Ziggy Marley, Damian Marley
At first the Bob Marley tribute looked to be an opportunity for Bruno Mars to play his song that sounds like noted Marley fan Sting. But then Mars, Sting, Rihanna, and two Marleys played actual Marley songs, and even LL Cool J's fake patois was forgotten.
5. Levon Helm tribute featuring Elton John, Mavis Staples, Zac Brown, Brittany Howard
A memorial tribute to the Band's Levon Helm that's led by Mumford & Sons and a gaudily attired Elton John, who shoehorns in a tribute to the Sandy Hook victims, too? What could go wrong? Well, Mavis Staples, who sounded refreshingly no-bullshit in a recent Colbert performance, here kept her vocals on "The Weight" going even after Zac Brown, Alabama Shakes singer Brittany Howard, T Bone Burnett, and the rest had finished. It was glorious overkill that saved the performance from underwhelming.
https://youtube.com/watch?v=d0IJW-lijt0%3Ffeature%3Dplayer_detailpage
6. Justin Timberlake and Jay-Z
Justin Timberlake and Jay-Z performed "Suit & Tie" in black and white, and then switched to color for another new JT joint, "Pusher Love Girl." They were classy, throwback-soul performances that'll probably still grow on us despite failing to bring sexy back. "Suit & Tie" is available for weddings and bar mitzvahs.
https://youtube.com/watch?v=8EYeG4rqyR8
7. The Black Keys
The Black Keys couldn't muster as feral a performance as White, but they put on an entertaining spectacle joined by New Orleans legend (and fellow Grammy winner) Dr. John and the Preservation Hall Jazz Band.
https://youtube.com/watch?v=B0UmZrd4GtA
8. Kelly Clarkson
A singer who first came to fame singing other people's songs, Kelly Clarkson had no trouble with Patti Page's "Tennessee Waltz" or Carole King's "Natural Woman." Clearly.
https://youtube.com/watch?v=2fAvexRbh0s%3Ffeature%3Dplayer_detailpage
9. Taylor Swift
Taylor Swift's Alice in Wonderland-style presentation for her Red lead single was ill-fitting and somewhat baffling. "We Are Never Ever Getting Back Together," a saucy and ear-catching collaboration with pop guru Max Martin, is still good enough as a song to bump her up a few spots.
https://youtube.com/watch?v=zkPwHJvp7DU
10. Rihanna and Mikky Ekko
Mikky Ekko's unimpressive vocals kept Rihanna's performance of ballad "Stay" from reaching the would-be Beyoncé heights of the song's Saturday Night Live debut. But RiRi's delivery got strongest when it counted — at the end — allowing us to pretend we didn't see the Grammys' inevitable post-song cutaway to Brown.
https://youtube.com/watch?v=1IdiXJbJTp0%3Ffeature%3Dplayer_detailpage
11. Miguel and Wiz Khalifa
Miguel deserved more time to perform the slinky R&B hit "Adorn." And, as Kendrick Lamar said, Wiz (Khalifa), don't kill my vibe.
https://youtube.com/watch?v=T_t7fWyw8SQ%3Ffeature%3Dplayer_detailpage
12. Elton John and Ed Sheeran
Grammys host LL Cool J said Ed Sheeran and Elton John made a perfect "A Team." But we thought both their names started with "E"?
https://youtube.com/watch?v=Hh3bj3WxPb0%3Ffeature%3Dplayer_detailpage
13. fun.
fun. performed "Carry On" and then it rained and they carried on. They were the postal service the United States Postal Service wishes it could be. The actual music group the Postal Service probably wouldn't mind playing at the Grammys, either. For real verisimilitude, though, given recent weather, fun. ought to have played through an onstage blizzard.
https://youtube.com/watch?v=JtUYnfxCjMQ
14. Carrie Underwood
Carrie Underwood brought an intriguing concept to her performances of country ballads "Blown Away" and "Two Black Cadillacs": a constantly changing, electronic dress. But she overdid it (butterflies and roses?) and the dress overshadowed the songs (and also looked like farts).
15. Miranda Lambert and Dierks Bentley
Miranda Lambert and Dierks Bentley also represented country with the songs "Over You" and "Home," but sadly their performances were too perfectly #channelSNORANGE to get worked up about one way or the other.
https://youtube.com/watch?v=B3ik_5eYuYA%3Ffeature%3Dplayer_detailpage
16. Mumford & Sons
Taylor Swift's enthusiastic crowd sing-along to Mumford & Sons' typically stomping "I Will Wait" only emphasized the rest of the audience's listless appearance.
https://youtube.com/watch?v=xJtxb76yzs4
17. Lumineers
"Ho Hey." These LL Cool J-proclaimed "indie" darlings came, they saw, they didn't conquer. Ho hum.
https://youtube.com/watch?v=0XrBcAjqtOo%3Ffeature%3Dplayer_detailpage
18. Maroon 5 and Alicia Keys
They performed Maroon 5's "Daylight" and Keys' unfortunately below-her-usual-standards "Girl on Fire." She didn't play her usual piano, but her stint on drums still felt like an effort to signal that she, like Maroon 5, can play an Instrument. It didn't matter. It doesn't matter. It never mattered.