Frank Ocean's Grammys performance was a welcome break from the ceremonial tedium and bombastic productions that otherwise defined the night, but it wasn't perfect. Our Album of the Year-maker was off key at times and the song itself, "Forrest Gump," wasn't exactly show-stopper material to begin with. Ocean knew things weren't quite right, and he made a point to explain via Twitter:
i had fun last night. couldn't hear my keyboards during Forrest. kinda bummed about that. but my moms was proud. she's tight. i'm grateful.

— frank ocean (@frank_ocean) February 11, 2013

This morning he gave fans another look at the performance by sharing a recorded rehearsal of the song complete with the totally-rad-at-the-right-angle video box showing his lower half running (though minus the Richie Tenenbaum outfit). Ocean posted the clip to his Tumblr but it came from Lumentech, a lighting and production company that's also worked with Kelly Clarkson and Justin Bieber.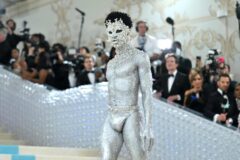 In other Frank news, Michelle Obama prefaced her Oscars cameo by stopping by Late Night With Jimmy Fallon on Friday night, where she talked about the First Family's musical tastes. "They try to hip us to stuff," said the FLOTUS of her kids. "I learned about Elle Varner because of Malia. They like Frank Ocean. We are Beyoncé devotees." Jump to 1:30 to hear the presidential shout-out.