Frank Ocean sure gets around. After last night's Brit Awards (February 20), where he picked up a trophy for International Male Solo Artist, the channel ORANGE heartbreaker was spotted palling around with none other than Taylor Swift. This came a day after Ocean revealed to BBC Radio 1 that he's already finished "10 or 11 songs" for the follow-up to SPIN's 2012 Album of the Year, and that he also just banked studio time with Pharrell Williams and is planning to team with Danger Mouse soon. Now, it looks as though the "Thinking Bout You" singer's upcoming full-length will also feature work from Depeche Mode's Martin Gore.
In an exclusive interview with Entertainment Weekly, DM lead singer Dave Gahan revealed that the synth-pop legends recently crossed paths with Ocean while working in the studio.
"We were in the studio in New York, and we were filming and recording some live tracks toward the end of the session," Gahan said. "I was singing, Martin [Gore] on guitar, a few of the other guys… Suddenly in the doorway, I sensed this presence, and I realized there was this guy standing there just watching. An assistant came up to me in between songs and said, 'Do you mind? Frank Ocean is here working in another studio and really wants to meet you guys.' I wouldn't have thought he would have even known who we are, but it turns out he's a big fan."
Frank didn't badger the English trio for details on their upcoming 13th studio album, Delta Machine (out March 26 via Columbia), though. He and Gore actually ended up laying down a track with Knife producer and Delta Machine collaborator Christoffer Berg, according to Gahan. "I think [the song] is going to be part of [Ocean's] new record," Gahan said. "Martin did some electronics and some modular synthesizer stuff he really wanted."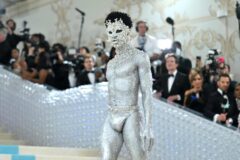 That doesn't exactly sync with the "beach theme" that Ocean previously hinted at for his next LP, but whatever. He could even adopt Depeche Mode's Eyes Wide Shut orgy imagery for all we care — the sooner he delivers this new album, the better.