Dave Grohl's guest host duties at Chelsea Lately continued last night (February 5) as the Sound City director sat down with Nas to talk about Sunday night's Grammy Awards telecast and dish about hip-hop beefs.
In the above clip, Grohl (who, yes, is wearing an ABBA T-shirt), asks the Life is Good rapper if he feels that hip-hop gets adequate representation at the awards show. "I feel like it could be a little more loved," the Queensbridge MC, who is currently up for four Grammys, says. "Hip-hop is making a lot of noise, it should get some more spotlight."
The head Foo Fighter, who is pretty much friends with every rock musician who has ever lived, then asks if things ever get awkward between feuding artists who have to attend the same industry events (Frank Ocean and Chris Brown, take note). Grohl even admits, "I make fun of Coldplay, but I would never say that out loud." But Nas says there's no apologies or glad-handing, even on Grammy night. "Once you say it, you got to ride with it. You've got to be true. Hip-hop is really stand-offish, it's really competitive… Sometimes it gets out if hand."
For the two segments below, the ex-Nirvana drummer follows up his previous pot-shots at Beyoncé and Britney Spears with some barbs aimed at Justin Bieber. According to TMZ, Biebs recently got busted with a large amount of sizzurp. Grohl's nuanced solution to the purple drank controversy? "He needs to stop being so famous so he can just go have fun." The second clip references reports that several weeks ago, Bieber and a 22-year-old woman went on a "drug-fueled sex romp" that involved oral sex and a trip to a McDonald's (not in that order). The 44-year-old rocker offers more professional advice by pitching an idea for Bieber's next album cover: "It's Justin in a tuxedo, sitting at a McDonald's and it's just called Eating Out." Gross.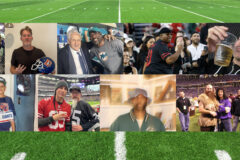 https://youtube.com/watch?v=K6UK8vEixbM%3Flist%3DUURZrRScPCj8Uuboq78x9e3w
https://youtube.com/watch?v=FFyI9SNgz9c%3Flist%3DUURZrRScPCj8Uuboq78x9e3w