In each of our two talks, Grohl references a shitty job that he doesn't have to do anymore. In Utah, it's "pushing a wheelbarrow around to build someone's patio that they're just going to walk on and never going to think about." In L.A., it's working "at that furniture warehouse." He'd rather produce an EP for Swedish metal enigmas Ghost or direct a Soundgarden video ("By Crooked Steps") any day of the week, and the reason he can do all this owes, in no small part, to the studio that gave birth to Nevermind.
Grohl's is the first voice you hear in the film:
"We were just kids with nothing to lose and nowhere to call home. But we had these songs, and we had these dreams, so we threw it all in the back of an old van and started driving. Our destination? Sound City."
He doesn't need to say who "we" are. We know. Dave Grohl. Krist Novoselic. Kurt Cobain. Like, Nirvana. For his next bit of narration, he transforms our nostalgia for a thing we never witnessed, but whose reverberations we so wholly felt, into a reminder of not just how fleeting the innocence of youth can be, but also how fickle fame and fortune and favor and, yes, life itself so often are.
"When you're young, you're not afraid of what comes next. You're excited by it. We were driving a van that could break down any moment, going on tours that could be cancelled at any moment, and playing music with people who could disappear at any moment. We had no idea that the next 16 days were gonna change everything."
I ask him what he'd tell that young Dave who didn't yet know anything about the everything that was to come.
"Oh God, I don't know," he smiles. "I wouldn't change a fucking thing. There are certain obvious things that I regret, of course." He pauses. "I regret that we didn't take any fucking pictures of the making of that album. I think we had three photos and we used all of them in the movie. Nobody cared. You know, when I was young and in Nirvana, before we made the album and after it came out, I wasn't very relaxed. I was super hyperactive."
Ahem.
"I know," he laughs. "I'm happy that I have my family, and I'm happy that I had Virginia, where I grew up, to retreat to any time I felt overwhelmed. Whenever there were times when I felt like the rug was being pulled out from under me and I was floating in this crazy space, I would stop and go back to that neighborhood and realize nothing's changed, really. The world hasn't changed and I'm the same person, I think. But I don't know."
But he is older now — 44 as of January 14. He's married with two daughters: Harper Willow, 4, and Violet May, 7. He spent the previous Sunday with Violet eating pizza and watching Lord of the Rings films, which he enjoyed immensely. He's aware of his legacy and the wider world that he's a part of — otherwise Sound City couldn't exist — and if Novoselic and Smear seemed a little bit moony on the red carpet, they weren't alone.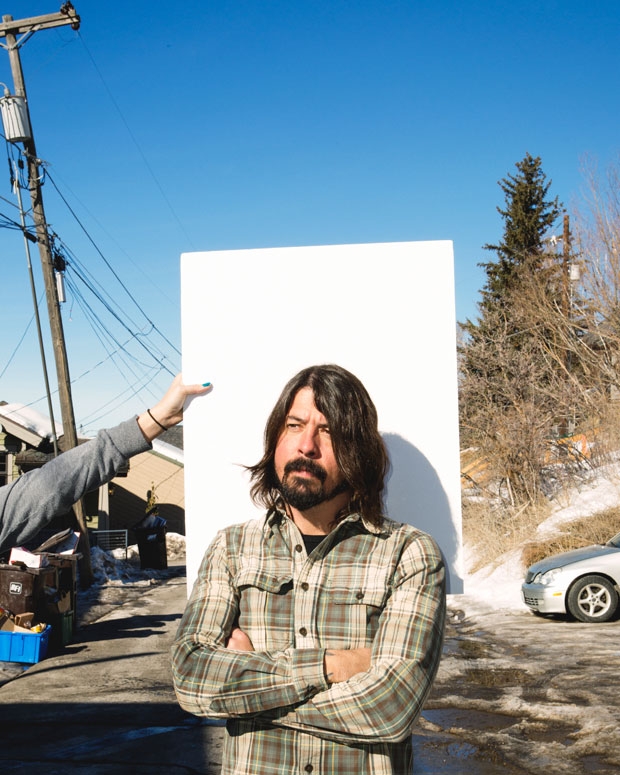 "You know, as people, as friends," says Grohl, "our history together is pretty deep. We've been to weddings together, we've been to funerals together. We've been through incredible highs and incredible lows. That comes out when you pick up an instrument and play with each other. Your personal history is a part of what happens with your hands and your head as you play music. So when I look up at Krist bouncing around the stage and I'm beating the shit out of my drums, it's hard not to remember and reminisce. You look up and smile, like, 'Oh my God, first of all, we survived, but also we're still playing.' It's like getting back together with an old girlfriend, but minus the drama. It's fucking great."
There are easier ways to tell a coupla friends that you miss them than bringing in a guest Beatle, closing out a massive benefit concert, booking SNL, and flying them to some of the world's most historic cities. But Grohl's got his living dream to uphold — you wouldn't expect him to send a card, would you?
"To be honest, it sounds so stupid, but this is one of my greatest insecurities," he admits. "I try to keep my head above water because I'm afraid if I stop, I'll sink. I start to think, 'Oh no, I'm in everybody's face too much, I gotta go away!' And then, 'No, don't go away! They'll forget who you are!' It doesn't make any sense, because at the end of the day, if it all stopped now, I would be completely happy. I'd still have to play, but if this were it, then fuck it, that was great."
But that's not it, of course. He rattles off his upcoming commitments: reviewing the video content for the L.A. concert; hosting Chelsea Lately for a week in which he'll interview both Nas and Elton John; holding a Reddit AMA as if he hasn't faced enough questions from a double-barrel of music and film press; bringing his Sound City Players to New York the following week; and delivering the keynote address at the SXSW conference in March, where he also hopes to throw another show.
"I'm just trying to get there," he says, feigning an exhausted eye-roll. But he loves it and I know it because he hasn't actually finished his sentence yet and it's going to end like this: "…because I'm already getting inspired to make the next Foo Fighters record." Now he does pause, like an exuberant high-schooler who's just realized that he's shared too much, tipped his hand too far to maintain cool, so he does the next best thing — he owns it. Dave Grohl shrugs and then says, "I'm a spazz, man."