"Are we getting that shirt?" says a shrill voice not once, but twice. "Are we getting that shirt?" The red carpet for Sound City's Sundance premiere is a tented, bifurcated runway of chaotic bustle with the stars passing through at their leisure while the other half of the makeshift reception hall is a roiling bolus of reporters with their cameras and microphones and stupid hats vying for attention. My tiny recorder captures the fibrillations of two such people all too faithfully.
"Is that Stevie Nicks?" says one. "Oh my God, I'm gonna die," says the other one. "My mother-in-law is going to too-tahl-leee fuhh-reeek out." Like the following night's concert, we witness a veritable smörgåsbord of radness and unlikelihoods. To wit, here's Nicks, in a fur coat with sunglasses: "I never want to be a movie star; it's not in my veins. But this is all very fun." Fear frontman "Lee Fucking Ving" (as indicated by a strip of masking tape on his jacket lapel) speaks eloquently on the "heart and soul" that went into the production. Rick Springfield mistily recalls some studio memories, his wife standing a few paces behind him. Corey Taylor from Slipknot is a bundle of charisma, hopping from mic to mic to talk about his experiences with ghosts (he's writing a book). Chris Goss simply looms like the desert-rock ghoul that he is.
Then, in comes Novoselic. "I get a call from Dave: 'Krist, do you want to play with Paul McCartney?' And I live in Washington, so I'm like, 'Dude, I'd walk there.' Paul shows up and he starts doing this badass slide guitar, so I did this old grunge bass trick where I tuned the E string down to a D to get that rattly sound. Dave is on the drums, Pat is playing and we're making all kinds of sounds and then we had a song! It was magical how it came together." He repeats proudly, "We had a new song."
Would he hit the studio with the old gang again? "I might be open. I'm always willing to play. I want to make a lot more music this year." Smear has arrived too and also seems happy to be anywhere. Does he object to the words "Nirvana reunion," asks one reporter. "Nah, I don't care what you call it. I'd do it either way." He's soft-spoken, smiley and looks like one of Fred Armisen's middle-aged Portlandia peaceniks. "So if Dave calls, you're there?" asks the reporter. "Yeah!" Nearvana attained?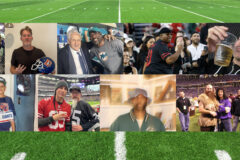 His rock'n'roll justice league assembled, Grohl appears just in time to be ushered through the swarm by a Sundance official. But the grinning grand poobah leaves himself enough time to drop Sound City's thesis, reimagined as a call to arms: "Buy a fucking guitar at a garage sale and start a band with your neighbor and if everybody is as passionate as I am about this, there will be a wave of radical garage bands!"
Amen, Brother Dave.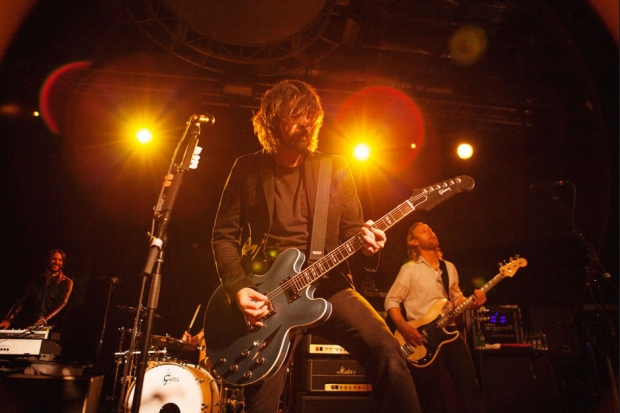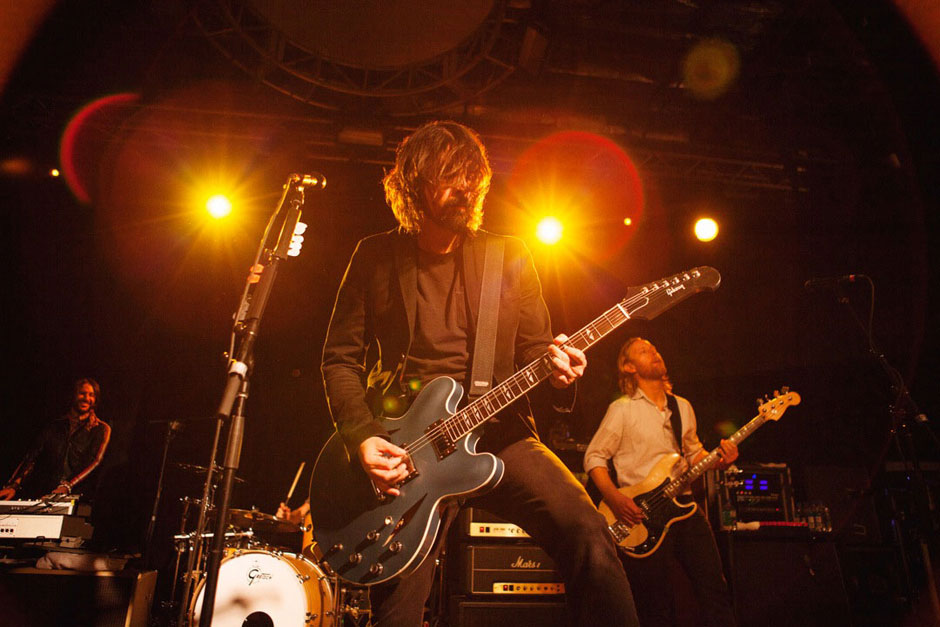 "I think it really started with Queens of the Stone Age," says Grohl, back in L.A., far from the blinding white snow, surrounded by manly hues. The office of his movie company, Roswell Films, is stocked with hides and leather furniture, plus lined with classic Sound City LPs and the aroma of coffee. I'd asked him when, exactly, it was that he became the Supergroup Guy. Circa 2002's Songs for the Deaf, he guesses. Makes sense he'd return to the desert for QOTSA's new one.
"The musicians that move in and out of that band are all really inspiring. We're conditioned to think that bands are a specific combination of people and that you can't deviate from that. The Beatles or U2 or whatever. Simon and Garfunkel." Beat. "But that's not as much fun as it is to be a total musical whore and jam with everyone… Nick Oliveri is one of the best bass players I've played with in my entire life, solid as a rock. Josh Homme is a creative mastermind with a wicked sense of improvisation. [Mark] Lanegan is just… Lanegan. That record let me stretch my wings and do stuff I had never done before. Nirvana was such a meat-and-potatoes band that I was basically playing disco drums. A lot of the drum fills I did I took from Cameo and the Gap Band. I'm not kidding."
He lifts his elbows and air-drums a fill like Rota said he would, mouthing "crack-uhn-crack-uhn-crack-uhn-crack." Unsurprisingly, he also says collaboing with QOTSA reminds him of the older kids he looked up to as a Virginia youth — high school burnouts who lived in 420-friendly communal jam dens stocked with shitty drums, basses, and guitars. At Friday's show, he relayed a familiar anecdote about how for his 13th summer, he and his sister moved in with family in Illinois, and he discovered his raison d'être.
"My cousin came down the stairs and she was suddenly punk rock," he told the audience. "She played me a record, The Record, by Fear, and that changed my life. It made me want to be a musician." Now it occurs to him that one of his biggest influences was a music documentary — L.A. punk paean The Decline of Western Civilization — which not only featured Ving, but made music-making less daunting and fueled Grohl's zeal for the spirit of collaboration.
After his staggering performance on the Queens record (not to slight Tenacious D's debut LP) reminded the ear-having world that, oh yeah, dude is still a monster drummer, the calls came in. Killing Joke. Nine Inch Nails. Garbage. And when he realized what he was capable of, Grohl made the Probot record (2004), wrangling his favorite metal singers (Lemmy, Wino, Snake, Cronos) from his salad days as a teenage hesher.
Plus, with the Foo Fighters…wait, how have we not mentioned the Foo Fighters? Oh, because you can talk to Grohl all day about all manner of projects and forget that he's not only the puppet-master-slash-pulse-pounding beat-keeper to a dozen concurrently active rhythms, but that he also has a highly functioning full-time group who've made a respectable seven albums in 18 years and have done strange things like record with Norah Jones.
"I'm the luckiest person in the world because everybody in the band is so talented and ready to go," he says. "So when I call and say, 'Hey, I know that we're taking a break right now, but we need to learn 50 songs in the next 10 days and we're gonna do shows all over the world,' they just go, 'Okaaaaay.'"
Oh, and Them Crooked Vultures. Yeah, that too. 2009. Dave Grohl. Josh Homme. Led Zeppelin's John Paul Jones. We're out of breath. Please, Dave, say something.
"What am I trying to prove?" That'll do. "Why am I doing this to myself? I think my wife [Jordyn Blum] has asked me that question a million times. I don't know. My mother was a public school teacher for 35 years and she got up at five in the morning and went to sleep at fucking 11 at night her entire life and didn't complain once."