A few hours before Beyoncé's notoriously labored-over Life Is But a Dream made its debut on HBO, the March issue of American Vogue showed up in my mailbox, as if by magic, or the collective will of the Beyhive, or Anna Wintour's secret influence over the U.S. Postal Service. Beyoncé's second cover has already been largely circulated, but subscribers received a different image: it's Ms. Knowles-Carter's washboard-straight posture in profile, wearing couture Givenchy, sharpshooting enough passion from her eyes that you wonder if her determined stare busted photographer Patrick Demarchelier's camera lens. There is only one headline. "Power Issue 2013: Beyoncé Rules the World." That lust in her face might look sensual, but Bey is about her business. She wants our minds. This year, not a moment will pass when we're not thinking about her. She is power. Vogue decrees it. Also, she is releasing a new album and touring, so prepare for her face to become your world.
Life Is But a Dream was the first manifestation of the mystical Beyoncé archive, in which she has been recording and chronicling every moment of her life for more than seven years, a revelation that caused some short-sighted commenters to characterize her as crazy, or overly controlling. The result, however, showed how not-crazy she actually is — just incredibly shrewd. She knows that to engage with her fans, who drain every last bit of Beyoncé blood from the Internet in a devout frenzy, she must reveal bits about who she is. But as the most famous and powerful woman in music, she must protect herself, retain some semblance of a personal life lest she lose sight of herself. So she gave us Beyoncé on her terms (as she put it), opening up a straw-sized peek into her life through an impressionistic assortment of live footage, old home videos, a chat in a living room with a barely-seen interviewer (a white man with glasses who I was pretending was Gideon Yago), and some zeitgeistical PhotoBooth confessionals — Bey's own video diary, recorded on "the camera in the computer." It's the most revealing document of the superstar yet, essentially a chronicle of her powerful evolution as a woman. The time frame captured in the film, coincidentally, was shot over the course of the 31-year-old star's Saturn Return. Don't say astrology never gave you anything.
If you want an example of how hard it must be for Beyoncé to stay grounded, watch Oprah's pre-Life Is But a Dream interview with the star on OWN, aired as a promo fluffer for the actual film. Winfrey spent the entirety of the hour-long chat visibly genuflecting at Bey's altar, her convo dripping with astonishing hyperbole that showed even Oprah knows Bey is more powerful than Oprah. Oprah. "You are the preeminent mistress of the universe," Oprah gushed. Oprah asked, with awkward-auntie earnestness, whether Beyoncé was the reason for the Super Bowl power outage. Of her performance, Oprah said, "It was the moment when art met God." How do you retain your humanity, your humility, when freaking Oprah Winfrey is addressing you like she's the world's most basic stalker?
You talk to your MacBook. Life Is But a Dream begins with Beyoncé on the day she let her father go — when she made the decision that Mathew Knowles could no longer be her manager. She appears in crappy light and no make-up, looking broken-down and utterly vulnerable, worrying about her future relationship with her dad, and you get the feeling that maybe Beyoncé doesn't have a whole lot of people to confide in. But it's also how the film sets up its arc: the next 90 minutes are not just about stunning performance footage, but about Beyoncé coming into her own, from the dadager-dump, to shedding alter-ego Sasha Fierce, to a painful miscarriage, to ultimately communicating with her daughter in the womb and becoming a woman. She is an A type who never stops, even performing when she wants to puke from pregnancy and practicing her vocals from a laptop in a car. (If anyone's still pressed about that whole National Anthem thing, the many shots of Bey singing a cappella should put your concerns to rest. This woman has the Holy Ghost in her.)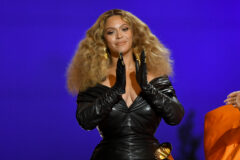 But here's where the unprecedented openness comes in: we get to see that Bey's not just a workhorse, but a woman who says the word "shit" when she fucks up in the studio (gasp!), who bursts out with laughter after comparing the fury of her angrier performances to the blast of a tommy gun, who looks genuinely geeked when she feels Blue Ivy kick for the first time. She opens up about her miscarriage, calling it the "saddest experience of my life," and sings the song she wrote about it. She drinks wine, looks kinda twisted, and sings a Coldplay song with Jay-Z. At times, this film makes it easy to forget she's not just like us. (For one, there's that whole $40 million net-worth situation.)
Aside from the full, unobstructed look at Blue Ivy's Jay-Z face, the most heartening aspect of Life Is But a Dream is how fiercely Beyoncé identifies with womanhood. "It's nothing like a conversation with a woman that understands you," she says. "I need my sisters." Cut to a shot of Bey, Solange, and Kelly Rowland singing "Love Fool" in what looks like their parents' kitchen, doing "typical teenhood" with aplomb. And then there's her feminist speech:
"Women have to work much harder to make it in this world," she says. "It really pisses me off that women don't make the same opportunities as men do. Or money for that matter, 'cause let's face it, money gives men the power to run the show… to define our values and to define what's sexy and what's feminine."
And:
"At the end of the day, it's not about equal rights, it's about how we view ourselves… We as women have to reach as high as humanly possible."
That last caveat to the "Girls Run the World" missive is probably going to get lambasted by feminists, because, you know, Bey, it kinda actually is about equal rights. But in the context of this film, you can see why Beyoncé applies a bootstrap mentality to her girl power: Nothing's really been handed to her, and she works incredibly hard to be the most dazzling entertainer in the business. Her statement seems less about not aspiring to the basic tenets of equal rights, and more rooted in the belief that we're not gonna get them, so we better steel ourselves for a fight. Doubly so as an African-American working mother; fact is, the most powerful woman in show biz almost had her documentary rejected by HBO. And it's that attitude that keeps Bey at the top — as someone who deserves our respect even if you hate her music. Get used to it, she's gonna be here forever. And she's got an archive.