40 Movie Soundtracks That Changed Alternative Music
1. 40 Movie Soundtracks That Changed Alternative Music
1/41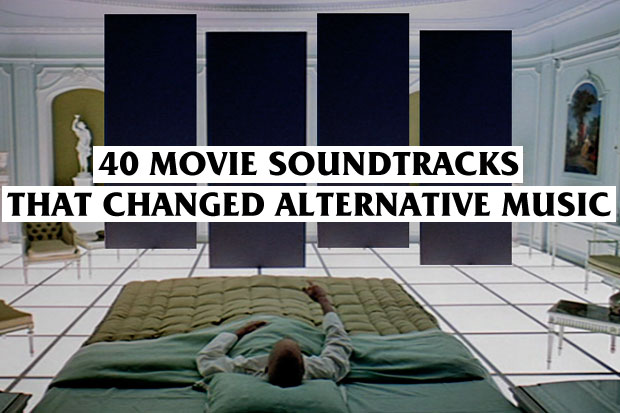 2. Forbidden Planet (1956)
2/41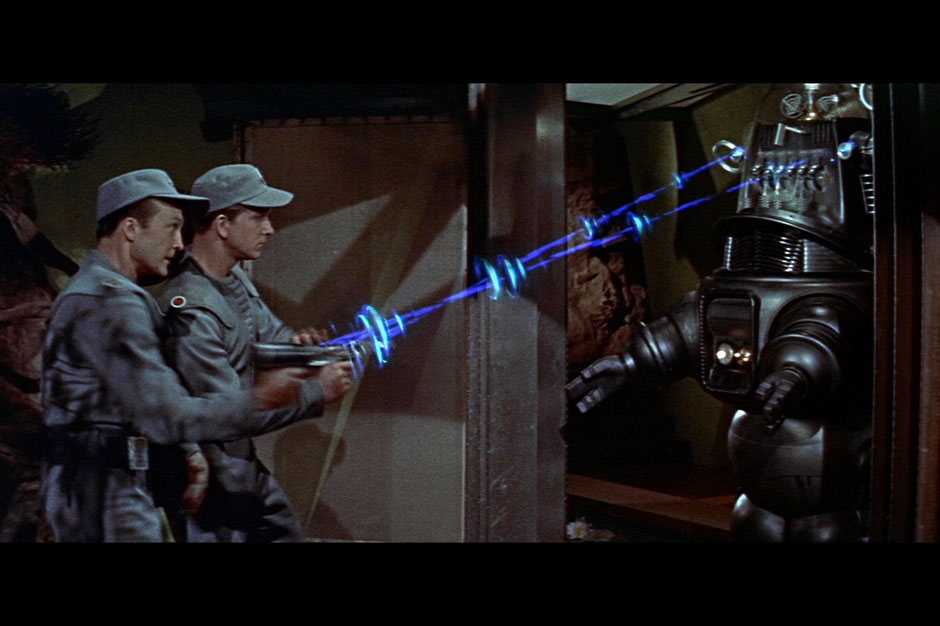 While this early sci-fi flick is notable for its barrier-breaking performance from Robby the Robot — the first A.I. role for an automaton — it's the soundtrack of "electronic tonalities" by husband-and-wife duo Louis and Bebe Barron that changed sound forever, the first fully electronic score in film history. The Barrons were folkies in '50s Greenwich Village when they were selected for this job, yet they were also accomplices to John Cage's bustling musique concrète brainfreeze "Williams Mix." Never considered by the musician's union, the Barrons built homemade proto-synthesizers and then jolted their buzzing, Frankenstein-ian noises to life. As Bebe Barron told Jane Brockman: "The circuit…would come to life, and would produce a burst of the most glorious kind of energy and electronic activity…each had a lifespan of its own." From Spectrum to Broadcast, Carl Craig to Simian Mobile Disco, anyone who's built a modular synth to evoke other worlds has the Barrons' seared circuitry to thank. But on a grander scale, any of electronic music's critical mass moments — think Daft Punk and Skrillex scoring Disney flicks — launched from this planet. ANDY BETA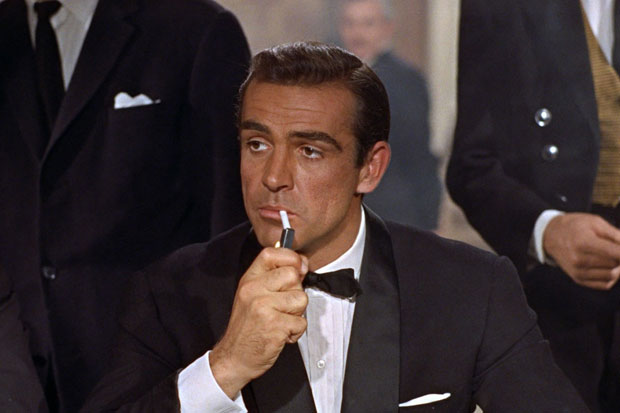 Have you ever watched a James Bond film on mute? If so, Sean Connery, Roger Moore, or whomever else (shouts to George Lazenby) may drink their shaken-not-stirred martinis coolly, but it matters little without John Barry's score providing any tuxedo's most stylish accessory. From 1962's Dr. No to 1987's The Living Daylights, Barry practically wrote the songbook on sleek spy music, a genre that seamlessly fused orchestral lushness, a cool jazz vibe, and fuzzy electric guitars. It was the sound that launched a thousand cars-that-transform-into-ships, informing the fledgling surf music of Dick Dale and the Chantays, fueling the mega-hit "Secret Agent Man," serving as a blueprint for Man or Astro-Man?, suffusing the vibes of early Portishead, and providing countless hip-hop artists with sample sources (Wu-Tang Clan, Gang Starr, and the most famous hip-hop spy ever, Special Ed). And maybe you've heard Adele's latest Bond theme, "Skyfall," overflowing with the late Barry's style. DANIEL KREPS
4. The Good, the Bad and the Ugly (1966)
4/41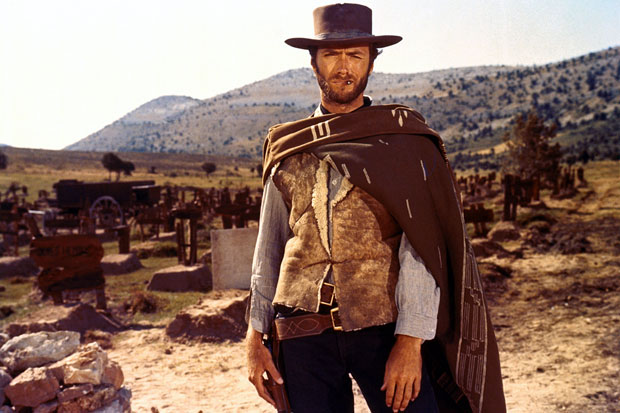 Recognizable in two notes, Ennio Morricone's desolate motif representing the title characters of The Good, the Bad and the Ugly — the 1966 conclusion of Sergio Leone's ur-Spaghetti Western trilogy — is the Beethoven's Fifth of film scores. A classically trained experimentalist (as Mike Patton and John Zorn have highlighted on respective tributes), Morricone wrote some 500 orchestrations of rock, jazz, and Neapolitan love songs as a studio arranger, and the high cheese of Italian pop permeates his sound. Beyond the theme's twanging guitar, melancholy whistle, and electronically processed "wah-wah" vocal — which have been sampled to badass effect by Cameo, Bomb the Bass, and LL Cool J, among others — Jay-Z borrowed the epic horse-operatics of "The Ecstasy of Gold." Metallica covered it both intentionally (on a tribute album) and unintentionally (with "Unforgiven"). And, less explicitly, you can hear Ugly's dusty tumbleweed rumble in the most recent albums from Earth, Swans, and Godspeed! You Black Emperor. RICHARD GEHR
5. 2001: A Space Odyssey (1968)
5/41
If Stanley Kubrick hadn't rejected film composer Alex North's score for 2001: A Space Odyssey at the last second, a couple of generations of rock and electronic experimentalists — including Oneohtrix Point Never, Sonic Youth, Battles, and Flying Lotus — probably never would have been exposed to Györgi Ligeti's loud, haunting sound masses, sliding microtone clusters, and micropolyphonic textures. The contemporary-classical composer's Atmospères, Lux Aeterna, Requiem, and Aventures, were part of Kubrick's "temp track" that North's music was intended to replace. The movie's most famous music, Richard Strauss's tone poem Also Sprach Zarathustra, was in the public domain, so it would have remained for Deodato to transform it into a jazz-funk classic. R.G.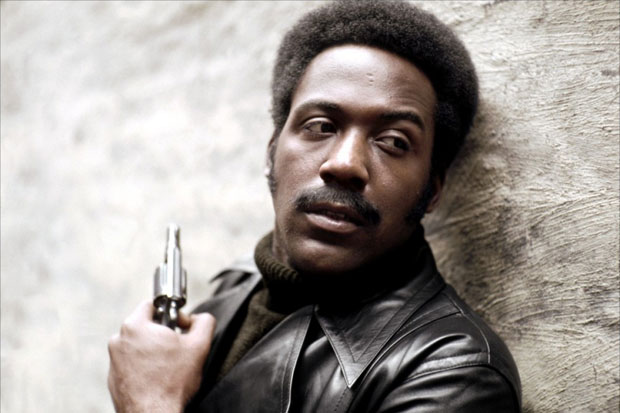 Isaac Hayes' spectacular blaxploitation opus was as important to shaping the Shaft character as the script and the novel that preceded it: Richard Roundtree's unfadeable private detective who stunted through Harlem in black leather to the sound of the deepest, funkiest bass and wah-wah guitar with a cadre of ladies swooning over his very name. In short, a bad mutha — shut your mouth! The essential coolness of Shaft was so pervasive that it changed funk, and the theme was covered by artists across the genre spectrum, from Sammy Davis, Jr. to Cabaret Voltaire. But, most notably, because it depicted an African-American hero/renegade so powerfully and crisply, hip-hop couldn't get enough. Public Enemy's "Give It Up," Jay-Z's "Reservoir Dogs," even "Know How" by Young MC pay homage to Hayes through samples — and that's just the theme song. Right on! JULIANNE ESCOBEDO SHEPHERD
7. A Clockwork Orange (1971)
7/41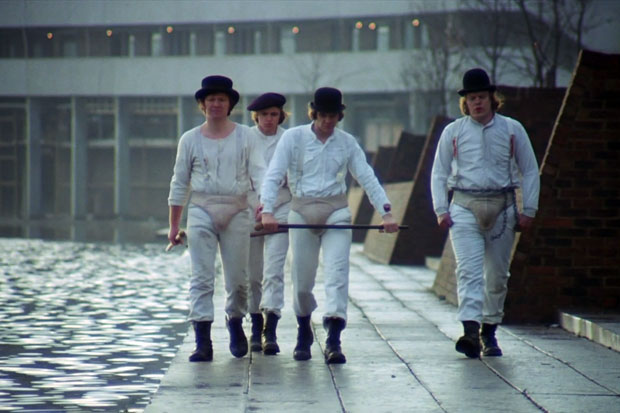 Wendy Carlos, in her pre-transition identity as Walter Carlos, had made a few albums of classical music played on Moog synthesizers by 1971. But in the context of Kubrick's sci-fi nightmare, Carlos' score — Moog settings of pieces by Beethoven, Purcell, and Rossini, plus the original piece "Timesteps" — became the sound of a cold-yet-comforting, unnerving-yet-infectious futurism, a sound soon echoed by Kraftwerk and their descendants. This was the chilly grandparent to gothic, industrial, and synth-pop bands the world over, from Nine Inch Nails to Ladytron, all who wanted nothing more than a Korova Milk Bar of their own. And Carlos' setting of the choral sections of Beethoven's Ninth Symphony was one of the first recordings to use a Vocoder-like device that could blur the lines between the sound of a human voice and a machine — anticipating 808s & Heartbreak six years before Kanye West was born. DOUGLAS WOLK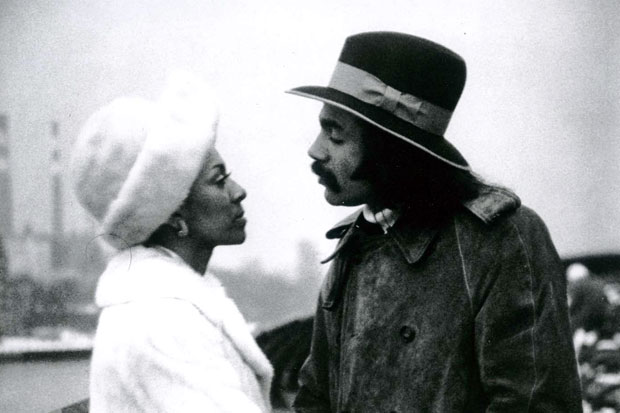 Curtis Mayfield's unabashedly beautiful, poignantly righteous, and certainly superior soundtrack to the low-budget 1972 blaxploitation film Super Fly created a genre all its own — one in which, says Alicia Keys, the pain and longing of ghetto life "swells and flows." Its iconic wocka-wocka guitar riffs, Greek-chorus strings, and sizzling hi-hat cymbals are all over lounge-funk smoothies from modern funkateers like Shawn Lee ("Greg's Theme") and Thievery Corporation (whose Eric Hilton lauds Mayfield's "beauty" and "revolutionary spirit"). The title track's bass line and rototom percussion have been sampled by the Beastie Boys, Ice-T, Geto Boys, Nelly, and the Notorious B.I.G.; the "Pusherman" bass line can be heard in "King Animal" by Soundgarden, just one Seattle grunge combo among many to claim his influence. R.G.
9. The Harder They Come (1972)
9/41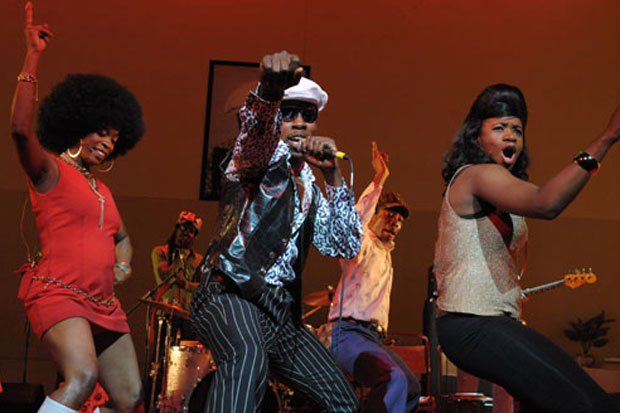 Reggae was still a nascent genre when this Jimmy Cliff-starring Jamaican gangster flick hit the States, but the music's popularity exploded afterwards, widely exposing American audiences to a previously marginal sound — Cliff, of course, but also the Maytals, Desmond Dekker, the Slickers. The plot, that of a weed dealer and aspiring reggae singer who turns to a life of crime, is reflected movingly in Cliff's theme song — and it had a direct effect on the sound of the Clash, for one, who referenced it on agitprop punk-reggae classic "The Guns of Brixton." J.E.S.
10. The Mack (1973)
10/41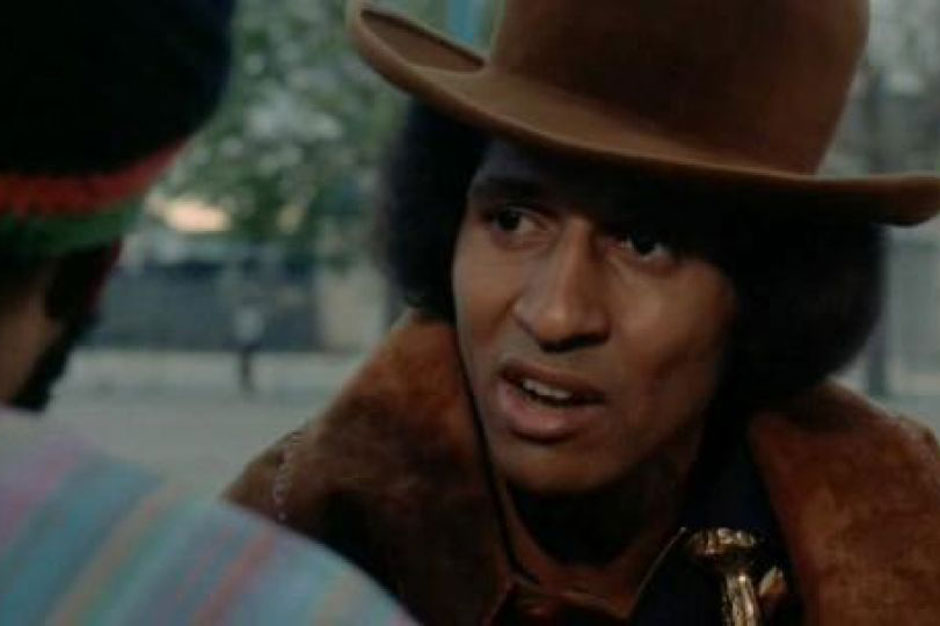 Willie Hutch didn't record the first blaxploitation soundtrack, but he certainly recorded one of the most-sampled. His nine songs for this 1973 Richard Pryor/Max Julien vehicle didn't get flipped much before the late '90s, aside from "Brother's Gonna Work It Out," which gave its title to a Public Enemy track and its beats and/or dialogue to LL Cool J, Dr. Dre and 2Pac, among others. But Hutch's string-sweetened, bombastic grooves started coming into fashion around the time Cam'ron used "Mother's Theme (Mama)" in 1997's "D Rugs." Since then they've been omnipresent as hip-hop grew to Hutch's levels of luxurious and cinematic, especially "I Choose You" (most familiar from UGK's "International Players Anthem"). Also, DJ Toomp, who produced T.I.'s "What You Know," has said that The Mack is the record that "made [him] understand the significance of collecting [records]." D.W.
11. La Planète Sauvage (1973)
11/41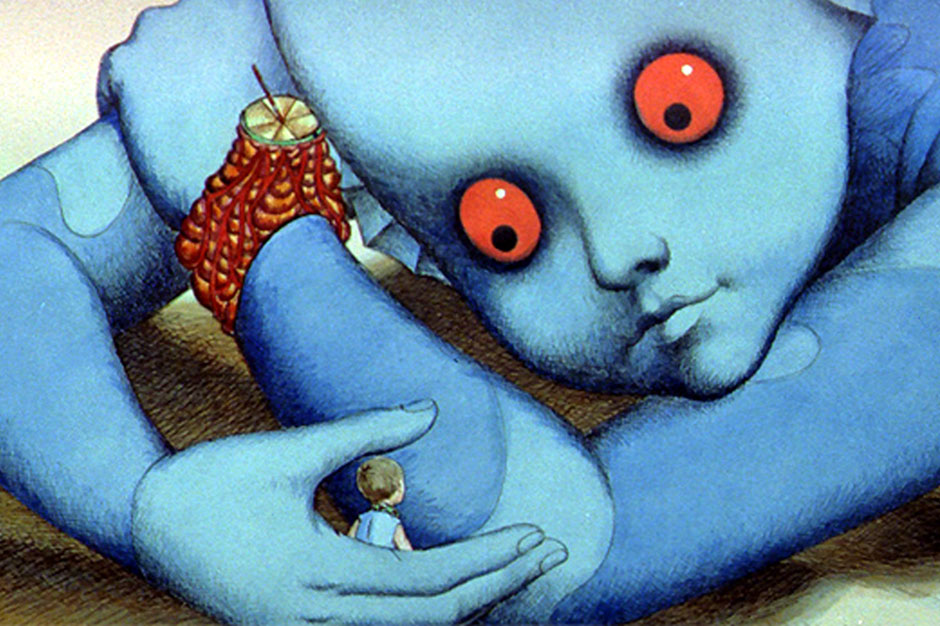 Human pet Oms and blue-skinned, fish fin-eared Draags; creatures with cages for noses and intestinal landscapes. This surreal 1973 animated science-fiction film directed by Frenchman René Laloux remains a historical head trip. But it's the baroque, beat-heavy soundtrack from Alain Goraguer that kept heads spinning decades later. A close collaborator with French pop icon Serge Gainsbourg in the 1960s, Goraguer mixed funky guitar, queasy strings, and crisp breaks for this masterpiece, entrancing a generation of the deepest crate diggers — an absolute landmark in the future school of finding funk nuggets in obscure Euro soundtracks (see Andy Votel of Finders Keepers and producers like the Alchemist, for starters). J Dilla sampled it, Big Pun rapped over it, and Madlib based his alter-ego Quasimoto on this joint. Stones Throw's Jeff Jank recalls meeting Madlib and learning "he watched this movie constantly and had even made his own private soundtrack [to it]." Absolutely suited for getting blunted in the bomb shelter. A. BETA
12. The Wicker Man (1973)
12/41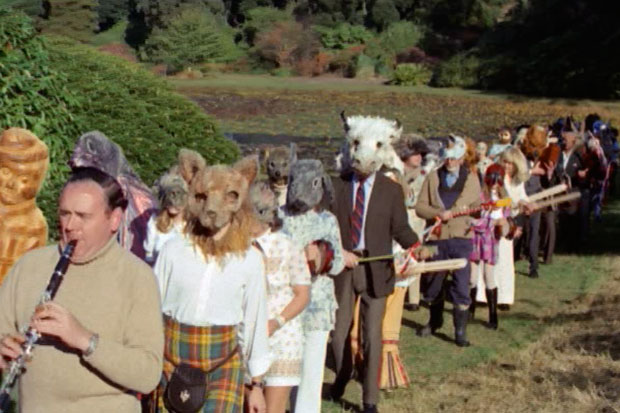 "The Citizen Kane of Horror Movies" according to Cinefantastique magazine, this 1973 British horror film (not to be confused with the woeful, bee-heavy Nic Cage reboot) remains a cult classic. And we do mean "cult," since the plot details the clash between modernity and Celtic pagan rituals, complete with the weirdest, creepiest Maypole scene ever. The soundtrack from American songwriter Paul Giovanni reveled in the British folk idiom that bands like Pentangle had revitalized, weaving together standards as well as "Baa Baa Black Sheep," no doubt influencing freak-folkers like Devendra Banhart and Joanna Newsom. Yet for all its pastoral sounds, there was an uncanny eeriness lurking at the edges, a childlike innocence mixed with malice, anticipating the aesthetics of both Animal Collective and Broadcast. A. BETA
13. The Exorcist (1973)
13/41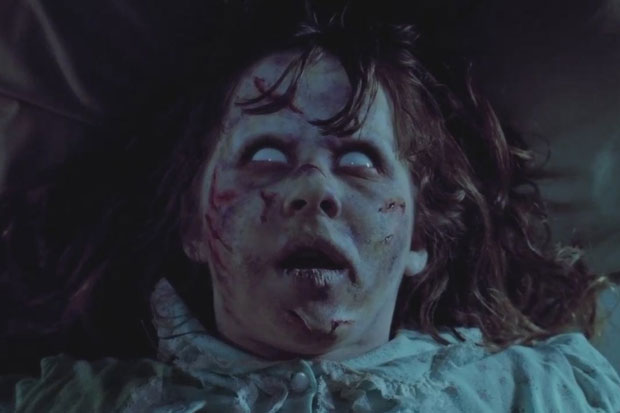 The visual impact of a little girl spewing like a fire hydrant of green vomit would have been quite different if director William Friedkin had hired German synth–proggers Tangerine Dream to score The Exorcist — something he's said over the years that he would've liked to have done. Luckily, after his studio nixed composer Lalo Schifrin's "too scary," Psycho-esque score, he went the 2001 route and used existing works by some of the 20th century's most daring composers. The lullaby-from-hell synth work of Mike Oldfield's "Tubular Bells" defined horror soundtracks (and the bands who love them) for years after The Exorcist's release, resounding in the themes to Suspiria, Halloween, Phantasm and countless others. "It's such a cliché now," Oldfield said in 2011. "Anytime there's something a little bit spooky, Outer Limits type of thing, you hear that tinkly piano, they just change the notes around a little bit." But beyond Hollywood and legions of synth dream warriors in Oldfield's wake (Emeralds, Gas, a solid chunk of the Kranky roster), the eerie sounds of "Tubular Bells" weaseled their way into melodies of thrash metal (the group Possessed even intro'd their own "The Exorcist" with "Tubular Bells"), as well as in the creepier production of rap groups like Three 6 Mafia. Meanwhile, the screeching orchestral strings, heard elsewhere in the flick, by composers Krzysztof Penderecki and Animal Collective fave George Crumb, are practically indistinguishable from Linda Blair's possessed demon howls. These composers' avant-garde squeals were as unnerving as Regan's stomach blisters and the combination made a generation's armhairs stand up at attention or run for the door. It's an effect that would seep into the formless squalls of black metal (Australian mystic death metallers Portal (who cite Penderecki's scores as an influence) and would inspire Radiohead guitarist and film soundtracker Jonny Greenwood, who wrote 48 responses to "Polymorphia," a Penderecki piece used in The Exorcist. KORY GROW
14. The Texas Chainsaw Massacre (1974)
14/41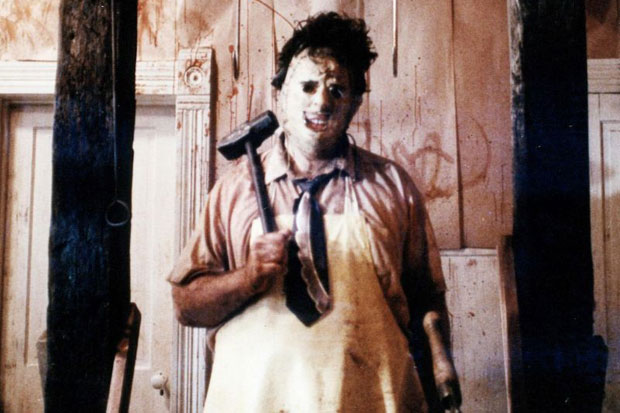 "Some of those sounds on there sound like weird violin-industrial errrnwhiirrrrnnn," Animal Collective's Avey Tare remarked to SPIN on The Texas Chainsaw Massacre. "How does he get those sounds? I wanna know how to make sounds like that." The smears and splatters of Animal Collective's all-over abstract sound owe to a sophisticated list of influences from '70s and '80s films, but none shot the epochal band into the outré realm of experimental music faster than the scraping, squealing sound-design of the 1974 horror classic directed by Tobe Hooper. And they weren't the only ones smitten with its creaks and whines: Wolf Eyes' Aaron Dilloway is a professed Chainsaw fan, as is current film composer Cliff Martinez (Drive, Solaris), and it's probably no coincidence that it's referenced in the Ramones song where Johnny's guitar sounds like a chainsaw. "It pushed me and [Geologist] to start making music like that," said Tare. "Let's just bang on a lot of shit for a couple of hours, put it through delay, and make it into something that actually makes sense." ANDY BATTAGLIA
15. Suspiria (1977)
15/41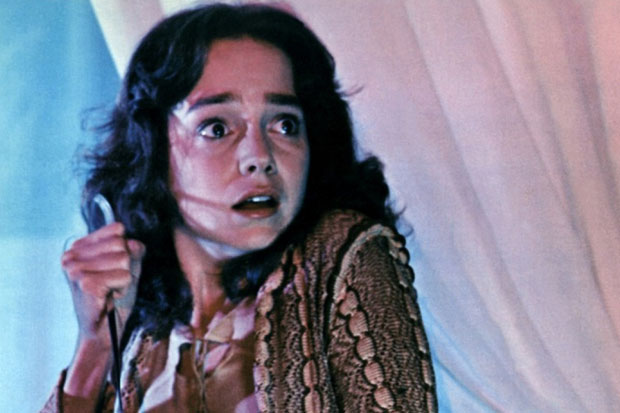 Maggots ooze through a ballerina's hair and a knife pierces a beating heart in director Dario Argento's 1977 expressionistic giallo witch tale. The movie, full of claustrophobia and color-saturated visuals, is uncomfortable to watch and even more unnerving to experience, thanks to its legendary score played by the Italian prog-rock collective Goblin. The title theme's rock revamp of The Exorcist's "Tubular Bells" and the scabrous avant-funk that accompanies the rest of the film made for a nearly palpable musical panic, a sound that various bands and soundtrack artists (including ELP keyboardist Keith Emerson, who scored sequel Inferno) have since attempted to reproduce. Goblin's claustrophobic chaos, built with synths, bouzouki, a creepy-sounding Celesta, and other exotic-sounding instruments, partially inspired a pair of Pittsburgh post-rockers to form Zombi in 2001, which led a spooky charge of likeminded synth-horror composers like Umberto and Pye Corner Audio. The soundtrack's influence has even wormed its way into the works of EDM (Fake Blood, Gatekeeper), rappers (Ghostface and Raekwon sampled it, RJD2 obviously loved it), metal (Opeth are avowed fans) and, most thematically, the many witches of witch house. K.G.
16. Eraserhead (1977)
16/41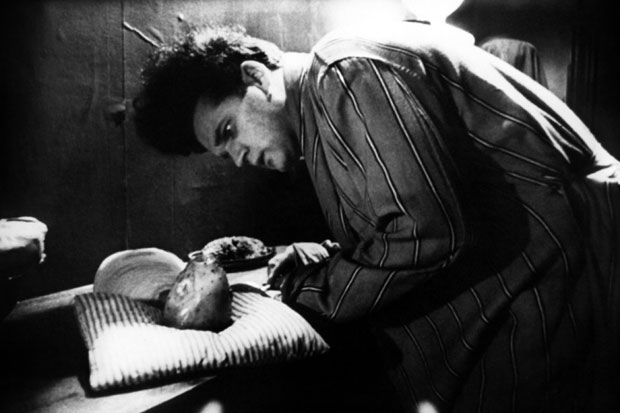 Okay, so Jack Nance's flat-top probably didn't predict Kid 'N Play, but there's plenty more in David Lynch's can't-unsee-this horror-noir masterpiece Eraserhead that mutated music irreparably. The transcendentally noisy soundtrack of escaping steam wooshes and hissing voices would lay the unsettling groundwork for '80s and '90s industrial creepers like Skinny Puppy, Ministry, and Foetus. Plus, the soundtrack's most melodic moment, 18-minute "B-side" "In Heaven (Lady in the Radiator Song)" (written by Peter Ivers, better known as host of the late-night video show New Wave Theatre), was a surrealistic vision in the film and a touchstone for generations of alt-rock bands hoping to harness some dreamlike alienation: Bauhaus, Pixies, Faith No More, Zola Jesus, and Devo's decidedly Lynchian Booji Boy character have all covered it. K.G.
17. Saturday Night Fever (1977)
17/41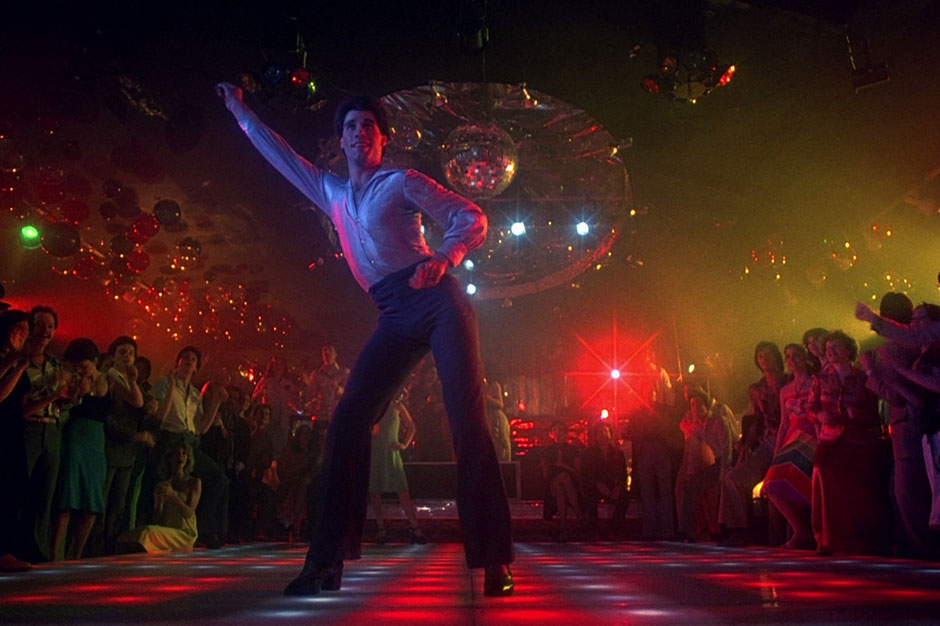 The mirror-balling disco beats celebrated in the multi-multi-platinum, Bee Gees-centric soundtrack to 1977's Saturday Night Fever shook the world, and punk tried unsuccessfully to repress it for years. But the fever arose in Brooklyn once again, shortly into the new millennium, via a flurry of artists who blended four-on-the-floor rhythms with DIY spirit and an Ecstasy-enhanced smirk. LCD Soundsystem's James Murphy and Pat Mahoney used to sneak the Bee Gees and other disco acts into their DJ sets to make audiences uncomfortable. Nic Offer of !!! playfully appropriated John Travolta's dance moves, while songs like "Jamie, My Intentions Are Bass" cop the groove of SFN's title track. And while you can hear flecks of the Bee Gees in everyone from Radio 4 through Escort, it was the Rapture who stole the title of "How Deep Is Your Love" for the first single from 2011's In the Grace of Your Love. "I love the Bee Gees," attests singer Luke Jenner. R.G.
18. Midnight Express (1978)
18/41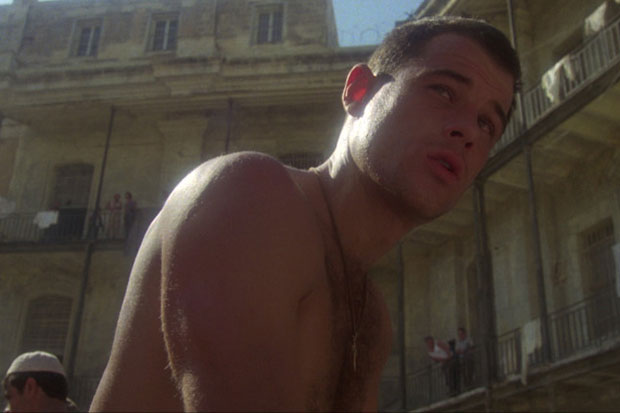 By the time Giorgio Moroder composed the score to Alan Parker's film about an amateur American smuggler rotting in a Turkish prison, the Italo-German synth master's star was ascendant. His collaborations with Donna Summer ("Love to Love You Baby," "I Feel Love," "Last Dance") were minting disco's platinum age, making him producer du jour. Yet where those ecstatic grooves only grazed melancholy, here Moroder's machines wholly embraced the displacement narrative, winning him his first Oscar. Mostly full-chord power-ambient pieces advancing the language of kosmiche beyond the mystic, the music established beatless emo-logue textures that Moroder would perfect in future films (American Gigolo, Cat People) and productions (Berlin's "Take My Breath Away," which became a blueprint for celluloid ballads from Madonna's "Crazy for You" to Bryan Adams' "(Everything I Do) I Do It for You"). That said, the main triumph of Midnight Express remains its most rhythmic one: "The Chase" is a flawless piece of futurist electro, influencing Dutch (i-F, Legowelt), Detroit (Carl Craig), and New York (Morgan Geist) producers decades later. PIOTR ORLOV
19. Escape From New York (1981)
19/41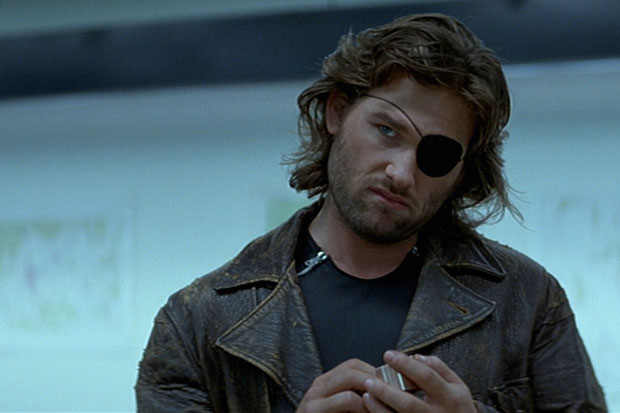 It's hard to do an even cursory amount of reading about music these days without scaring up a reference to the synth-streaked soundtracks of John Carpenter, from Halloween to The Fog to Big Trouble in Little China. The most resonant of them all, though, is Escape From New York, which starred a buff young Kurt Russell and, even more importantly, a minimally pulsating soundtrack composed by Carpenter and frequent collaborator Alan Howarth. The primitive synthwork glides and creeps and crawls, the songs bleeding a smartly pitched sense of drama and a muted sense of melodrama. Latter-day analog explorers like Oneohtrix Point Never and the back-to-basics Portishead of Third continue to mine its mode of portent. And two years ago, Emeralds — those devoted students of synthesized ephemera and vintage kosmiche jams — even took to performing part of the soundtrack live alongside Howarth. A. BATTAGLIA
20. Koyaanisqatsi (1982)
20/41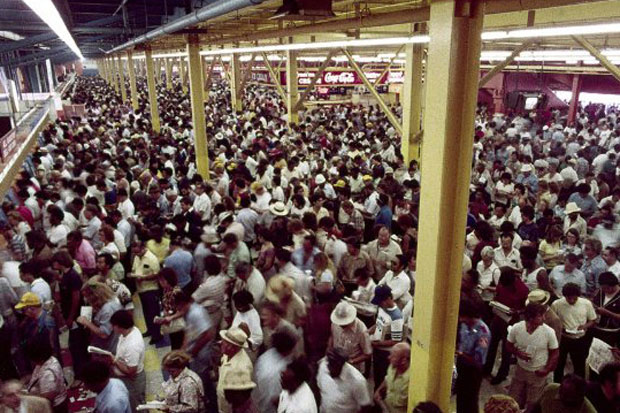 Koyaanisqatsi, Godfrey Reggio's abstract, wordless, mesmeric, montage-like documentary, made a convincing claim to being a new kind of "fusion of image and sound" one year after the launch of MTV. But it also helped make a rock star of Philip Glass. The classical-music composer was by no means unknown in 1982 (his marathon avant-garde opera Einstein on the Beach had premiered to much fanfare six years earlier), but his pulsing, strobing soundtrack to Koyaanisqatsi certainly sneaked him into more ears outside of the NYC classical orbit (read: more stoners or just fans of zoning out and watching mesmerizing things). You can still hear Koyaanisqatsi's circulating rhythms in the giddy pop of Dan Deacon, the hypnotic post-rock of bands like Tortoise, rap producers like El-P, and electronic pointillists like Mungolian Jetset. Plus, it helped anoint Glass as a patron saint of young contemporary composers like Nico Muhly (who worked for Glass as an assistant for nine years), Nadia Sirota, and scores of others currently making classical music cool again. A. BATTAGLIA
21. Blade Runner (1982)
21/41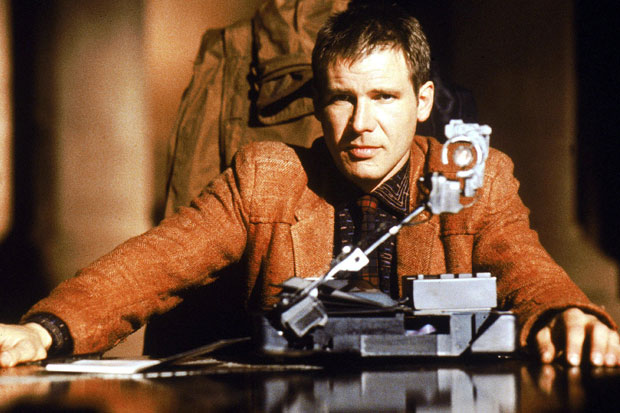 When it came out in 1982, the dystopic science-fiction dirge Blade Runner sounded as striking as it looked — and it looked supremely striking indeed. In concert with Ridley Scott's feverish visions of a futuristic city gone to seed, an evocative score by the Greek synth-whiz Vangelis saturated the story with a poignant sense of reflection and loss. The ambient electronic textures and brooding tone — downcast, contemplative, melancholic — proved salient among techno's originators in Detroit, a city with its own Blade Runner-like aspects after "white flight" and the dissolution of the auto industry in the '70s and '80s. "That Blade Runner influence was big here in Detroit," techno titan Carl Craig once said. "What was really phenomenal about Blade Runner, other than the visuals — because the storyline was kind of shitty — was the music, which was incredible. Vangelis did an amazing job at bending ideas and capturing moods in what he composed." A. BATTAGLIA
22. Wild Style (1983)
22/41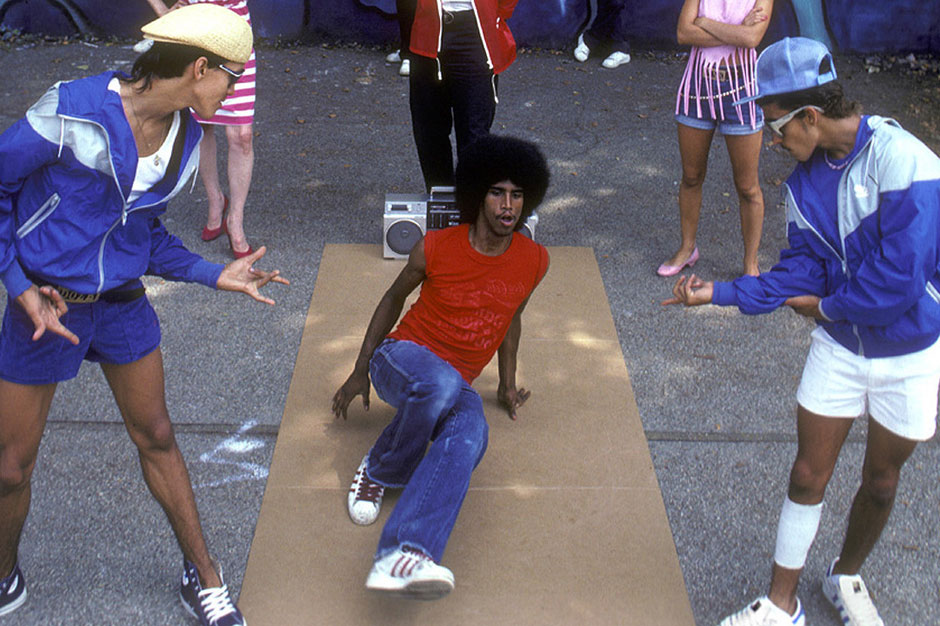 Hip-hop's early proliferation is mythical, and characterized by a series of random circumstances: NYC had a blackout in '77, would-be DJs looted record players, the Bronx exploded with the sounds of music booming through park parties run on juice borrowed from street lamps. Turntablism is a microcosm of that. Grand Wizard Theodore, one of those who benefited from the blackout bonus, invented the scratch when he stopped the record with his finger after his mom burst into his room to tell him to cut the volume. One of the most important steps in the art form's proliferation past New York's borders was when young white art student Charlie Ahearn was approached by graff writer and scene impresario Fab 5 Freddy to make a hip-hop movie featuring Theodore cutting onstage and Grandmaster Flash cutting in his kitchen. Wild Style was where many of your favorites DJs would first see anyone scratch in any capacity. And the film was such a groundbreaking moment for hip-hop that most of its classic lines are all over the genre's classic albums: It Takes a Nation of Millions to Hold Us Back, Midnight Marauders, Illmatic, Check Your Head, among others. "Yo, shut the fuck up, Chico, man!" Never forget. J.E.S.
23. Merry Christmas Mr. Lawrence (1983)
23/41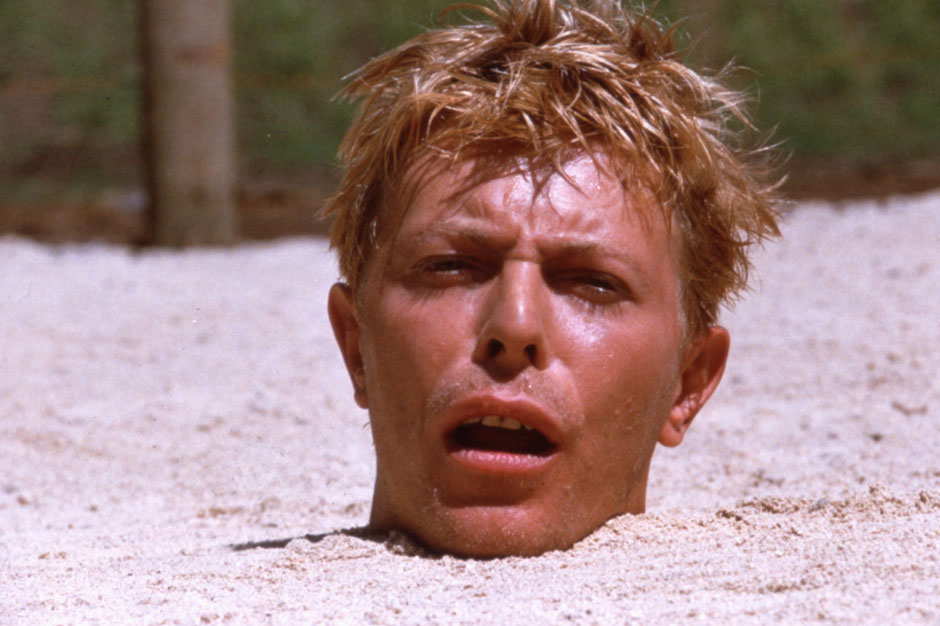 This restrained and evocative film from Japanese director Nagisa Oshima features an equally restrained and evocative score by the film's star and former Yellow Magic Orchestra keyboardist Ryuichi Sakamoto, working alongside singer David Sylvian. Sylvian's art-pop band Japan had recently peaked with their hit "Ghosts" and then promptly split up. Said Sylvian of the music he made in Japan's wake, "There was this massive change in outlook, trying to write more directly, to pare away all mannerism or declaration from the work." Wedding streaming, Eno-esque ambience with Sakamoto's glassy piano lines and rich vocals, this BAFTA-winning soundtrack anticipated the downtempo soundscapes that lay ahead (Fennesz, Boards of Canada, the more tranquil aspects of Oneohtrix Point Never), as well as the elegant synth pop of the Postal Service and James Blake. A. BETA
24. Repo Man (1984)
24/41
Let's put it this way: When Iggy Pop, Mr. "Raw Power" himself, has the softest song on your soundtrack, you know that shit is hardcore. Repo Man, the scrappy film and its perfectly time-capsuled soundtrack, was a generation's gateway drug into L.A. hardcore, a fringe underworld that smelled of blood, sweat, and stale beer. For the huge pockets of American suburbia that didn't live in Los Angeles, couldn't find a bootlegged VHS copy of The Decline of Western Civilization, or hadn't yet tapped into the SST mail-order catalog, Alex Cox's nihilistic, anti-consumerist sci-fi cult classic and its soundtrack — shockingly released through Irving Azoff's MCA and not, like, Alternative Tentacles — was their first exposure to the sloppy, speedy tantrums of Black Flag, Suicidal Tendencies, Fear, and the underrated Plugz. Though you can hear it plain as day in a whole new breed of L.A. revisionists (Trash Talk, FIDLAR, Double Negative), bands that sound nothing like the Circle Jerks still admit it was a perfect entry point. For example, Those Darlins, Weekend, Matthew Sweet, and Amanda Palmer — a bunch of musicians you'd never expect at a TV Party — recently appeared on a tribute to the soundtrack. D.K.
25. Paris, Texas (1984)
25/41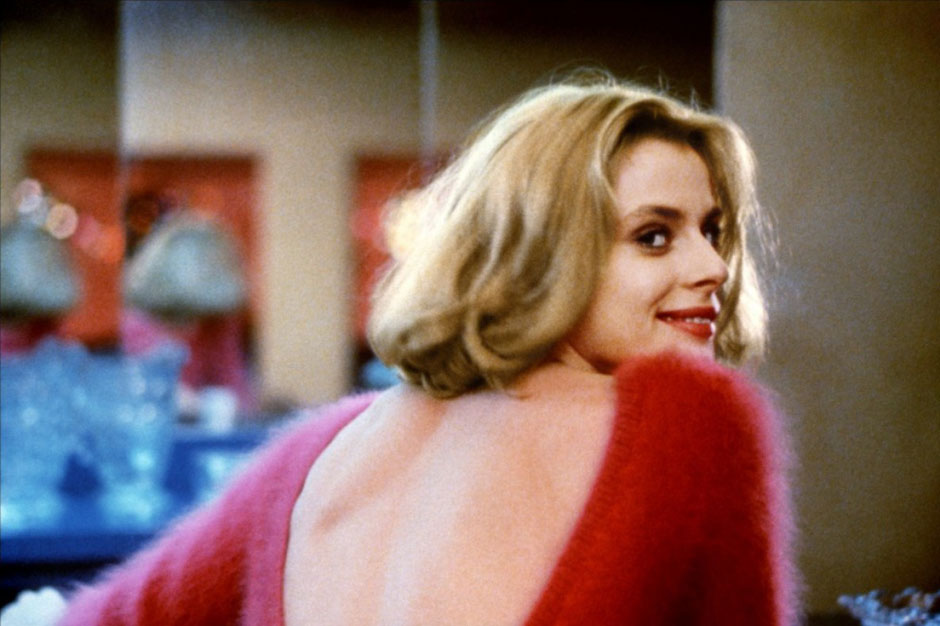 Ry Cooder's score for Wim Wenders' 1984 drama consists almost entirely of his spare, airy solo slide guitar, a series of fantasias based on Blind Willie Johnson's technique from his 1927 blues number "Dark Was the Night, Cold Was the Ground." That sound has subsequently become permanently identified with the southwestern landscape that it accompanied. Daniel Lanois has said it was an influence on his own playing, and it seems to have deeply affected the Lanois-produced U2 album The Joshua Tree — see, for instance, the beginning of "Running to Stand Still." Giant Sand and their spinoff group Calexico transplanted Cooder's sound into a full-band context and Dave Grohl credits it with inspiring the acoustic half of the Foo Fighters' In Your Honor. D.W.
26. Purple Rain (1984)
26/41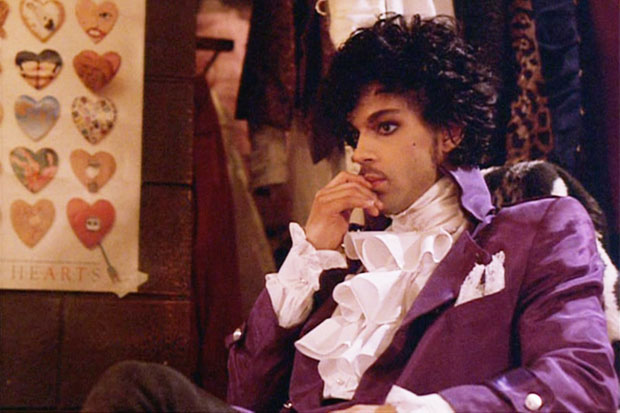 Dearly beloved, we are gathered here today to pay tribute to the 13 times-platinum rock-funk-soul fusion known as Prince and the Revolution's 1984 soundtrack to Purple Rain. Producing five Top 40 hits for His Royal Badness, including two No. 1s ("When Doves Cry," "Let's Go Crazy), its genre-smashing influence doesn't exactly need to be spelled out (for starters, Rihanna, Green Day, Beck, Foo Fighters, Beck, the Roots, Of Montreal, and Patti Smith are just some of the artists who have covered it, let alone the many who have poached it wholesale). So Purple Rain's real legacy is the masturbation-themed deep-album cut "Darling Nikki," which would blow Tipper Gore's mind and eventually the doors of the United States Senate. After her 11-year-old daughter asked if she'd buy her the soundtrack, "Nikki" inspired Gore to form the Parents Music Resource Center, leading, by proxy, to the black-and-white "PARENTAL ADVISORY: EXPLICIT LYRICS" stickers appearing on records from late 1985 to today. K.G.
27. The Breakfast Club (1985)
27/41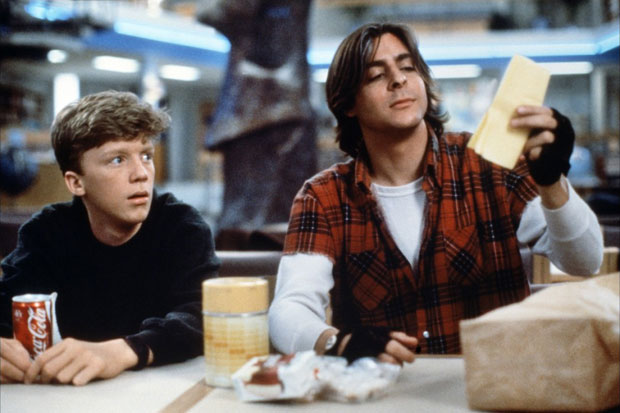 The name "John Hughes" has become synonymous with Molly Ringwald and the dawn of post-S.E. Hinton teen drama; but back in the 1980s it also signaled new-wave movie soundtracks primed to accompany angst-ridden rites of passage. With the singular exception of Wayne Crawford's Valley Girl (best remembered as Nicholas Cage's first lead), no films of the era embraced the musical left-of-center like Hughes', devoting sonic and narrative space to an endless cast of transatlantic independents. And although 1986's Pretty in Pink was the birthplace of the black-nail-polish mall set (with classics from Echo & the Bunnymen, the Smiths, and New Order), it was The Breakfast Club's attempt to momentarily make Simple Minds bigger than U2 that got the pity-party started. A Wang Chung B-side and instrumentals by Moroder engineer Keith Forsey are nice afterthoughts. But lead-off track "Don't You (Forget About Me)" remains among the decade's most unexpected (and satisfying) No. 1 singles, laying the groundwork for Depeche Mode, the Cure, and R.E.M.'s subsequent commercial wins. P.O.
28. Blue Velvet (1986)
28/41
Angelo Badalamenti had already been scoring films for more than a decade by the time of this breakthrough, his first collaboration with director David Lynch (and, on "Mysteries of Love," with singer Julee Cruise). Their later work on Twin Peaks has a cult of its own around it, but the lush, richly orchestrated, hazy tone of Badalamenti's theme and "Mysteries of Love," along with the exaggeratedly smoky jazz of "Akron Meets the Blues," set the template for a certain kind of uncomfortably exaggerated romanticism: elegance turned grotesque, beauty on the verge of spilling over into overripe horror. It's hard to imagine Lana Del Rey's louche, plush aesthetic, for instance, without Blue Velvet. Bands like Cults and Mount Eerie take their stylistic cues straight from Badalamenti; Alexis Krauss of Sleigh Bells described the bloody-sneakers cover of last year's Reign of Terror as "a David Lynch, Blue Velvet thing." The movie also reframed the decades-old pop songs that conclude its soundtrack as "Lynchian" — especially Roy Orbison's "In Dreams," which sparked Orbison's late-career revival, ultimately spilling out into Chris Isaak and Jeff Buckley. D.W.
29. Less Than Zero (1987)
29/41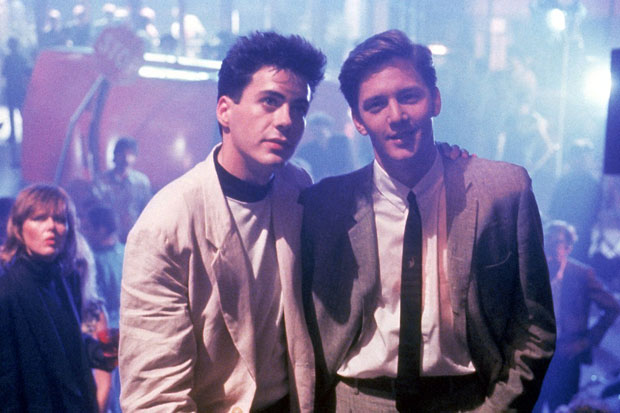 The Rick Rubin-produced soundtrack to the Bret Easton Ellis adaptation would be a landmark for its two hip-hop tracks alone: LL Cool J's bass-and-sax odyssey "Going Back to Cali" and Public Enemy's loud-rap game-changer "Bring the Noise." Plus it's also a pop-historical oddity for housing the lone collaboration between Roy Orbison and Glenn Danzig ("Life Fades Away"). But its enduring legacy is that it featured a bunch of contemporary bands covering much older hits: the Bangles doing Simon & Garfunkel's "Hazy Shade of Winter," Slayer doing Iron Butterfly's "In-A-Gadda-Da-Vida," and more. Ever since then, "newish alt-rock band does old song" has been a staple of certain kinds of Hollywood soundtracks (see Urge Overkill doing Neil Diamond for Pulp Fiction as one of many examples). In other words, when the Lumineers record "Sweet Leaf" for Iron Man 5, blame Rubin. D.W.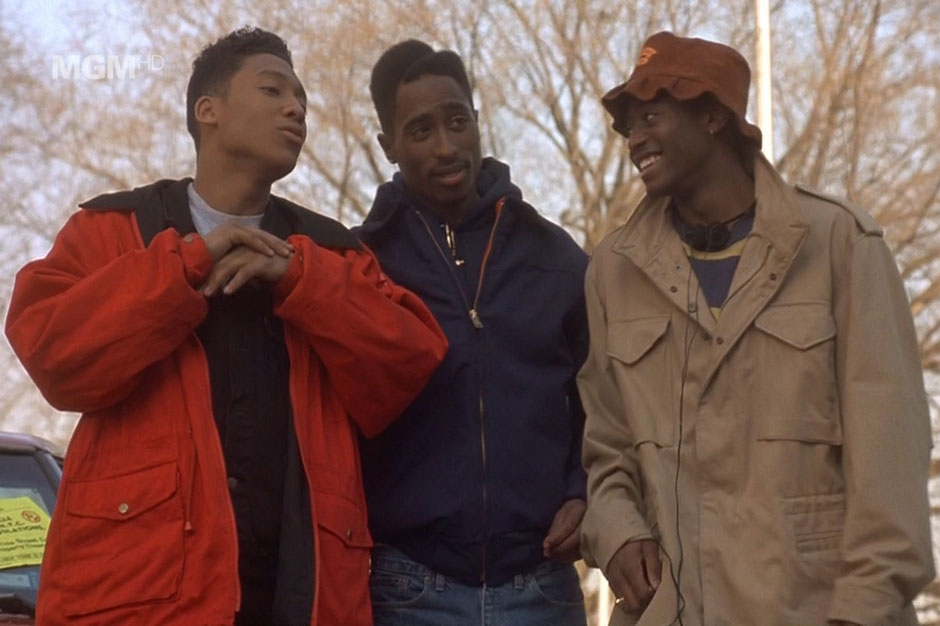 The Juice soundtrack hit stores on New Year's Eve of 1992, with that summer's hit Boyz N the Hood soundtrack still visible in the rearview. The latter made more chart noise, but Juice would end up more prescient. The untouchable one-two punch of Naughty by Nature's "Uptown Anthem" and Eric B. & Rakim's "Juice (Know the Ledge)" marked the return of the East Coast before the East Coast knew it had to return (clearing the path for Wu-Tang, Black Moon, Onyx, and more). Also, it eliminated most of the softer R&B padding that the Hood and New Jack City soundtracks were using as a crutch. Though the soundtrack's biggest hit was Aaron Hall's "Don't Be Afraid," a late new-jack-swing entry, it was produced by the Bomb Squad's Hank Shocklee, who curated the entire soundtrack. JORDAN SARGENT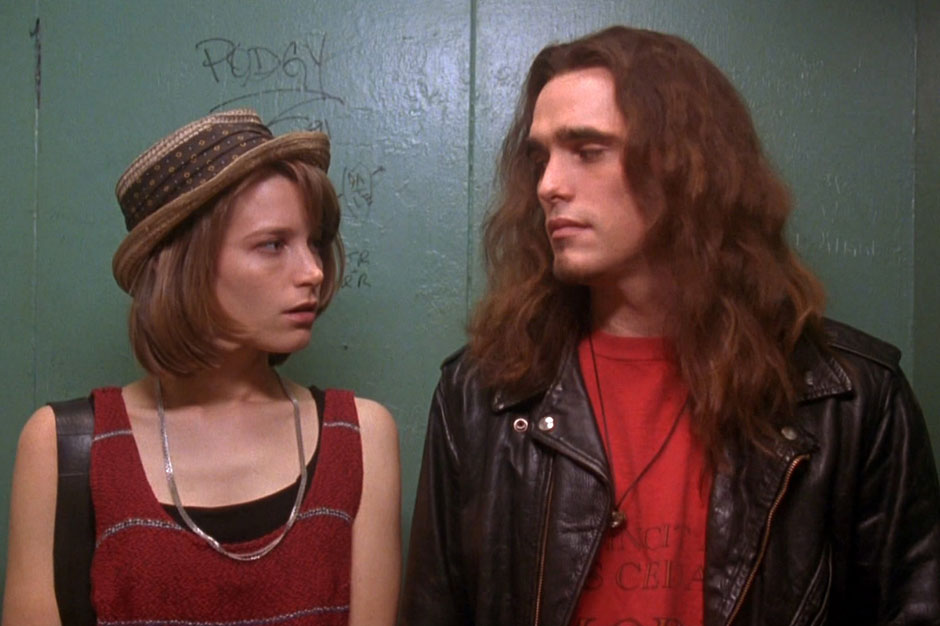 Of course, Hollywood wanted its grunge moment, and who better to deliver it than a Rolling Stone scribe-turned-screenwriter already living in the Pacific Northwest. Where Cameron Crowe's Say Anything was the spot-on transition between the era of Hughes-ian teen angst and Cobain's inherit-the-Earth teen spirit, Singles was the 70mm melodrama that pop likes to project upon a local community suddenly in the storm's eye, codifying each of its stereotypes. So, of course, Kurt said "no thanks," leaving elder alt-statesman Paul Westerberg (ha!) to play soundtrack auteur, and come up with two of his best post-Replacements tunes ("Dyslexic Heart" and "Waiting for Somebody"). Strip away some nostalgia (Hendrix, Heart under an acoustic pseudonym) and Pumpkins bandwagoneering and what you're left with is a nearly perfect document of how the masses remember the Seattle era: hairy, distorted, minor-key, and full of the caterwauling about authenticity and fairness that begat Nickelback. P.O.
32. Latcho Drom (1993)
32/41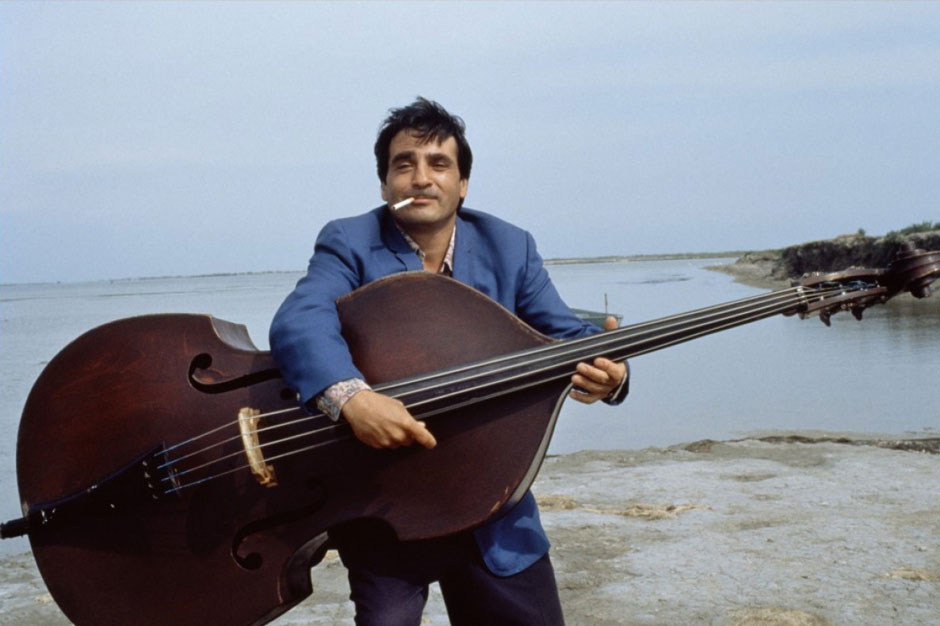 According to Gogol Bordello frontman Eugene Hutz, Tony Gatliff's 1993 documentary Latcho Drom ("Safe Journey") is simply the "bible" of gypsy movies. The gloriously colorful film provided the first cinematic survey of Romani musical traditions over the course of one year, traveling from the gypsies' original Rajasthan, India, homeland to Spain, with stops along the way in Egypt, Turkey, Hungary, Romania, and Slovakia. Like Gogol Bordello, other so-called gypsy punks — including Afenginn, Balkan Beat Box, DeVotchKa, and Golem — boisterously blend and bastardize multiple styles of Romani music; just as the homelandless Romani play the music of their hosting countries in a gypsy way, i.e., in Hutz's words, "faster and harder and more excitingly." R.G.
33. Above The Rim (1994)
33/41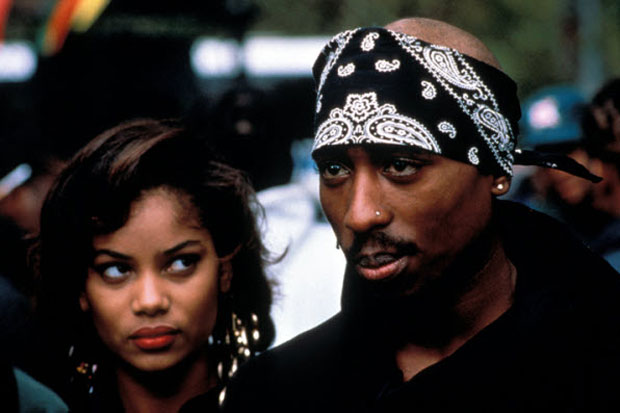 There was a time when hip-hop thought R&B was soft, R&B thought of hip-hop as overly macho, and never the twain should meet. But for 2Pac and Marlon Wayans' hoops opus, rap and R&B united with a similar tough-guy philosophy, thanks in part to the appeal of Nate Dogg's gangsta-crooner vocals on the Warren G runaway success "Regulate." A year later, Mariah Carey and ODB conjoined their own rap and R&B impulses ("Fantasy"), followed by a similar effort from Mary J. Blige and Method Man (the remix of Meth's "All I Need"). Now we have Drake. J.E.S.
34. Trainspotting (1996)
34/41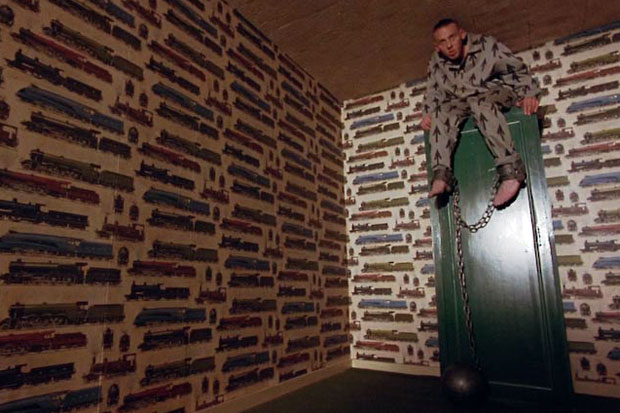 Few British films ever had the Stateside pre-release buzz of Danny Boyle's adaptation of Irvine Welsh's heroin/rave novel. And rightly so! It was the time of Tony Blair's Rule Britannia, of Young British Artists, of Britpop and the Limey "electronica" that Americans thought they craved. Following that up with a movie about nihilistic youth neither slack nor grungy was as refreshingly cool as English weather. And the accompanying 14-track Trainspotting "mixtape" didn't disappoint, feeding each of those pop-culture habits although illustrating one (somewhat rockist) theory that dark pre- and post-punk begat mainstream club-culture without any black influence (but with some American help). Multiple generations of self-destructive creative behavior is on beautiful display (Eno, Lou, New Order, Primal Scream, then still-relevant Elastica, Underworld's "lager" anthem "Born Slippy"), priming the pump for the next 20 years of minimal wave, goth garage-rock and -techno that followed in its wake. And though all the cruise-ship ads have made Iggy's once-immaculate "Lust for Life" utterly unlistenable, you can't say that about any of the other tracks here. P.O.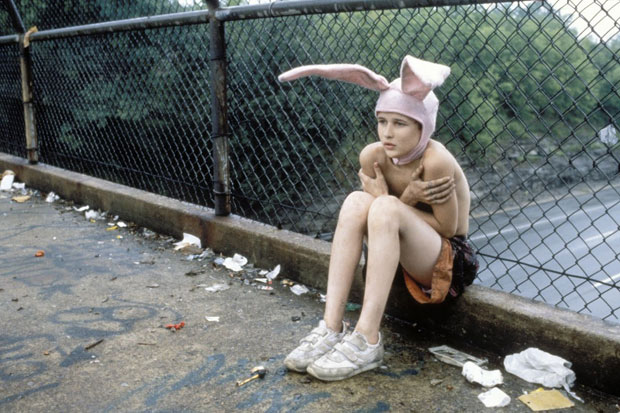 In the early '90s, extreme black metal bands and their exploits — burning churches, murder, cannibalism — started making headlines in Europe. To director and screenwriter Harmony Korine, who wrote the 1995 AIDS-scare flick Kids, the extremist rhetoric of Burzum and merciless grind of Absu fit right in with his next film's themes of child molestation, devil worship, and drowned cats. So he tapped those artists, including Burzum main-man Varg Vikernes (who was in prison for murder), to score Gummo alongside songs by Madonna, Buddy Holly, and Roy Orbison. Those last few artists didn't make the soundtrack CD, though, thus emphasizing and exposing the American underground to extreme metal, kickstarting 15 years of alt-rock interest in the genre, which is still manifesting itself musically (Mt. Eerie), artistically (Liars, Neil Young, and Death Cab have released BM-themed album art) and lyrically (Of Montreal, My Morning Jacket, and Deerhunter songs have all been inspired by black-metal legends). Plus, bands like Nachtmystium and Liturgy are thriving in indie-rock circles. K.G.
36. Rushmore (1998)
36/41
The soundtrack for Wes Anderson's breakthrough film toggled between dainty, fanciful, harpsichord-like ditties by ex-Devo movie scorer Mark Mothersbaugh and spirited '60s British-invasion jams by the likes of the Creation, the Kinks, and the Faces. The differences in tone between the two was novel when Rushmore came out in 1998, but it's more or less standard-issue in indie-rock these days thanks to Grizzly Bear, Dirty Projectors, the Decemberists, and countless others merging rock's ostensibly raucous energy with super-fastidious tendencies that sound like aural equivalents of Anderson's immaculate stage designs. One such band from Italy — Il Cani, or the Dogs — even made a tribute video signaling as much for a song called, you guessed it, "Wes Anderson." A. BATTAGLIA
37. Magnolia (1999)
37/41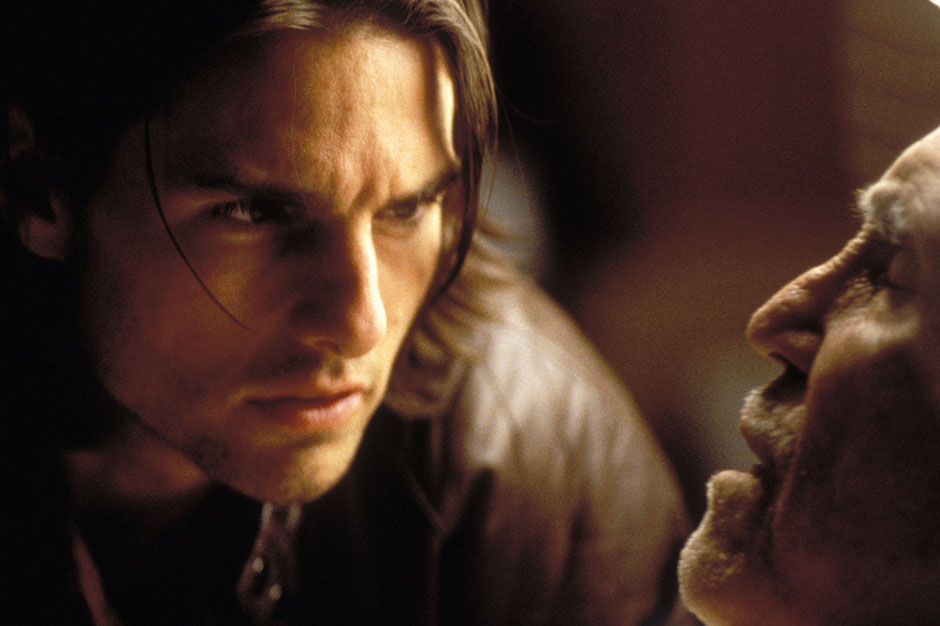 Paul Thomas Anderson's Magnolia wasn't the blockbuster many in Hollywood expected it to be. While Boogie Nights helped make stars out of Heather Graham, Philip Seymour Hoffman, and Mark Wahlberg (the actor), only one true talent emerged from Magnolia's wake: Producer Jon Brion. Aimee Mann performed all of the film's key tunes, but it was her pal Brion who was the biggest beneficiary from the soundtrack, his luxuriant-yet-claustrophobic orchestrations juxtaposing the film's labyrinthine storytelling and slick techniques. Suddenly, everyone from Fiona Apple to Elliott Smith to Kanye West wanted the producer's trademark sound, which resembled a caravan of organ grinders with an epileptic drummer. For a few post-millennium years, Brion was the hottest producer not named Nigel Godrich, and while he's slowed down in recent years to focus on film scores, he still has time for the occasional smoothly melancholy collaboration, like Best Coast's The Only Place. D.K.
38. O Brother Where Art Thou? (2000)
38/41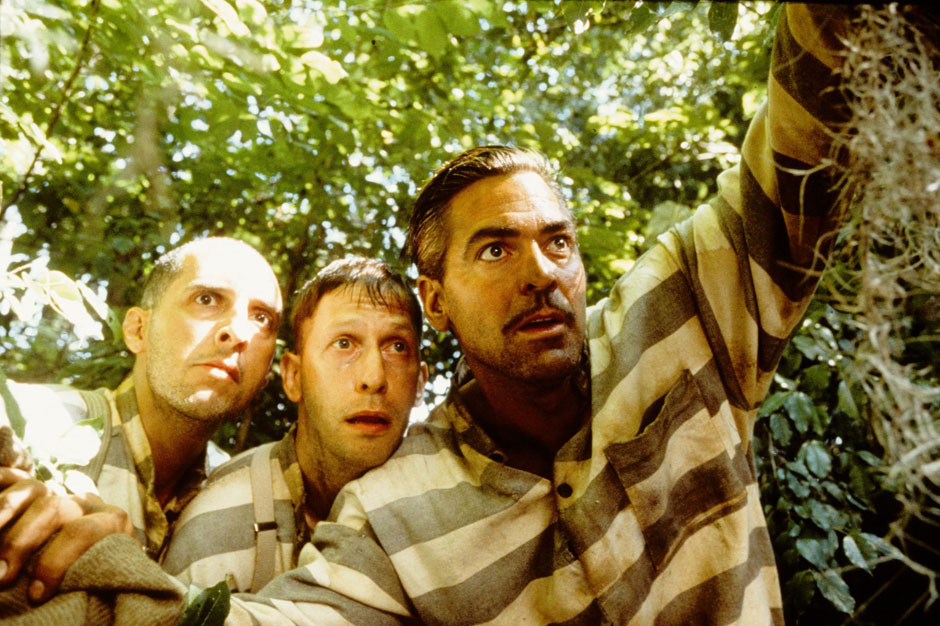 With its aw-shucks take on ole-timey American music and a Hollywood-sepia gloss on the Great Depression, one could argue that the soundtrack album accompanying the 2000 Coen Brothers film O Brother, Where Art Thou? helped lay the ideological foundation for the G. W. Bush era. With hip-hop still on the rise, rockist America again looked to the old South for solace. Nine million copies later, O Brother's clever juxtaposition of vintage tracks and slickly updated re-recordings made acoustic music eminently commercial again, paving the way for the rustic, post-No Depression sounds of Mumford & Sons, the Lumineers, Nickel Creek, Fleet Foxes, etc., while confirming producer-scorer T-Bone Burnett's commercial knack for making nearly everything old sound nearly new again. R.G.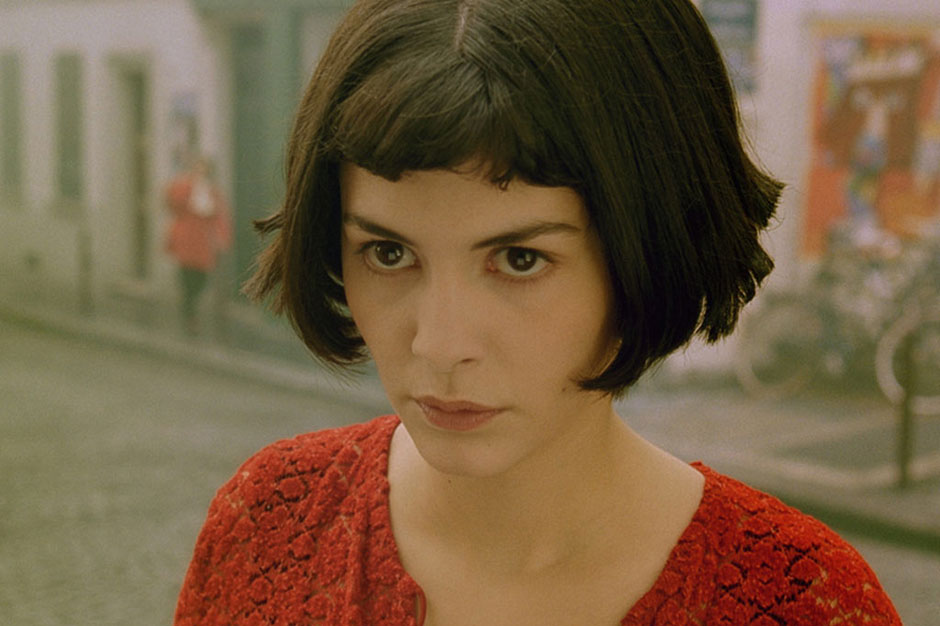 Rooted in the French musette tradition, Yann Tiersen's accordion and piano music for Pierre Jeunet's whimsical 2001 film Amélie may hold the key to the sometimes ingenious if often too precious composerly aspirations of instrumentally unorthodox acts like Sufjan Stevens, Zach Condon's Beirut, and Grizzly Bear — and even to "real" composers with pop leanings like Missy Mazzoli and Nico Muhly. Amélie's score underlines its heroine's sincerity, while her whimsical ways are reflected in the harpsichord, banjo, vibraphone, typewriter, and bicycle wheel that augment Tiersen's keyboard duo. Perfect for low-budget productions, Tiersen's less-is-more sound makes Philip Glass's commercial minimalism sound vulgar and overblown by comparison. R.G.
40. Garden State (2004)
40/41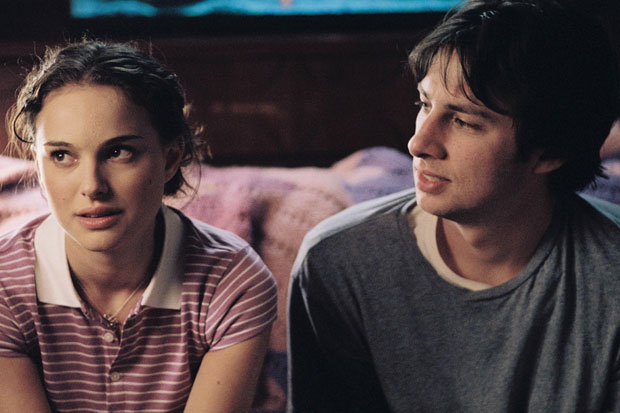 "You gotta hear this one song. It'll change your life, I swear," Natalie Portman famously murmured to Zach Braff, and the song did in fact change your life if you were an indie-rock band in the early '00s. If "Smells Like Teen Spirit" announced alternative rock's "Here we are now" moment like a ton of bricks, then those opening notes of the Shins' "New Slang" cooing softly in Portman's headphones declared indie rock's arrival like a handful of feathers. Within months of the film's festival-circuit premiere and art-house run in the late summer of 2004, the Garden State soundtrack was hovering high on the Billboard chart, thanks largely to this relatively new invention called the iTunes Store. Suddenly, the Shins, Iron & Wine, and scene forefather Nick Drake — all featured on the soundtrack — were a mere Nelly's Suit away from being No. 1 in America. It's amazing that the Garden State soundtrack, originally just a mixtape the dude from fucking Scrubs made for himself, was the catalyst for indie rock to officially enter the mainstream, but thanks to it, the door was kicked open for Arcade Fire and Bon Iver to win Grammys, for Vampire Weekend to score a gold record, and for Gotye and fun. to rule radio. Damn straight that song changed your life. D.K.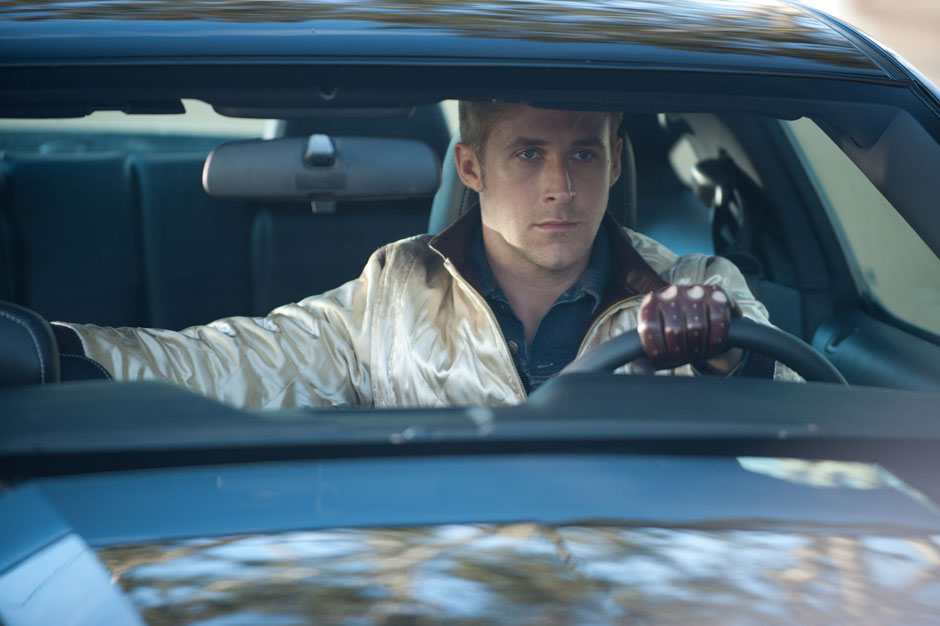 An aughties soundtrack so popular among music fanatics that multiple record companies thought it was a fine idea to drop it on vinyl? That's that Gosling magic. Drive's car film noir was scored into a dreamlike state by ex-Beefheart drummer Cliff Martinez, with a lot of help from Chromatics/Desire/Glass Candy impresario Johnny Jewel, who worked closely with director Nicholas Winding Refn to find the right aural patina. Jewel's taste for the tactile, lush sounds of the '70s and '80s resides in the high end, simple and buzzy with wispy model-girl vocals. Drive and Jewel kickstarted the Italo disco/vintage synth hankerings of the woozy, post-witch house underground — a logical place to visit once everyone tired of dubstep's irrepressible sub-bass, and one that only grows a bigger fanbase by the month. Watch this space. J.E.S.