Here's something special for Axl Rose on his 51st birthday: his very own trading card. Beckett reports that card company Topps has announced the Guns N' Roses frontman as the headliner in its upcoming "2013 Topps Archives Heavy Metal Autographs" set.
The upcoming collectible will be Rose's first-ever fully licensed trading card appearance (guess these don't count), and will also feature a certified autograph from the Appetite for Destruction star. Also included in the autographed 10-card series: Mötley Crüe's Tommy Lee, Skid Row's Sebastian Bach, Anthrax's Scott Ian, and Bobbie Brown, ex-wife to Warrant's late frontman Jani Lane, and the star of the band's ridiculous "Cherry Pie" video. In addition to the standard versions, there will also be special editions of the cards — limited to 25 copies each — that will be printed on (what else) metal.
On the subject of kitschy metal memorabilia news, Metallica have unveiled a new line of sneakers developed in collaboration with Vans. Following last October's inaugural entry in the Vans X Metallica collection, the heavy metal icons have designed four different types of shoes, all of which you can now purchase and wear. (Hey, if it's good enough for Kanye…)
According to the Vans website, each bandmember "had free reign to choose any iconic Vans shoe style and make it their own while drawing from their favorite influences in the worlds of music, action sports and art to create Vans shoes reflecting their personal style."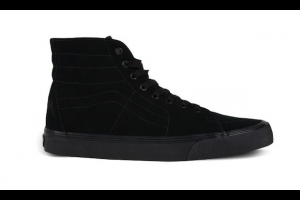 Frontman James Hetfield illustrated his own take on a skull and crossbones design to "Metallicize" his black boot-inspired accessory; guitarist (and horror-film geek) Kirk Hammett drew on his love of surfing to craft an all-natural slip-on made of hemp; bassist Robert Trujillo imprinted his Escuela sneaker with Aztec calendar artwork drawn by his wife, Chloe; and drummer Lars Ulrich mostly kept it classic with the Era Laceless, using brushed twill materials and adding a print of the diamond plate pattern on his snare drum. All of this is to say that Metallica helped design footwear for Vans, and they all look like footwear by Vans. Just another business venture for a legacy band that now runs their own label, curates their own festival, and will soon star in their own 3D summer movie.
Scroll down to watch a video of Trujillo discussing the band's collaboration with Vans (more videos from the other guys in Metallica are on the way). Head down further for the full list of cards in Topps' "Heavy Metal Autograph" collection.
Topps' "Heavy Metal Autograph" series:
1. Axl Rose (Guns N' Roses)
2. Sebastian Bach (Skid Row)
3. Tommy Lee (Mötley Crüe)
4. Kip Winger (Winger)
5. Reb Beach (Winger)
6. Lita Ford
7. Bobbie Brown (Warrant's "Cherry Pie" video)
8. Stephen Pearcy (Ratt)
9. Scott Ian (Anthrax)
10. Dee Snider (Twisted Sister)