Alice in Chains, in a fit of DIY nostalgia, asked fans yesterday to decode an anagram to discover the title of their next studio album.
"H V L E N T P S U S D A H I E E O E D T I U R R," a message on the band's website reads. "Reassemble these letters to reveal the album title of the new Alice In Chains record. Share your decoded messages on Instagram, tagging #AICALBUMTITLE."
Well, as the group's site confirms, the cypher has been solved and Alice in Chains' upcoming fifth full-length is titled The Devil Put Dinosaurs Here. The follow-up to 2009's Black Gives Way to Blue doesn't have an exact release date, but is due in May. Nick Raskulinecz, who helmed AiC's last effort, assumed production duties once again for Dinosaurs.
"I don't think you'll be surprised by anything you hear," guitarist Jerry Cantrell recently told Revolver (via Blabbermouth) when asked about the new LP. "It's us. But it's also really unique. It's got all the elements of any record we've put out, but it's unlike any record we've put out. Basically, it's the next chapter in the Alice in Chains book, and it's going to be a big one." Cantrell also told Guitar World, "In my opinion, [Black Gives Way to Blue] stood up to anything else we've put out in our career. Hopefully, the new album will connect with people in the same way."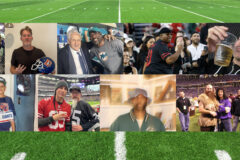 The Seattle four-piece — which still features William DuVall on lead vocals, in place of the late Layne Staley — shared "Hollow," the vintage-sounding first single off The Devil Put Dinosaurs Here, back in December and premiered the track's spacey music video last month. Today, Revolver debuted an exclusive behind-the-scenes clip looking at the making of the "Hollow" video. Watch that five-minute feature down below.
Alice in Chains are also planning a U.S. tour in the spring and have booked a pair of international dates for later this year. Find that info directly under the Revolver video.
Alice in Chains 2013 tour dates:
April 25 – Miami Beach, FL @ The Fillmore
April 26 – Tampa, FL @ WXTB Rockfest
April 27 – Jacksonville, FL @ Welcome To Rockville
April 30 – Birmingham, AL @ BJCC Concert Hall
May 1 – Augusta, GA @ William B. Bell Auditorium
May 4 – Charlotte, NC @ Carolina Rebellion
May 5 – Norfolk, VA @ Norva
May 7 – Bethlehem, PA @ Sands Event Center
May 8 – Pittsburgh, PA @ Benedum Center
May 10 – Boone, IA @ Central Iowa Expo
May 12 – St. Louis, MO @ KPNT Pointfest
May 14 – Sioux Falls, SD @ Lyons Fairgrounds
May 15 – Milwaukee, WI @ Eagles Ballroom
May 18 – Philadelphia, PA @ Susquehanna Bank Center
May 19 – Columbus, OH @ Rock On The Range
May 21 – Ft. Wayne, IN @ Embassy Theatre
May 22 – Evansville, IN @ Aiken Theatre
May 24 – Lincoln, NE @ Pinewood Bowl Amphitheater
May 25 – Pryor, Oklahoma @ Rocklahoma
June 15 – Donington Park, England @ Download Festival
September 19 – Rio de Janeiro, Brazil @ Rock in Rio