The Yeah Yeah Yeahs haven't exactly been laying low since they wrapped up touring behind 2009's It's Blitz!, but the New York trio hasn't been generous with details about its next outing as a band, either — until today. Karen O, Brian Chase, and Nick Zinner have confirmed their fourth full-length album, Mosquito, will arrive on April 16. Are we psyched to see if the three-time SPIN cover stars can continue on with its three-album, three-EP winning streak? We are.
Track Karen O's evolution as a style icon here!
The hard facts:
• This is its amazing cover, designed by South Korean artist and filmmaker Beomsik Shimbe Shim.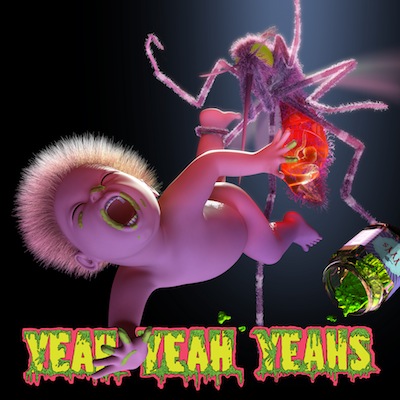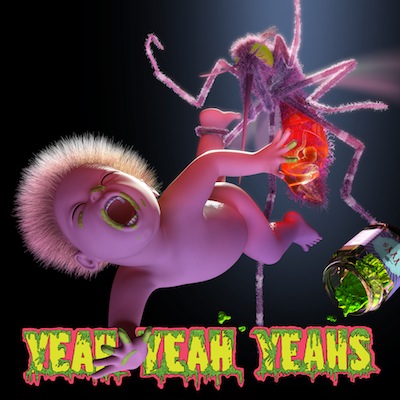 • It features production by TV on the Radio's Dave Sitek (who has done work on YYYs' 2002 Machine EP, 2003's Fever to Tell, 2006's Show Your Bones, and '09's It's Blitz!), Nick Launay (who also worked on It's Blitz! and the band's stellar 2007 Is Is EP along with recent albums by Grinderman and the Cribs), and LCD Soundsystem's James Murphy (you've probably heard of him before). Murphy worked on just one Mosquito track.
• This is what Karen O says about its sound and vibe: "We would love for this music to make our fans feel something, for it to stir some shit up inside of them, whatever that may be. So much feeling went into this record, it was the rope ladder thrown down into the ditch for us to climb up and dust ourselves off. I hope others can climb up it too; we're excited to share the good vibes. I think this record has more moodier and tripped-out songs than you've ever heard from us. You might catch some roots reggae and minimalist psychedelia influences in there. This is a feel good, food for the soul, chicken soup for the ears Yeah Yeah Yeahs record — which doesn't mean easy listening — it means kind of raw, kind of chaotic, kind of dreamy. Very us."
• SPIN has heard one of YYYs' new songs already, "Despair," which the band debuted at a Hurricane Sandy benefit in December. We described it like this: "a spare thumper that recalled Florence and the Machine's 'Dog Days Are Over,' with Karen O singing about wasted days, nights, years, life. She struck a melancholy tone, crooning about tears stinging her eyes, but concluded clear and assured, 'Nothing to fear' as the track ramped up and she hopped around, punctuating the swelling music with her signature staccato 'Hey!'s."
• Based on the one-minute teaser the band also released today, the band's new press photo, and notes from Karen O, the album marks a return to the group's grittier punk roots. "We took a more playful, lo-fi approach to songwriting. Much of the music was demoed in our little basement studio in Manhattan with drum machines, a shitty sample keyboard and tons of delay — which we called the soup," the group's frontwoman says in a statement.
• Here's the track listing:
1. "Sacrilege"
2. "Subway"
3. "Mosquito"
4. "Under the Earth"
5. "Slave"
6. "These Paths"
7. "Area 52"
8. "Buried Alive" [ft. Dr. Octagon]
9. "Always"
10. "Despair"
11. "Wedding Song"
• In addition to work down in the aforementioned NYC studio, Mosquito was recorded at Sonic Ranch in Tornilla, Texas — a spot they also utilized for some sessions for It's Blitz!.
• Mosquito includes a cameo from Kool Keith in his Dr. Octagon persona.
• The group debuted the title track in Pomona, California, over the weekend; it features the lyric "I'll suck your blood!" Footage of the new songs performed at the show is right here!
https://youtube.com/watch?v=j3iWWWU1w08https%3A