With his new album Anything In Return (Carpark), out January 22, Toro y Moi's Chazwick Bundick proves once again that he's pigeonhole proof. Back in 2009, he and University of South Carolina classmate Ernest Greene, a.k.a. Washed Out, were credited with reinventing the nostalgic sound of summer via the oft-chuckled about, haze-happy chillwave genre. But after releasing his bedroom-born LP debut, Causers of This, Bundick was determined to be bigger than the blog lingo. He now admits 2011's bubbling psych-funk follow-up, Underneath the Pine, was a reaction to how he'd been perceived. "I was trying to be like, 'I'm not just a kid behind a laptop. I really like to play all these instruments.'"
This time, however, he had nothing to prove to anyone but himself. Two summers ago Bundick moved to Berkeley, California, after living his entire life in Columbia, South Carolina. The change left him suddenly free from outside distraction and, ironically, by spending time looking inward, he wound up creating his most extroverted work to date. He sought out a studio for the first time (San Francisco's Different Fur), stopped writing about himself as love's victim, and started singing like an R&B lothario. Anything In Return is a genuinely sexy record and an arty one to boot, expertly interweaving house beats, space age effects, strange loops, live instruments and lush textures.
With Bundick, 26, having recently undertaken collaborations with Odd Future boss Tyler, the Creator ("Hey You") and Los Angeles beat-scene prodigy Nosaj Thing ("Try"), it's clear that the West Cost has been as receptive to him as he is to it. SPIN caught up with Bundick in L.A. to discuss Toro y Moi's evolution.
How did you wind up in California?
I moved out because my girlfriend is getting her PhD in environmental engineering at Cal. I'd never lived anywhere other than where I grew up. A lot of the album talks about how hard it is to cope, but also how I'm comfortable out here, happy to be on my own. I don't know how I would've turned out if I didn't leave.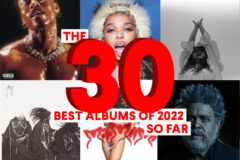 Do you feel the same way about your music?
If I made this kind of music in Columbia, I might have been more self-conscious. It would be so weird to show my old friends a song that sounds like Justin Bieber or The-Dream. If I stayed I'm pretty sure the album would have sounded like Elliott Smith or something. [Relocating] influenced my confidence in trying new things, even wanting to sing different. Before this I was sort of whispering.
Lyrically too, Anything In Return seems less insular.
I was tired of making melancholy songs, because I'm not a sad guy. I tried to write a couple positive-sounding love songs, things that are saying how much I love you instead of how sad I am. The majority of the songs are more optimistic. There's definitely a brighter air to it. It's just me trying to change it up.
Get out of the house, get out of the bedroom…
I really got a chance to find myself in Berkeley, just starting over and making friends, losing the ego. For me, it was just going into the coffee shop, someone saying, "Hey, aren't you Toro y Moi?" and me being like, "Yeah. You wanna hang out sometime? Because I don't know anyone here."
It seems like you've made some interesting friends.
Yeah, every time I'm in L.A., I feel like I end up meeting Peanut Butter Wolf. I'd love to do something with [PBW's] Stones Throw — they're such an iconic label. Flying Lotus actually sent me the song "Tiny Temper" to sing on for his record. It didn't get used but I was flattered to be asked, like, "Wow, I'll try, but I'll be competing with Erykah Badu and Thom Yorke, I don't think you want me on this shit."
What does the title, Anything In Return, mean to you?
It's saying, "Whatever you can offer, I'm down with. Whatever you can provide, I'm satisfied." I'm really trying to be a better person. I'm trying to ask for less. I like the sound of it too, because it reminded me of a cosmic jazz record, which was a big influence — Lonnie Liston Smith, Sun Ra. I'm always into that astral aspect of music.
What were some more modern sources of inspiration?
Motor City Drum Ensemble, Caribou, Four Tet, Floating Points and that whole clique. A lot of house music also — Hessle Audio stuff. I think it's good to keep have your eye on contemporary artists. If you're only looking at the past, your stuff isn't going to sound progressive. I highly encourage being as influenced by now as possible.
How was it working to work in an actual studio?
It was really nice to be in that position. The label paid for everything, I felt privileged. I was testing myself to see if I could make something that sounds like radio quality. I wanted to make a more future-sounding album, not an ode to the '70s.
The videos for this one have been a mix of funny and poignant.
Directors the Harrys and I wanted to have a Twin Peaks weirdness, Tim and Eric awkward humor. Most people know I'm not a serious pop star guy, like "Hey girl, let me holler at you." So when it came to the video, we were like, "We should have a sports car! And a private jet! And a supermodel." We were listing things like kids. There's a little bit of a statement behind [the video], although it wasn't intentional. "So Many Details" is about being heartbroken, but in the video, my character has the most luxurious lifestyle. That juxtaposes with the video for "Say That," which is a song about being very satisfied, but I'm standing in nature with nothing.
So what's next? Pop songwriting? Genuine radio hits?
If something comes up, I would definitely like to give it a shot. I don't know. I had fun writing my own pop record and now I can just crawl back in and get weird again, revolt against what I've done all over again. It's fun to use Auto-Tune, but it's also fun to record drum sets and make Kraut songs.