Later on at the shoot for this story, I begin to ask Tegan about what might happen if the record underperforms. She cuts me off — "It won't," she says firmly. Some of this is her characteristic self-assurance: Tegan has a calm, cocky swagger that plays against Sara, who claims "any charisma I have is just spazzy shyness." During our time together, they keep returning to a disagreement that has clearly been going on for years: Sara is given to a bit of handwringing over self-identifying as an "indie" band, imagining T&S as a peer of, for example, Antony and the Johnsons. As Tegan explains it, she hates to see Sara placing their band in an imaginary cultural ghetto. For Tegan, the twosome have always been a pop band. They've just needed some help getting to that next level.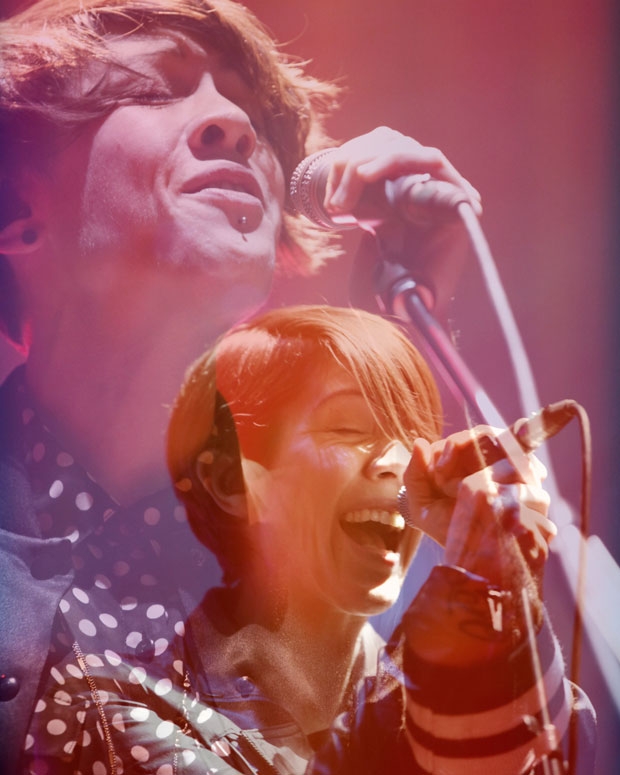 "Lots of people miss that we are really popular with a really rabid fanbase. Some people in our own band," says Tegan, while glancing at her sister, who smirks in response, "forget that we got everything we've set out to get." Says Sara: "The bravado and confidence that Tegan is feeling is what was driving us to make the record we made." Sara may be underplaying her pop interests. Last year, along with fun. guitarist Jack Antonoff, she co-wrote "Sweetie" for Carly Rae Jepsen.
"[Heartthrob] is a brave album," says Antonoff, a friend of both Quins. "There is great pressure for artists to draw big lines between what is pop and what is alternative or indie and Heartthrob blurs those lines. The last thing the world needs is another play-it-safe indie album."
But if Tegan and Sara really didn't care about being luring new listeners, why didn't they just go all the way and do singles with Dr. Luke, with whom they were initially interested in working, and writhe in leather bathing suits for the "Closer" video? Tegan laughs. "Well, Dr. Luke is very expensive," she says, then adds, "Leather bathing suits sound okay."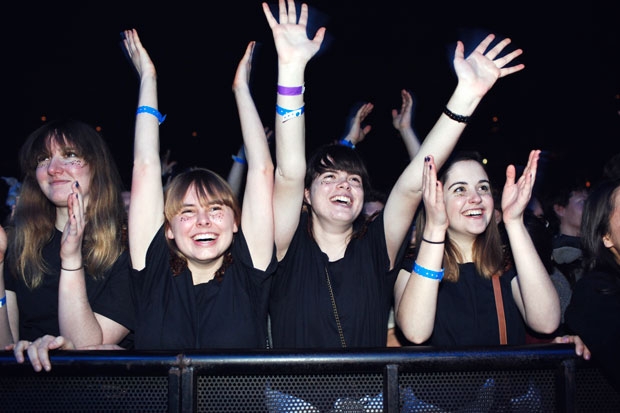 Tegan believes that as long as it's done tastefully, courting a wider audience doesn't carry the risk of alienating any die-hards. As she sees it, there's no way reaching more ears can harm the band. "I don't care if we only add five more fans to the pile," she says. "I meet people, daily, who say, 'Your music saved me; your music got me through high school.' I just think, 'Why would we limit our exposure?'"
Tegan knows that her band's community is the culture around it, and admits that, ultimately, the Grateful Dead is probably a more relevant reference than an act like the Shins or Modest Mouse. But armed with a powerful pop product, she's feeling brash. When asked who she thinks of as her peers, Tegan answers with a question of her own. "The better question would be, 'Who isn't my peer?'" she says. Her answer: "Bruce Springsteen."
The Quin twins are hopeful that Heartthrob is successful enough to at least allow for a future that doesn't involve month after month after month on the road. They'd like to spend more time at home, write songs for other people, and do things aside from being "Tegan and Sara." That may be a daunting task, but they're unflinching. "If people hate Heartthrob," Tegan says, smiling, "we'll probably make another one just like it."
Don't miss exclusive photos from SPIN's Tegan and Sara cover shoot.