Sara and Tegan Quin were born to barely post-teen parents and raised in a racially mixed low-income neighborhood in Northeast Calgary. Their father, and later, their stepfather, worked in the housing industry and the family moved frequently. Tegan says they had lived in 20 different houses by the time they were 18; Sara's count is 28. (Later they settle on 23.) As adults, both nurse a lingering fascination with the interiors of other people's homes, spending hours online perusing real-estate listings.
"When I start, I look in my price range, then I go to $100,000 above my price range, and before I know it, I am looking at houses that cost $1.8 million," says Tegan, who shuttles between Vancouver and Los Angeles with her longtime girlfriend. (The Quins maintain fairly separate lives when they're not working.) "I find it soothing; it's like porn," wryly adds Sara, who divides her time between New York and Montreal. Tegan rolls her eyes at her sister's reference and says, "I wouldn't know."
The sisters' parents divorced when they were four years old and their mom pursued a master's degree in social work full-time, so the girls went into daily daycare from 6 a.m. to 6 p.m. "Our childhood trauma was our parents going to work," says Tegan, describing their upbringing as "quite idyllic. We had an allowance, a paper route, took karate. We were well taken care of and loved." They were surrounded by family and didn't have an idea that they grew up poor or in a shabby neighborhood until they were older and going to a school where they made upper-middle-class friends.
Around 10th grade, they began playing music and writing songs, independent of each other, in their bedrooms. They wrote alone because "it was less embarrassing," claims Sara, who says that she doesn't remember which of them initiated the idea of collaborating, but believes Tegan was the likely instigator. Peering out over downtown Chicago from 1,353 feet up, Sara offers that when she was younger she would have been geeked on being in Billy Corgan's hometown, so absolute was her high-school fandom of the Smashing Pumpkins, who inspired her earliest endeavors.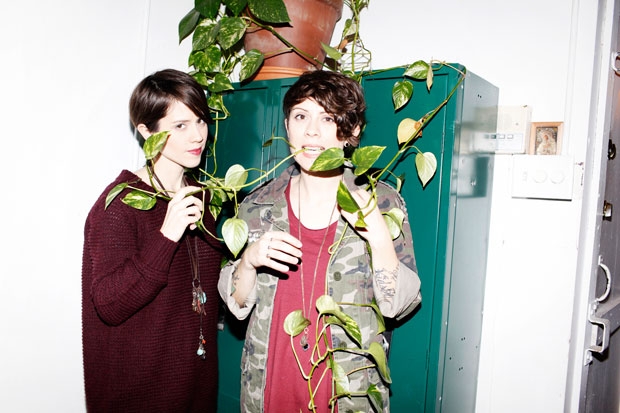 Even once they started collaborating, singing parts on each other's songs, they didn't write together until Sainthood. They never discussed lyrical content — and still don't. "It would have been totally inappropriate," says Sara. "Whatever Tegan was writing about was obvious to me and vice versa. There's so much intimacy and shared experience that we'd be dense not to know. There has to be a shred of privacy from your sibling when you are 32." Affording each other some creative distance, says Sara, was also a function of wanting to shed people's expectations. "We didn't want to prove people right, that we were this weird, gay, twin monster sitting around reading each other's minds."
As teenagers, the two kept (mostly) on the straight and narrow, due to their mother's strictness and discipline. "She worked with high-risk teenage girls, so she knew what we were getting up to," says Tegan. They dyed their hair "terribly ugly colors," and obsessed over Smashing Pumpkins, Hole, and Bikini Kill. But for the chronically shy Sara it took seeing then-Calgary resident Leslie Feist onstage with her punk band for something to click and make her realize that "maybe normal people can make music. That people just aren't born Annie Lennox."
As the sisters began playing acoustic shows, performing for relatives and friends, and later, at high-school Battle of the Bands, they quickly realized a formative truth: They were more interesting as a pair. One of their earliest reviews described the audience reaction to them at a high-school show as "Beatlemaniacal." "That we are successful together has driven what we do," says Tegan.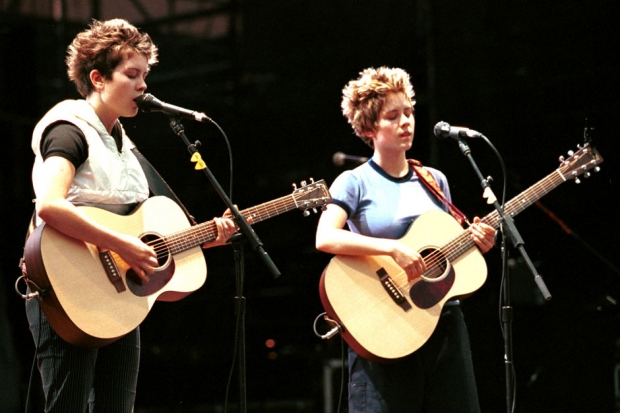 At 19, they signed, initially to Vapor, the label run by Elliot Roberts, Neil Young's longtime manager. They didn't get management until four years later, 2003, when they partnered with the same team that still helps guide their career. The business-side boost was not without struggles. Until that point they'd controlled every facet of Tegan and Sara directly, gotten where they were — touring internationally with two major-label records to their names — largely on their own. "Sure, we were playing sports bars, but we were also doing huge tours opening for Neil Young and the Pretenders," says Sara. "We toured Europe without cell phones. We figured it out." When interlopers were asking them to hand over the reigns, says Sara, "I was like, 'No. I can't.'"
While the two have longstanding, trusting relationships with their managers and the coterie of people who handle and promote their albums, Tegan and Sara are sure they still know what's best for them. For Tegan, that insistence is a simple matter of perspective. "Most of the people working on our projects are straight, older, they don't have the same identity politics we do, and don't know our audience like we do. It's not that our band is so different from every other band, but we know our audience intimately. The first seven years we were selling our own merch and answering fan mail, dealing with so much."
That familiarity with their fans is the foundation of the duo's career. They are accessible; rock stars, yet real. In turn, they're rewarded with competing online fan sites, several thriving fan forums, fan clubs dedicated to each of them, Tegan stage-banter Tumblrs, Sara gif sites, photo galleries of Tegan's hair over the years and, not least, an online community of those who pen book-length erotic T&S fanfic. (Both of them insist they don't keep tabs on any of the aforementioned adulation. "It would make me crazy if I did," reports Sara).
"Tegan and I have been able to form something much more substantial with our audience and with our art because we are out and comfortable," argues Sara. They know a big part of their fanbase is young queer kids for whom being a Tegan and Sara fan is a key piece of their identity — and they fully accept being ambassadors for gay life. Back on the ground, after our time in the Tower, Tegan explains that she only fully understood the importance of her role after meeting the parents of a brood of six who'd driven 11 hours to bring their newly out teenaged daughter and her siblings to a show. After the girl explained how important Tegan and Sara were to her, the whole family became fans. The parents thanked Tegan through tears.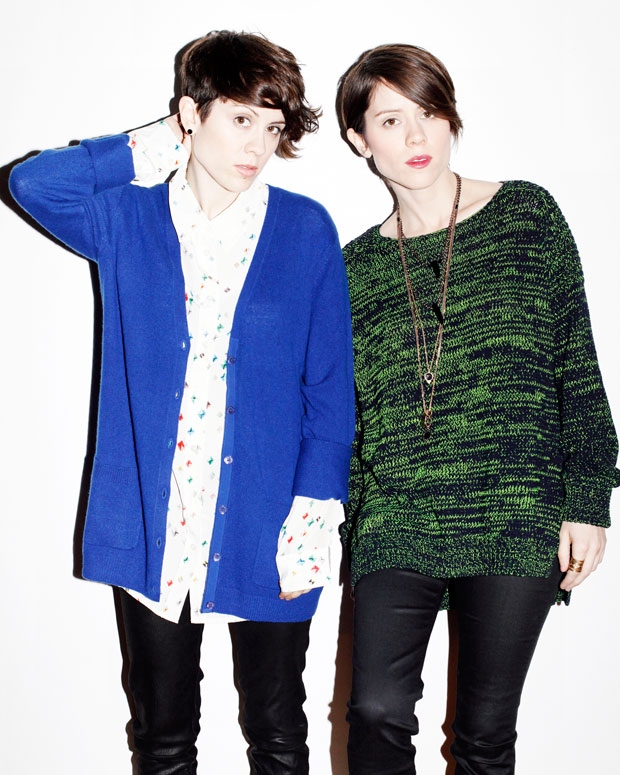 The Quins' queer identity has been on the table since the beginning. "We seemed so gay, we knew we'd never be able to hide it," says Sara, laughing. That is not to say that they didn't wonder what being out might mean for their long-term career prospects. "I remember Elliot Roberts asking us, 'Are you gay?' We said, 'Yeah,' and asked him if he thought it would hurt our career and he said, 'What career?'" Tegan interjects: "We didn't have a lot to throw away at that point."
Still, early on, even though they had label support, their then-tomboyish style was at times an issue. Sara remembers a particular meeting that ended in tears. "I remember being 20 and on tour with Rufus Wainwright and the label gave us, like, $500 or $1,000 to do our first professional photo shoot. And we brought in the contact sheets and they said we looked like rugby players. I remember being confused because I felt great about how we looked. I was just coming into my own about my identity and I had just cut my hair short. And here was this 60-year-old man telling me I looked like a rugby player."
Years later, Sara has come around on the value of a slightly more polished image. "We are at the stage where we are less uncomfortable about having our image manipulated for entertainment purposes. There was a tendency to shy away from embellishment. It's much less important. It feels great to relax and not worry whether who I am in real life and who I am in a photo shoot match up."