For the sake of this interview, Tegan and Sara and I are going to get incredibly high — but first we must clear security. As soon as the twins take off their bulky winter coats and place them on a conveyor belt for screening, a security guard recognizes them and giddily asks if I can take a picture of him plus the duo with his phone. A tall 20-something white dude in a cheap suit, the guard hunches down so as to be on the same level as the women bracketing him, who light up perfect, practiced smiles. Sara insists that being recognized in public rarely happens. Maybe she's just displaying a modest Canadian nature, but she and Tegan are spotted twice more over the following hour. After collecting the coats, we board an elevator and emerge on the 103rd floor "Skydeck" of the Willis Tower, peering into the foggy Chicago skyline, from the tallest building in America.
It's the week before Christmas and holiday music blares from the Skydeck speakers. The long-time cult heroes and, if all goes according to plan, burgeoning pop stars are sick and a little ragged, even though they are just weeks into what will be a two-year promo campaign for their new album, Heartthrob (Sire), due out January 29. They are in town supporting the Killers on tour, but during their two days in Chicago, they will do three quid pro quo concerts, two for the Q87.7 "Underground Alternative" radio station, and in hopes of notching some commercial syncs, a private show in the lunchroom of Leo Burnett, the giant ad agency which counts Disney and McDonald's among its clients.
Heartthrob is Tegan and Sara's seventh album, and an assuredly pop effort. Tegan and Sara are already more popular than most casual music fans realize, but their previous album, 2009's Sainthood, sold only 110,000 copies. That figure, and this is likely not totally coincidental to their change in direction, was less than half of that earned by 2007's The Con. They want more.
See exclusive photos from SPIN's Tegan and Sara cover shoot here.
The sisters' recent collaborations with EDM stars — Tiësto ("Feel It in My Bones"), Morgan Page ("Body Work," also featured in an episode of ABC's Nashville), and David Guetta ("Every Chance We Get We Run") — suggested how their voices could fit in a thudding, Ibiza-dawn template. The radio-friendly club-bangers served as a passport to a world far afield from their upscale indie-pop sound. While Heartthrob doesn't gun for disco glitz, its finely honed hooks seem designed to both commercially upgrade and sonically refurbish their career. Given that Tegan and Sara are 18 years in the game, this shift is no craven ploy. "If we wanted to be famous, says Sara, leaning against the Skydeck window, "we would have made some different choices."
At 32 years old, they've spent nearly half their lives being "Tegan and Sara," and now they're in a unique place. They've come into the fullness of their own ambition, without shame or apology. Since signing to Neil Young's Vapor Records more than a decade ago, they have become many things — a Grammy-nominated major-label rock band, queer-feminist icons, respected pros for the sweat equity they've put into their livelihood, a band with a dedicated, nay, obsessive fanbase. And with Heartthrob, they're attempting to crack a final frontier: Pop radio.
"We aren't these self-loathing, self-deprecating, mid-20s, indie-rock twins from Canada, we are not that," says Tegan, explaining an earlier image they're still shaking off. "We are actually really successful, really confident, very talented — and we know that." Thus they feel they've earned the right to transform. Tegan continues: "On our first day in the studio [Heartthrob producer], Greg Kurstin spun around in his chair and said, 'I'm going to take each song to the edge. And then pull back a bit.' And I thought, 'Nah, just toss it over the edge.' We decided to go for it."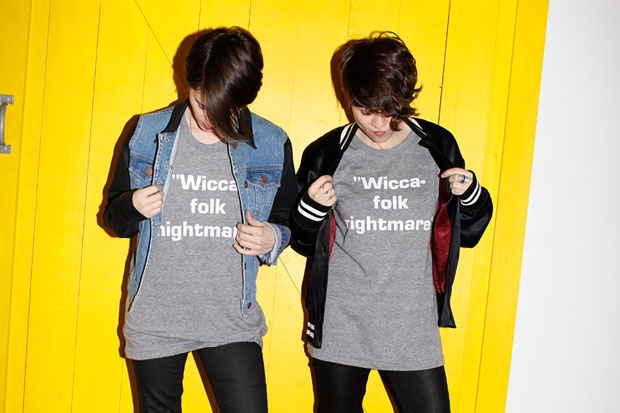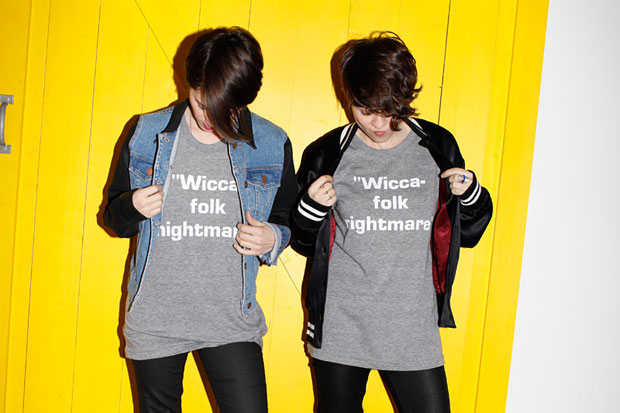 Chris Walla, Death Cab For Cutie guitarist and producer of both Sainthood and the The Con, says that Heartthrob didn't come about by virtue of the twins having a sudden interest in joining the mainstream. They simply had yet to get around to pursuing their latent pop goals. "It's never been about a lack of ambition," explains Walla about the Quins' work. Instead, he reasons, it's been about 'what version of the ambition do we chase? At what point do we make the super record?'"
Heartthrob, primarily produced by Kurstin, whose production credits include Kelly Clarkson and Pink, is the super record. A lithe 10-track album, it opens with the Tegan-led single, "Closer," a come-hither synth-pop jam that speaks of the "spark in the dark" — a paean to consummating a crush that still maintains a PG-13 chastity. The song has a sheen and perfection that allows it to rest comfortably amongst whatever might bump against it on the dance floor. It's buoyant and indelible and instantly memorable. The album doesn't nuke the familiar Tegan and Sara sound for Katy Perry's, but it is direct and dynamic, bursting with choruses, pre-choruses, clever bridges, and plenty of bouncy keyboards. It's a sonic and emotional world away from their earliest music, which SPIN once dubbed a "Wicca-folk nightmare." (The two of them still bring up the gibe onstage occasionally.) Though Tegan says she always thought of the duo as a pop band, Heartthrob is their first album that convincingly translates that thought to others.