SPIN @ Sundance: Twerking It With 'New American Noise'
A close look at Nokia Music's six-part series on underground American music scenes
Within less than 24 hours of the Sundance festival getting underway, people in Park City, Utah, were twerking, hookah-smoking, and hand-sanitizing (the last bit may have just been me in the wake of this flu epidemic). At Main Street's Claim Jumper yesterday afternoon, Adrian Grenier, Lil Jon, Scooter Braun, and Asher Roth were present and accounted for — though definitely not among those doing anything impressive with their butts — to celebrate New American Noise, a documentary series by Nokia Music and Somesuch & Co. that premiered on the Sundance channel last night. Four independent video directors screened six shorts, each about the underground music scene in different American cities, the most enthusiastic of which was by far New Orleans.
Director Abteen Bagheri had no trouble capturing the literally buoyant, Big Easy bounce scene, most notably Nicky Da B and his cohort Rusty Lazer, who DJed yesterday's event. The directors — Bagheri, Tyrone Lebon (Atlanta and Los Angeles), Bob Harlow (Detroit), and Emily Kai Block (New York) — fought over who would cover which city, with New Orleans being the most coveted subject, though Lebon's "Atlanta Dreams" probably ended up being the most fascinating. In Hotlanta, the strippers are tastemakers, and what they dance to can, as one up-and-comer noted, change an aspiring artist's future within 12 hours, because "people associate that song with naked girls, which is a good thing." One exotic dancer, who had several lipstick-kisses tattooed on her posterior, said that the goal is to help someone make it big so they come back and spend all their money at the club. It was also kind of funny to picture Lebon, a seemingly polite and soft-spoken dude, spending so much time at these clubs, but Bagheri said that it was almost everyone's first foray into documentaries, and they wanted to discover new music rather than stick to comfort zones.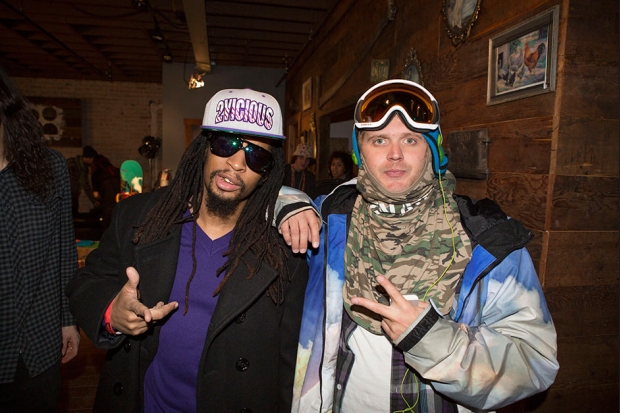 Each film had its charms. With "Lords of Detroit," Harlow tapped into the spirit of a city that can party to anything — rock, techno, hip-hop — and mostly in warehouses or residences, which revelers and musicians rightly believe to be the envy of everybody in New York or L.A., where mass, impromptu gatherings tend to be next to impossible. In contrast, the Portland in "Electric Noise" was sobering and almost a little hermetic: one artist mused that the rainy, gloomy weather was necessary for the music, while a radio DJ added that people eat locally, drink locally, so why not listen locally? (This sounds like a Portlandia sketch in the making.)
See a gallery of photos from the New American Noise premiere event here.
Block's "Spit Gold Under an Empire" finds it groove on the streets of New York, and her shots of autumnal Prospect Park and city buses in the twilight make a nice backdrop for the story of two recently-signed rappers/wandering poets, Mykki Blanco and Angel Haze, whom Block found in part through Claire Boucher (aka Grimes). Block's camera holds steady the gaze of an aspiring female rapper as she leans against a chain-link fence, staring defiantly at her would-be audience. In contrast, Lebon's "SFV Acid" unfolds in Los Angeles, and is fittingly solitary by comparison. The titular techno artist, also known as Zane, is that rare Angeleno who doesn't drive, and is prone to his own peculiarities, like hanging a painting in a friend's record store with the asking price of $5,000.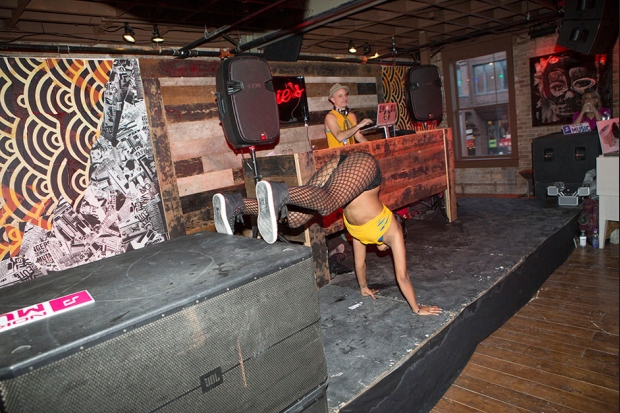 But the crowd seemed most enamored of New Orleans, and it helped that Rusty had two dancers in tow, so the fun was not confined to the film. As the ladies, in their fishnets and short shorts, gyrated for the audience onstage, on the floor, against the speakers (and on the couches and, in one case, on an attendee), festival-goers were treated to what, at another party, would be considered wardrobe malfunctions. After a few tequilas, several attendees tried to join in. Meanwhile Bagheri later said that as spontaneous, unifying, and free-spirited as bouncing may appear to be, there is some fierce, in the original sense of the word, competition. The artists don't generally get along, and sometimes the tasers come out when the dancers square off. Yesterday was all in good fun (but it was only four in the afternoon).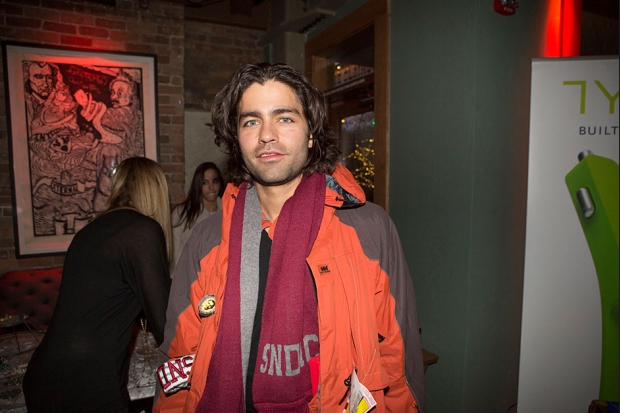 Lil Jon and Grenier didn't seem to be taking notice of the rump-shaking. Grenier looked every bit the ski bum in a parka and ski pants that appeared to be two sizes too big, his hair long and thick, as he passed through the crowd more anonymously than Vince would have (yeah, I'm sure he never gets tired of that). But he still posed for several photos with fans, including the woman who earlier handed me an electronic hookah cigarette that I have been enjoying ever since. (You exhale a strawberry-scented vapor, so there were plumes of it inside the venue.) The directors seemed to have a good time — after a few tequila drinks, Block tentatively approached Lil Jon for an introduction, which his bodyguards were very chill about, and the venue was packed by the end, when it was time for us to move on and catch Dave Grohl rehearsing for his Sound City concert (a story for another post).
Check back tomorrow when we'll have even more coverage of movies and events and slippery uphill climbs as the first weekend of Sundance officially kicks off.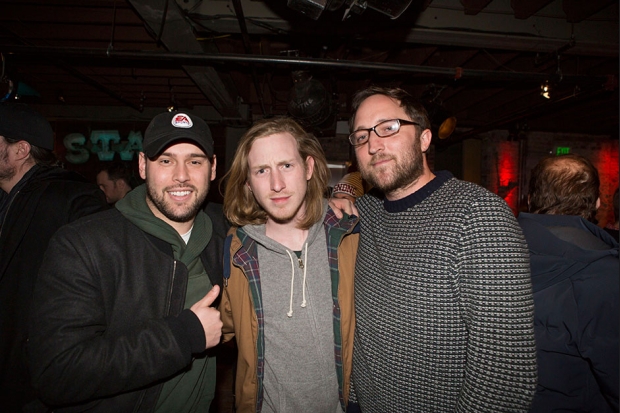 Get a peek at the New Orleans episode here and check out more clips on the Sundance Channel's website: