It's easy to be our own worst enemy at a festival: what we see and, more important, what we miss is mostly up to us. Obviously, there are obstacles beyond our control — tight lists, long lines, slippery publicists — but the choice alone is cause for anxiety, which is why catching a great movie is a huge relief. Just one good decision can mean the difference between getting on a plane and feeling like an failure versus leaving genuinely satisfied, and we have every reason to think The Spectacular Now was that good decision.
On the surface, Now isn't groundbreaking or brave or provocative: Sutter Keely is a harder-drinking Lloyd Dobler — popular, but not obnoxiously so. He's the kind of guy who can give everybody what they need: girls, beers, confidence, whatever. He seems to have all the answers, except to his own problems, which start with the whiskey he's constantly drinking.
Director James Ponsoldt covered similar territory in last year's Smashed, which was a slightly underwhelming but still realistic and deeply felt portrait of a young alcoholic (Scott Pilgrim's Mary Elizabeth Winstead, who has a minor but well-defined role as Sutter's wasp-y older sister). This time, Ponsoldt manages to tuck the abuse neatly into Sutter's personality, which is so undeniably charming that you understand not only how easy it would be to let him drive, but how much you would want to be along for the ride when he does. That is neither a spoiler nor a plot point — this isn't a morality tale of any kind. And it would surely be a less remarkable film if not for the almost absurdly natural performances of two relative newcomers, Miles Teller and Shailene Woodley, whom we'll get to in a second.
The movie opens with Sutter staring at his computer and trying to respond to a standard college-essay question about misfortune and what he's learned from it. His recent breakup seems to provide the best answer: "I'm not going to say we were the life of the party, but we were." But when he wakes up after having passed out on the lawn of his classmate, the anonymous, manga-loving Aimee (Woodley), they strike up an unlikely friendship, and Sutter is determined to convince Aimee that she needs to see herself the way he sees her, and his attempts to make her feel special eventually leads to a relationship. If you've seen a teen movie or two, you expect the inevitable. Will the popular girls gang up on Aimee for dating one of their own, for instance? But there are no easy stereotypes here, and Sutter's ex Cassidy has as much depth as the two leads. When he tries to get back together with her, she wants to, but she's too disturbed by his constant good-times vibes. "I want more than a moment. I want a future," she says, which is more than a drunk, even a good-natured one, can offer her. Instead it's the wallflower Aimee who takes to the whiskey.
Sutter is the kind of character who has seen a few teen movies himself, and so he knows how this goes: For a guy like him, high school is as good as it gets, or so he thinks, and looking at the miserable adults around him, he's not able to bring himself to consider anything but the present. Teller, cute but not traditionally handsome, sort of in the vein of Wil Wheaton, makes Sutter uniquely irresistible, and the chemistry he has with costar Woodley, who brings a perfect repertoire of nervous giggles and awkward mannerisms to her in-bloom Aimee, is so authentic that if somebody could promise not to ruin it, we would beg for The Spectacular Now to be turned into a television series so that we could watch them some more. And this is to say nothing of the solid supporting performances — Bob Odenkirk as Sutter's boss, Kyle Chandler as the anti-Coach Taylor, and Jennifer Jason Leigh as Sutter's overworked mom (does Leigh have another mood besides burnt-out?) The Spectacular Now is a smaller film than Say Anything, Dazed and Confused, Breakfast Club, etc., but it belongs in the canon.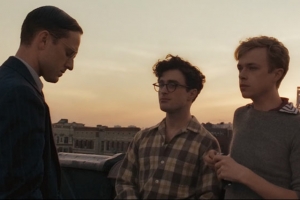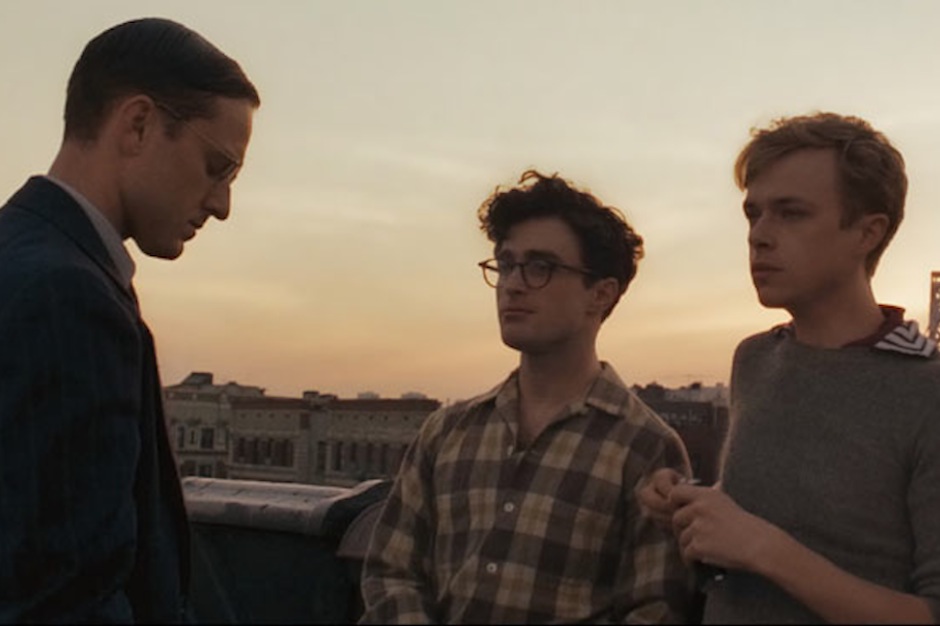 And it definitely made up for some poor choices. Kill Your Darlings, which stars Daniel Radcliffe as Allen Ginsberg circa 1943, has been getting a lot of hype, but the guy next to me fell asleep and I could hardly blame him. On a positive note, Dane Dehaan, who popped up on everyone's radar in 2011's Chronicle for being both talented and possessing an uncanny resemblance to young Leonardo DiCaprio, is basically at young-Leo best here as Lucien Carr: boyish, beautiful, and easily able to manipulate everyone around him. The movie centers around the murder of William S. Burroughs's friend and Carr's ardent admirer (if not stalker) David Kammerer, but this debut definitely felt like the work of someone who was too in awe of the Beat generation to effectively depict it. On the flipside, director John Krokidas might have intended for lines like "I love first times, I want my whole life to be comprised of them" to sound like the pretentious pronouncements of the young, which the soundtrack would certainly suggest (Nico Muhly composed the score). As Burroughs (Ben Foster), Carr, Ginsberg and Jack Kerouac (Boardwalk Empire's Jack Huston) pull a prank at the Columbia University library that involves replacing the glass-case classics with banned books by Henry Miller and Lady Chatterly's Lover, TV on the Radio blasts in the background, and the mixing in of the modern day gives the stunt a fratty quality. (The main point of curiosity here is Radcliffe's audacity, and lookie loos will definitely want to see how "fully" he embraces his gay character.) If the goal was to expose the writers as merely intelligent young men with patricidal ambitions and an arrogance of purpose, then mission accomplished.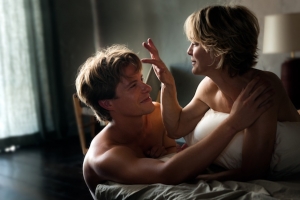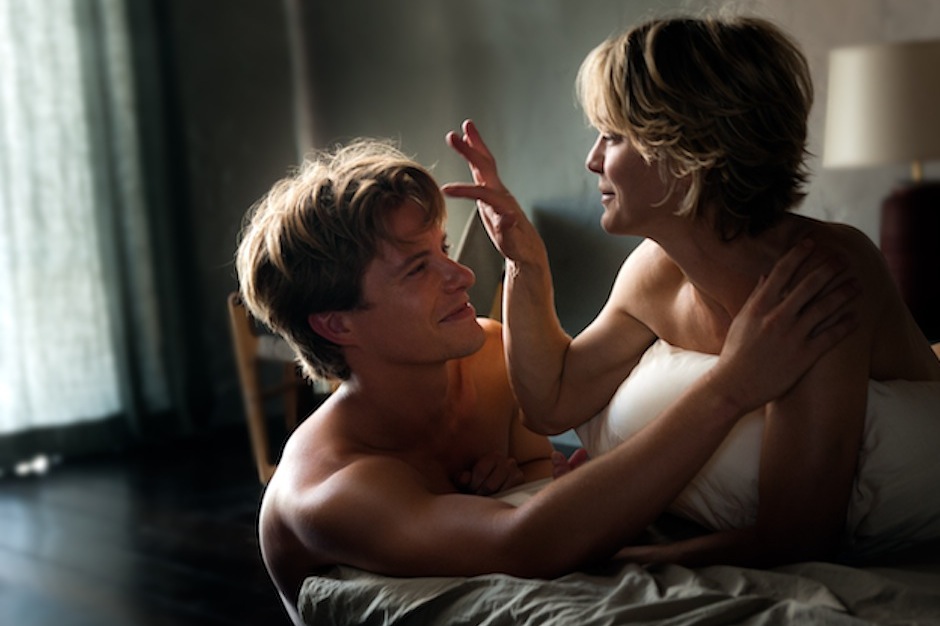 Finally, Two Mothers. Everyone at the premiere wanted to know the same thing: how would a movie about two best friends who take each other's sons as lovers play out? Adapted by French director Anne Fontaine from a story that Doris Lessing wrote when she was 85, Two Mothers stars Naomi Watts as Lil and Robin Wright as Roz, neighbors who as girls spent their life at the beach in their Australian seaside town. Fast-forward and they remain neighbors, each with gorgeous seaside property. Their sons have gone from young surfers to full-grown teenagers in the blink of a big wave, and Roz and Lil call them "gods." The film raises more questions than it adequately answers in terms of why they begin the affairs, the first of which being: Are Roz and Lil simply sentimental for their own youth? Are they gay as everyone including Roz's husband suspects, and is this their way of being with one another? Or is it far more incestuous: Do all mothers love theirs sons a little too much, and this the best way to consummate?
The ideas are provoking, particularly the nature of female friendship and how such closeness can appear threatening to other people. But when Roz allows Ian to kiss her, a line is crossed, and Tom goes storming over to Lil's house to tell her about it. Out of spite, they have some hot, complicated sex of their own, and now everyone's crossed the line and it appears nobody can get outraged, which is the strangest part of Two Mothers. Roz and Lil don't accuse each other of perversion or abuse, and Tom and Ian don't seem to be grossed out by the idea that each is slipping the other's mom the high hard one. It's a conspiracy of silence, so when Lil goes to Roz and asks simply, "How are you feeling?" and Roz says, "good" and Lil responds "me too," there was laughter from the audience. This conversation in the absence of any other, perhaps one that acknowledged the weirdness of the situation, seemed almost absurd. The director said later that she was surprised how many times people laughed throughout the movie, and maybe there was an element of discomfort or awkwardness.
But it's not a prudishness that keeps us from loving this film. It lacks characterizations, particularly in terms of the sons, who are mainly there to be torsos lightly tucked under sheets — fit and fetishizable. We have no idea where their desire came from, or what they do when they're not surfing or eating dinner with their moms, or how they remain friends. Anyway, two years pass in what seems like bliss, and again, what happens in those years? Are Roz and Lil never bothered by the fact that what used to be a family dinner is now a double date? Does the emotional immaturity of the boys, which is never even alluded to but must be a factor, ever get on their nerves? Maybe they don't need to have substantive intellectual connections because the boys can just return to their mothers afterwards. This is Lil and Roz's sandy fantasy life, surrounded by their only sons, and satisfied as women, even if their existence seems impossibly hermetic. Of course, when one relationship suffers, so do they all, and the contrast between the couples becomes ultimately destructive.
After the premiere, the director, Watts, and nervous-seeming newcomers Xavier Samuel and James Frecheville took the stage. (Watts was wearing what looked like leather leggings, which seemed appropriate for the occasion.) The actors were mainly too shy to say anything, and Fontaine had some translation problems, but she described the film as disturbing and ironic, and attributed the laughter to those sensations. Ultimately, we heard a lot of chatter on the way out of the theater, and where many people were just too turned around to know what to say, the reaction sounded largely positive. It's really a better conversation-starter than it is a movie, but Fontaine's departure from convention is worthy of applause.