Soundgarden, Alice in Chains, Smashing Pumpkins, Bush, Korn, Stone Sour, and more are all booked for the seventh annual Rock on the Range festival at Columbus Crew Stadium.
Billed as "America's premier destination rock festival," Rock on the Range has now expanded to cover three nights of head-banging. From May 17 to 19, fans can enjoy sets from all of the previously mentioned artists, as well as Three Day's Grace, Papa Roach, Cheap Trick, Bullet For My Valentine, Volbeat, Lamb Of God, Skillet, A Day To Remember, Buckcherry, Halestorm, Hollywood Undead, All That Remains, Device (with David Draiman), Steel Panther, Sevendust, Sick Puppies, Asking Alexandria, Pop Evil, In Flames, Clutch, In This Moment, Black Veil Brides, the Sword, Ghost, Motionless In White, Red, Deuce, Middle Class Rut, Big Wreck, Oleander, Otherwise, Red Line Chemistry, Young Guns, Thousand Foot Krutch, Mindset Evolution, Tracer, Beware Of Darkness, Heaven's Basement, American Fangs, Love And Death, Gemini Syndrome, and more.
"This massive lineup has scratched our seven-year itch," Gary Spivack, co-executive producer of Rock on the Range, said in a statement. "Getting Soundgarden for their first Ohio play in two decades and having seminal acts Alice In Chains, Korn, Volbeat and Papa Roach return along with bands new to ROTR that include Smashing Pumpkins and Bush, and everything in between — the spectrum of rock'n'roll is covered… three days of constant energy. Rock on the Range is truly where rock lives."
It will also be where comedy lives. For the first time, Rock on the Range will host a comedy tent. "Our goal with ROTR is to constantly create new and interesting ways to expand the event and give even more value to our fans," co-executive producer Joe Litvag said. "Having a slate of incredible, up-and-coming comedians to riff on the rock experience will be a great change of pace for the weekend." Litvag added, "The site layout is also changing dramatically in 2013 to create better event flow, to add more interactive fan activity to the festival, and to allow even more people to experience the higher caliber of talent on the second stage this year."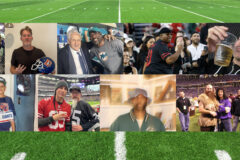 Limited-edition pre-sale tickets for Stadium General Assembly start at $89.50 and will be available from January 30 at 10 a.m. EST to January 31. Organizers are also offering a limited amount of four-ticket bundles on Jan. 30, priced at $299. Tickets go on sale to the general public on February 1 at 10 a.m. EST. Various hotel, V.I.P., and camping packages will also be up for grabs.
Last year's Rock on the Range featured performances by Incubus, Cypress Hill, Slash, Rob Zombie, Anthrax, Mastodon, the Darkness, and Lacuna Coil, among others.