The final track list for the Replacements' upcoming reunion 10-inch, vinyl-only EP — recorded to benefit their former guitarist Slim Dunlap, who played in the band from 1987 to 1991 and suffered a stroke last winter — was announced on the record's Facebook page last night. As previously reported, Paul Westerberg and Tommy Stinson teamed with Westerberg solo-era guitarist Kevin Bowe and drummer Peter Anderson to lay down four covers: Dunlap's own "Busted Up," Gordon Lightfoot's "I'm Not Sayin'," Hank Williams' "Lost Highway," and "Everything's Coming Up Roses" from the Broadway musical Gypsy. Also included on the five-song collection is a fifth track, a cover of Dunlap's "Radio Hook Word Hit" by Replacements drummer Chris Mars. Slicing Up Eyeballs points out that Mars, who focused on painting after the iconic Minneapolis punks disbanded, also contributed the bug-eyed cover art to Songs For Slim.
According to a press release, 250 copies of the limited-edition of the EP are expected to become available via eBay auction on Jan. 15, with the bidding open for 10 days. (It becomes available digitally on March 5.) "The limited edition package, available via the auction, will be signed by Paul Westerberg, Tommy Stinson and Chris Mars and includes four glossy prints of never-before-seen band photos, a collectors' poster of Dunlap, a print of the Chris Mars cover painting which appears on the inner sleeve and a digital download card for the complete EP," the statement reads.
Proceeds will go toward Dunlap's medical expenses. Following the charity project, record label New West will "release the EP to radio outlets and digital service providers, and then print up standard vinyl editions for mass distribution," possibly within a month. The "Slim" series will continue after this initial release; starting in February, fans can count on monthly split 7-inch singles featuring covers of Dunlap's songs by his friends and admirers. Among the planned entries: Steve Earle's "Times Like This" b/w Craig Finn's "Isn't It?" and Lucinda Williams' "Partners in Crime" b/w Tommy Keene's "Nowhere Near." Other artists due to pair up include Ramblin' Jack Elliott, Jakob Dylan, John Doe, the Jayhawks, Joe Henry, the Minus 5 with Peter Buck, and Curtiss A.
Westerberg told Rolling Stone back in October that another Replacements full-length LP may be possible, saying, "Playing with Tommy last week, I was thinking, 'All right, let's crank it up and knock out a record like this.' I'm closer to it now than I was two years ago, let's say that." The "Left of the Dial" wailer added, "Tommy and I strapped on guitars, not a word was said, and bang — we still rock like murder." Anyone curious as to why this is a huge deal for broken-hearted beer-guzzlers everywhere should watch Color Me Obsessed, a career-spanning documentary on the Replacements that's available here, immediately.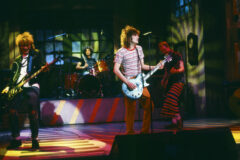 Songs For Slim EP track list:
Side A:
1. "Busted Up" (Slim Dunlap)
2. "Radio Hook Word Hit" (Slim Dunlap)
Side B:
1. "I'm Not Sayin'" (Gordon Lightfoot)
2. "Lost Highway" (Leon Payne)
3. "Everything's Coming Up Roses" (Stephen Sondheim/Jule Styne)