For Ra Ra Riot, making Beta Love, their third album, was something akin to exposure treatment. "The first day, [producer Dennis Herring] was like, 'We're going to scrap this entire string arrangement' or this entire bass part, or 'We're going to make this song 30 BPM faster,' and all of our heads were spinning," bassist Mathieu Santos recounted recently over hot toddies at Black Rabbit, a bar close to the band's practice space in Greenpoint, Brooklyn. "We were like, 'You can't do that!' But then we were like, 'He can do that, and he is doing that.'"
The merciless process was part of the plan. Ra Ra Riot had been expecting Herring — who has produced albums for the Hives, Modest Mouse, and Elvis Costello, among others — to renovate their signature string-heavy chamber-pop. "We wanted someone who would make sweeping changes, " explains Santos. "We decided ahead of time to trust that Dennis is going to push us to make a great album. But the only way is if we let him, if we believe in this whole idea."
The idea behind Beta Love, the follow-up to 2010's The Orchard and due January 22 on Barsuk, was that for the first time each member of the band would move away from the instrument to which they'd been tethered. Violinist Rebecca Zeller, for example, learned how to compose string parts using the Logic computer program and translate sheet music to Pro Tools. Even then, old habits died hard. Zeller remembers: "I recorded a Juno [synthesizer] for one song and then I said, 'Why don't we try this other sound?' And [Herring] asked, 'Why?' I said, 'For options.'" But Herring was steadfast in determining whether those options were indeed necessary. After being in the habit of over-analyzing every facet of their songs, Ra Ra Riot relied on their producer to help them get back to the goal they had when they started playing together as undergrads at Syracuse University nearly seven years ago: having fun.
Beta Love showcases the band's newfound ability to take itself lightly, from the bouncing synths on "Binary Mind" to the sinuous "Wilderness," all of it tied together by vocalist Wesley Miles' keening vibrato. Even though the band says they worked harder on this album — recorded last spring at Sweet Tea studios in Oxford, Mississippi — than on any other, for the first time they sound like they're having a good time, as opposed to the mindset behind songs with appropriately somber titles like The Orchard's "Keep It Quiet." Ra Ra Riot celebrate this new attitude right from the get-go, intoning against glistening, propulsive keyboards, "Come and dance with me, pretty sweet fool / I want to be your toy" on Beta opener "Dance With Me."
The bandmembers deserve to enjoy themselves, especially after the unfortunate confluence of cellist Alexandra Lawn's departure in February 2012 and a draining tour this past October, when they were forced to cancel a few shows because Miles was unable to sing. "I have a really fragile voice," says the frontman. "We played a show in Austin in the middle of a dust storm at Fun Fun Fun Fest, it was our first tour on a bus and I wasn't used to the effect the dry environment would have on my voice from day-to-day, and the driver was a smoker. I got sick." At every tour stop, Miles would visit a doctor in town and wait to hear if he would be cleared to perform. If he couldn't, the band had to cancel. Most fans were supportive, but the musicians couldn't help but believe they'd let some down. "The first [show] we canceled was in Santa Fe, and some people had driven hours from Colorado to see us," recalls Zeller. "We felt so bad."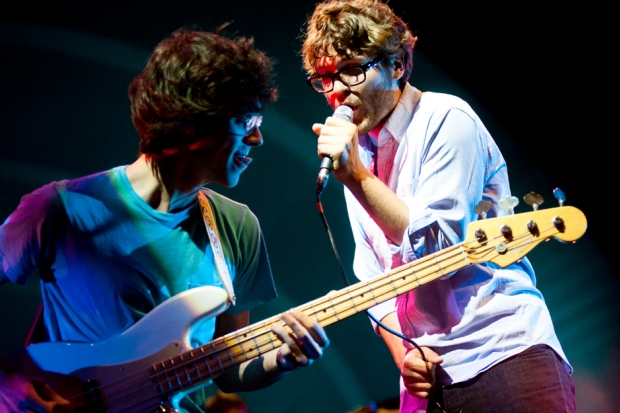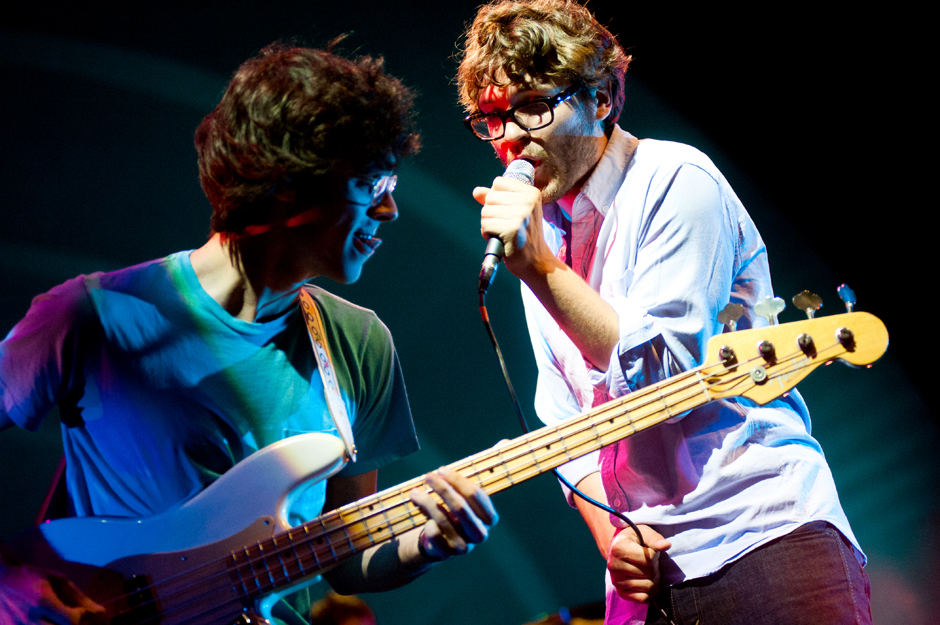 Solace came via Ray Kurzweil's groundbreaking futurist manifesto The Singularity Is Near, which examines the idea that humans will eventually transcend their physical form and become part of the technological universe. "We all kind of latched onto that idea of technological singularity as an escape attempt from a bad tour," Miles says. "The whole theory is about being able to upload your consciousness onto the Internet and all this crazy stuff. Any of your problems now will seem nonexistent once the singularity happens. It serviced a new attitude we had about not being attached to things that were unnecessary for making songs and arranging music." This liberated thinking found expression in songs like the new "When I Dream," which falls back on Miles' quaver while stripping the background instrumentation to a gentle metronomic beat and a few smartly placed peals from Zeller's violin.
It's all part of Ra Ra Riot's effort to move forward instead of back. After Lawn left, Bonacci and the band took to Tumblr to admit getting "sucked into a black hole of nostalgia," a feeling they were forced to again confront when they returned to Syracuse in November for a week-long music-teaching residency. "Nostalgia's a tricky thing, because it's really easy to get hung up on it," Santos says. "But going back to Syracuse was good for us. It's fun to remember how we got started and how that frames what we're doing today." The bandmembers led classes on songwriting, composition, and the music business, which reminded them that putting their first 20 dollars towards T-shirts instead of beer was, according to Zeller, "the best decision we ever made." That choice, adds Santos, "was like a security deposit against having more fun." Such judiciousness was a key step towards accomplishing early "fake goals" like going to Japan, where the band will visit again next month. A U.S. tour will follow. "We've just been getting excited about getting back on the road," And hopefully this time, no doctors are necessary.