Things are looking up for former Queens of the Stone Age member Nick Oliveri. Not only has the oft-embattled bassist made up with his old bandmates in time to contribute to their forthcoming sixth album, he's now been invited to join a thrash metal supergroup dreamed up by producer Ross Robinson (Deftones, Korn, Machine Head). According to AOL's Noisecreep, Amen singer Casey Chaos, Exodus axe-slinger Gary Holt, Slayer drummer Dave Lombardo and, yes, Oliveri are in an as-yet unnamed band that began recording together the week before Christmas.
"We've all been in the same room together breathing the same funky man-air!" Holt said, rather awesomely, of their time at Robinson's home studio in Venice, Los Angeles. Metallica's Robert Trujillo visited them while they were recording. "The creative process on this has been phenomenal. I shit you not. If we came in for two weeks of just riff-writing and another two weeks of putting it all together, we'd have an album that would knock people for a loop. They wouldn't know what hit them … I'm as proud of this stuff as anything I've ever done."
Robinson was inspired to bring the group together after watching Holt on stage with Lombardo, as he was filling in for Slayer guitarist Jeff Hanneman who is recovering from a spider bite that nearly took his arm. Video director Dean Karr (Marilyn Manson, QOTSA, Cypress Hill) and producer Sean E. Demott had approached Robinson about providing music to their upcoming documentary about Pantera singer Phil Anselmo's New Orleans haunted house, House of Shock. In Holt and Lombardo, Robinson saw, "Fire, energy and wisdom."
Holt explained: "Whenever Dave and I would get on deck for soundcheck, we'd go up there first and jam make up stuff every day. It just comes easy for us. We're both into being spontaneous and improvising. We probably have an album's worth of material." He described one of their songs as "a combination of all of our bands with Discharge and the Exploited and GBH on it. Really, really punk. Super crunchy and super brutal … There's a beat and a riff and Casey starts spewing some venom on top of it. It's awesome!"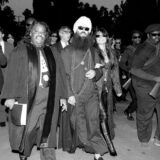 Okay!