"I'm a fan of electronic music going back to the early '80s," says DJ Muggs, explaining away the inspiration for his new Bass for Your Face project. Pitched as the Cypress Hill architect's attempt to craft hip-hop-based music that appeals to the dubstep crowd, the ten-track album is hinged around cavernous bass tones that twist their way around vicious metallic drum patterns while guest MCs like Danny Brown, Dizzee Rascal, Freddie Gibbs, and Chuck D contribute aggressive vocals. Bass for Your Face also features a canny collaboration with underground rap man of the minute Roc Marciano, whose hushed and menacing tones embellish a brutal brooding groove for "Absolem," which you can stream below. To celebrate the album's release today, we checked in with Muggs about digging dubstep, the creative prowess of Alchemist's weed-infused studio, and how being cooped up in a car with Bun B enabled a Dizzee Rascal cameo.
What was the motivation behind recording Bass for Your Face?
Man, I DJ a lot and I play a lot of instrumental stuff when I'm out; and I used to play instrumental beats from like Benga and Coki. I was thinking that I can't be out here just playing hip-hop all the time so it made sense to do my own productions. I've been to the Low End Theory club and the L.A. beat scene is probably one of the most inspiring things going on in the world right now. So it was about me getting to understand different production techniques than the ones I use for hip-hop. People might be surprised but I've been listening to electronic music going way back to the '80s with Kraftwerk and records like "Clear" from Cybotron. All the stuff we was DJing at first was electronic music and they called it "funk" in L.A. These records were like hardcore breakdance records — they'd even play more disco stuff like the Cover Girls — and we were playing all these records and scratching fast.
During those early days in L.A. did you ever go to any of the Uncle Jamm's Army parties?
Yes, I did. I was young. Bobcat would be up there DJing, there would be Egyptian Lover, it was that kinda thing….So when I hear dubstep, just the minimalistic element to it and hearing the bass and drums to me feels like early T La Rock records and early hip-hop stuff with 808s and vicious snares. I'll go back and listen to "Clear" and that energy that was harnessed on that song is the same energy to me that I hear in these dubstep records. I'm amazed. I'm into all types of music and sometimes my homies look at me like I'm crazy, but you know what's funny? When I was playing people jungle and drum'n'bass they said it was too fast but when I play them dubstep they're like, "Hey, what's that?" I noticed there was something that was interesting about dubstep that the hip-hop kids can get into. Then I noticed that the rock kids can get into it too. What's the difference between drum'n'bass and dubstep? It's the tempo.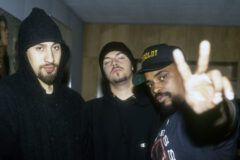 Which dubstep records would you play to someone who has never heard the music?
I'd say Prince Loafer, definitely. But I'm a fan of just the whole sub-bass sound.
So how did you end up working with Roc Marciano for "Absolem"?
Roc ended up being on the album through my boy the Alchemist who's been working with him a lot. I'm over at Al's studio a lot, like two or three times a week. I wanted raw, gritty underground MCs. I said Roc would be ill on this track and Al put me in touch with him and I talked to him — there was a mutual respect. I think he really understood the cross-pollinization of the song that was going on. It has that New York underground mixtape feel but it's playing on the musical elements of drum'n'bass in there and the punchy drums.
Are there any modern producers you hear and get jealous of the way they use bass in their songs?
Fuck, are you kidding me? There's so many great producers that get great bass tones! I'm a big fan of Jonwayne of LA right now, I'm liking his shit. I like my boy Scoop DeVille out of L.A. a lot. There's amazing people doing amazing things with bass right now.
Do you think modern hip-hop has lost that element of embracing bass in its production?
Yeah, but I think that anything that stands the test of time is gonna have its ups and downs, its peaks and valleys, but it's going through those down times that makes you stronger. There's times when hip-hop's lacking its creativity and it's lacking its inspiration but I think hip-hop's amazing right now. The stuff in the underground, with these artists that's coming out, it's a great time to be an artist and being creative. I'm coming from a place when hip-hip was artists like Run-DMC, N.W.A, De La Soul and A Tribe Called Quest and they all co-existed while being polar opposites. The slang and the beats weren't the same, but then in time it became about dressing the same and using the same beat. But I look around now and I see Danny Brown and I see Kendrick [Lamar] and I see Ab-Soul and A$AP Rocky and I see Joey Bada$$ and I see the Flatbush Zombies and again it's all stuff that's completely different from each other but it's coexisting.
Does your own music become more energized when you hear these new artists?
Yeah, because good music inspires me. The new David Bowie song that came out the other day and the new Jimi Hendrix song that's out there the other day, they energized me just like the new Joey Bada$$ mixtape energizes me and the A$AP Rocky album energizes me. It's like good shit energizes me, man.
How did you end up working with Dizzee Rascal?
I was at the Gumball 3000 Rally that my man Max Cooper puts on every year around the world. Bun B was in my car with me. We were driving along, I'm playing him the album I'm doing, and I tell him when he gets back home he's got to get on this. So I guess Dizzee was in L.A. and called Bun, told him he wants to get in the studio. He's like, "Oh, you need to call Muggs, he's doing a bass album right now." Diz comes through the lab and we end up doing about three or four songs for his next project and in the midst of that he asked what else I was working on. I played him the song, he was like, "Let me get on this one!" He wrote the shit in about ten minutes and that was pretty much that. We developed a friendship and he comes to L.A. and hangs out all the time.
What was Bun B like in the Gumball rally?
Man, Bun B is the coolest motherfucker you ever met in your life! Bun's a gentleman. Bun knows how to roll. One thing about the Gumball is there's a lot of rich affluent gentlemen who have a cushy life so to speak and you get on the Gumball and it's like tour. You drive 500 miles every day, you get to that city and there's a big dinner and a big party. You get back to your room at two in the morning and there's a note under your door saying, "Hi Gumballers, hope you had a good night." The lobby calls at seven in the morning and there's another 400 mile drive that day. We've been on tour for years so we're used to this regiment and this pace but these men ain't. So by the third day you start seeing grown men breaking, they're tired and with hangovers. But me and Bun are smiling, taking turns behind the wheel. It's like being on tour with a real trooper.
Danny Brown's also on the album…
Yeah, that was through Alchemist's studio. His studio's like rap camp! Everyone's over there everyday. I didn't want Danny to do a whole rap though. I just wanted to get some words and cut 'em up. I just wanted to chop up some vocals and put 'em on an instrumental.
So is there any chance of a remix coming out with Danny Brown's full verse on it?
Hey, good idea, I might have to use that one! I will say there's gonna be a lot of remixes with rappers on a lot of different songs. Part of my strategy for this record is to keep it fresh and bring out vocal remixes every month until we're ready to drop the next record in July.
Which rappers at Alchemist's studio have the strangest habits while recording?
Man, I don't think anybody but I just know there's a gang of weed being smoked over there! You walk in the studio, you're high. They got this new shit they're smoking called wax. It's just like down to the molecule, THC at its highest level. It's crazy. You know, last time I'm over there he's got Prodigy and Action Bronson and Roc Marci, so right now it's the creme de la creme of next generation cats working there.