SPIN Rating:
Release Date:
January 15, 2013
Label:
Altavoz
If last year's Armor On EP wasn't enough to convince skeptics that a member of the Diddy-assembled reality TV troupe Danity Kane had placed herself among R&B's front ranks, perhaps a reminder of the messy paths that artistic self-determination can take is in order. Pop autonomy is often hard-won — consider Stevie Wonder and Marvin Gaye challenging Berry Gordy's machine, or Justin Timberlake and Beyoncé breaking with the studio assemblages that made their names.
Yes, Richard spent her formative years within Diddy's Making the Band quintet, and although clearly now relishing her freedom, she betrays no regrets. And good for her — why regret a successful patronage? Especially one leading to the 2010 hip-hop/R&B collective Diddy-Dirty Money, an ultimately unsatisfying experiment that nevertheless suggested a way forward for its standout member: namely, leaving behind the humdrum specifics of "Ass on the Floor" while preserving its Euro-electro pulse. Within the space of a year, Richard released the Prelude to a Tell-Tale Heart mixtape, the iTunes exclusive Armor On, and stopgap holiday teaser Whiteout, designed to placate fans after GoldenHeart, the first volume of a planned trilogy, was delayed to ensure wider marketing reach, courtesy of both a new label and new producer/creative partner, Andrew "Druski" Scott.
True, autonomy breeds indulgence (check out the art-pop/medieval-chic chainmail she donned for Armor On's artwork). So what's remarkable about Richard is how casually she's managed to put forth a clearly imagined personal mythology, one nearly unbeholden to traditional R&B tropes, while never being so prickly as to pretend she isn't enthusiastically operating within R&B traditions, solid beats and killer choruses included. Her private myths rely upon archetypal motifs befitting a book lover whose mixtape name-checked Edgar Allen Poe; her lyrics and imagery are not so much packed with meaning as dense with allusions, sci-fi and fantasy mixing company with romanticized history. And while observers seize upon her love of speculative fiction, she's hardly an Afro-futurist in the style of Sun Ra (Saturnian philosopher) or George Clinton (P-Funk mythologist), or even fellow Bad Boy alum Janelle Monáe (arch android). Think more Kate Bush the sensual surrealist or Peter Gabriel the pan-global enthusiast. And note her similarities with an author like Octavia E. Butler, another gifted visionary with a winning predilection for metaphor and hyperbole.
One can follow these tendencies back to Danity Kane itself (named after an anime heroine Richard created) and her recent solo work (filled with armor, weapons, standing armies, and personalized religion), but her themes across GoldenHeart's 16 tracks return obsessively to imagery loaded with metaphorical weight: organized conflict ("Put your battle suit on"), kingdoms and royalty ("Trying to find my way back to the throne"), blasphemy versus reverence ("Redemption's on its way"), civic unrest ("Let's start a riot"), champions and winners (although, notably, not losers or the vanquished). When employing specifics, she's hardly less allegorical: Note the Philistine warrior in "Goliath" daring her to slingshot the rock, the Leonidas straight outta Frank Miller on "300," or the aurora borealis of the uptempo "Northern Lights," referencing not just the Roman goddess of dawn but, well, Dawn Richard herself.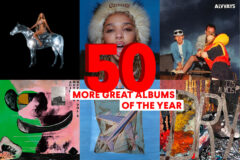 Obviously, when the full weight of history is brought to bear upon a contemporary pop star's interpersonal relationships — when the Battle of Thermopylae is analogous to a breakup — we've entered perilous realms. Yet even minus narrative detail or plot points, one surrenders to the logic of Richard's world, thanks to the modernist sheen holding the entire suite-like venture together, a voracious and melodic urban contemporary sound referencing 1980s pop as much as house or electro: We'll call it "R&B" because that's what she calls it.
She's found a remarkably simpatico producer in Druski, who brings an arsenal of synth pads, string settings, retro keyboards, and beats both varied and sharp to each composition. He mimics vintage ARP 2600 synths ("Frequency"), conjures Ibiza hedonism ("Riot"), and goes ornate via plucked strings and rolling tympani ("In the Hearts Tonight"). Yet these tunes are equally beholden to sinewy grooves, as befits Richard's insistence that a New Orleans upbringing ensured rhythm's centrality within her music, with slightly staggered hand claps on "Northern Lights" and "Gleaux" signifying a familiarity with the second line music of her hometown — "Let's get into the tempo," indeed. And don't overlook her voice, another remarkable instrument, notable as much for her lack of ostentation as for her versatility, springing finely placed surprises on listeners lulled into reverie, navigating tricky spots just effortlessly enough to mask her mastery, breathy and forceful and sultry and fervent.
But never inscrutable, which might seem unlikely given Richard's Joan of Arc shadow narrative. Yet it simply highlights the candor of a non-expository performer who always says exactly what she means. When she warns a lover to get ready for war, she means ready for love, made clear by substituting "love" for "war" when the line next comes around. "Gleaux" is nothing more than a goofy spelling of "glow," which is what she wants to do with her baby so they can see each other in the night. The request on "Frequency" to "turn me on" plays off bandwidth jokes hinted at in her wry "your signal's found a home" while playing up the raunch ("stimulation makes it flow"). And prog-pop single "86" echoes studio productions of the year in question while advocating ripping it up and starting over.
So don't interpret Richard's love for Phil Collins and Peter Gabriel as lip service, not when she's stealing "In Your Eyes" back from John Cusack's boombox. And if her loving appropriation of "In the Air Tonight" is overt, there's also the subtle homage on lovely standout "Break of Dawn," echoing the songcraft and vocal phrasing of No Jacket Required-era Collins, a soul ballad of sorts in which an unnamed love interest is informed they'll "never see the break of dawn," which isn't a threat but a promise to herself. By album's end, with Druski's Debussy interpolation floating in the foreground, she's pledging her desire to "go back" to those days of white knights and white horses. Why, exactly? Because "those were the days," because "we were young," but also because they were "pretty things." An aesthetic appreciation in an album filled with them, and a reminder once again to always take this fantasist at her well-chosen word.