It's the next day after David Bowie revealed the totally unexpected existence of his first album since 2003, The Next Day. Though the first single, "Where Are We Now?", is an elegaic ballad, the other songs are more rock-oriented, longtime Bowie producer Tony Visconti told the BBC in a Skype interview (via the Quietus). Visconti said the record also reflects two sides of the legendarily style-shifting artist.
"I've been listening to this on headphones walking through the streets of New York for the past two years, and I have not tired of a single song," Visconti told the BBC. "I think the material on this album is extremely strong and beautiful, and if people are looking for classic Bowie, they'll find it on this album. If they're looking for innovative Bowie, new directions, they're going to find that on this album, too."
Visconti confirmed, as the "Heroes"-updating cover art and "Berlin trilogy"-inspired lyric video suggest, that the album comes as Bowie "is looking back on his Berlin period," when he recorded some of his most critically acclaimed works. At the same time, "it's quite a rock album, the rest of the songs," Visconti said. "So I thought to myself, why is David coming out with this very slow, albeit beautiful ballad? Why is he doing this? He should come out with a bang! But he is a master of his own life. I think this was a very smart move, linking the past with the future, and I think the next thing you hear from his is going to be quite different."
As for that cover art, which sets a simple white square containing the text of the album title over the cover art from Bowie's classic "Heroes," designer Jonathan Barnbrook explains in a post on Barnbrook Blog. Once again, the idea involves, to repeat Visconti's words, "linking the past with the future."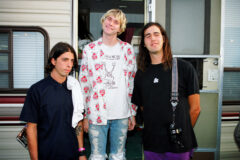 "We wanted to do something different with it — very difficult in an area where everything has been done before — but we dare to think this is something new," Barnbrook writes, in a self-Q&A that's well worth reading in full. "Normally using an image from the past means, 'recycle' or 'greatest hits' but here we are referring to the title The Next Day. The "Heroes" cover obscured by the white square is about the spirit of great pop or rock music which is 'of the moment,' forgetting or obliterating the past."
Bowie is certainly owning the moment so far. Both the album and the single hit #1 yesterday on the U.K. iTunes chart, according to a post on DavidBowie.com. Not a bad 66th birthday present, though what else would you get for a Thin White Duke?