After breaking college radio with the Dr. Demento fave "Take the Skinheads Bowling" in 1985, we never imagined Camper Van Beethoven would be making news three decades later. But here we are, and CVB are blowing up our Twitter feeds, thanks to frontman David Lowery going ham on an NPR intern and indie-pop supergroup Divine Fits covering Camper's "I Was Born in a Laundromat" on a recent seven-inch.
For 30 years and counting, Camper Van Beethoven have existed in a parallel-universe borderland, coming across like a punk band perpetually on a Balkan bluegrass bender. But they finally bring it all back home to their native California on 10th album, La Costa Perdida, recalling '60s-vintage West Coast pop filtered through their timeless, idiosyncratic prism. To get the story of the album, we caught up with Lowery about the mystique of Northern California and the myths of file-sharing. Stream it below and read along!
:audio=1:
It's been nine years since Camper Van Beethoven's previous album, 2004's New Roman Times. Did you mean for that much time to go by?
No, we didn't. We don't play as much as Camper as we used to and we kind of like it that way, especially after spending two or three years touring for that last record. We almost thought about waiting another year to make it an even 10. Be like Leonard Cohen, who used to be famous for big long gaps.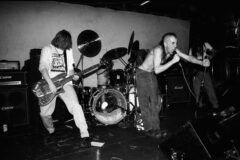 How'd this one come together?
We were in Big Sur, which is this remote area along the central coast that is a haven for hippies, surfers, writers, malcontents. Henry Miller famously had a place there where he wrote, a little cottage, and they have shows in the front yard. It's an honor to play there and we were booked to do Key Lime Piein its entirety. But it got rained out and pushed back a week. So we were hanging around. Me and Greg [Lisher, CVB guitarist] had started working on a few songs the previous fall and we thought we'd finish those up. Then we kept going and came up with a whole album.
It seems like the surroundings manifested themselves in the songs on the album.
We've long had a fascination with the classic greats making records that are regarded as experiments gone wrong, like Fleetwood Mac's Tusk. Beach Boys' Holland is another, their sort of Northern California Big Sur period. So there's this setting and culture of "the lost coast" that ties into that, and we were fascinated with the sort of failed post-hippie California — moving to the country, Grateful Dead, that period of Beach Boys, writers like Kerouac. Richard Brautigan spent some time around there. Thomas Pynchon and our hero Captain Beefheart, too. It's a place where people go away to hide and we're continuing in that tradition.
Did you concoct "Northern California Girls" as a version of Beach Boys' "California Girls"?
Yeah, Greg had this really beautiful little guitar melody and I started messing around with the concept of a Northern version of "California Girls." Then I ran into an ex-girlfriend from a long time ago and she said, "You should move back to California. You don't belong out there, everybody knows that." And I thought, "Oh, nowI know what this song is."
"Peaches in the Summertime" is interesting, too, a ska version of the traditional folk song "Shady Grove."
Victor [Krummenacher, bassist] had this riff from listening to Turkish prog-rocky stuff, but then we decided it should be more like ska. Jonathan [Segel, violin] and I always liked "Shady Grove" and its predecessors, and also the things that came after it. It's like the whole body of this one 400-year-old story mutated into all these different things. So that's our mutation of it. And why not?
What are those strange squeaky noises in the instrumental "Aged in Wood"?
Doors opening, and I believe that happened from a mic that was left wide open. I don't know why but it seemed to fit. It's got that weird chaos thing right before we get to the ocean sounds on the next song, "A Love for All Time," which sounds like something Sammy Cahn might have written for the Beach Boys in about 1965. We knew we wanted the ocean on that one because it's referenced throughout. Jonathan recorded the waves and it includes the sound of a loon, which I would not have known except that Jonathan told me. But avid birders in the Camper audience will recognize that.
Do any of you actually surf?
No, not really. Except for Greg, we're all inlanders and we're actually skaters. I hung with skateboarders. But you're never far from the ocean there, and it's a similar culture. There's actually one song we did this time that's about a surfer, but it's in Baja. Since that's not Northern California, it doesn't count and we left it off the album.
When you wrote that "Letter to Emily White" last year, did you expect it to go as viral as it did?
God, no. I first wrote that for the NPR blog as a follow-up but was told, "We're kind of done with that and we're moving on." So I put it on my own artists-rights blog, which might get a few thousand readers on a good day. Some tech blogger retweeted it and it just went crazy, became this fight between opposing forces. Suddenly Time magazine, the Washington Post, New York Times and even church parenting groups were discussing it. But the points were the same ones I've said all along. We're willing to pay good money for hardware and broadband internet, but why do people feel like they don't have to pay for content? The vast majority of the 75,000 records put out last year were either small independent labels or artists themselves. So there are three things in that transaction and money changes hands in the first two — but then the hippie freak artist gets ripped off and that's okay? It's the most counter-revolutionary, pro-corporate activity we've come up with in a while.
How much blowback did you have from taking a stand?
I'd given a talk a few months earlier at the SF Music Tech Summit, which was like going into the lion's den. In a bit of hyperbole, I compared the bad old label system to the new distribution paradigm. And when you break it down, the old way actually gave the artist a bigger share of the gross revenue. It was a 12,000-word essay and the first comment I got on Facebook was, "Fuck you, we're gonna turn you into Lars Ulrich" — who had his head put on a stake by the tech industry. [It was] as if to say, "This will happen to you if you dare question us." But if you look at what Lars actually said back then, he was completely right. Filesharing became monetized by large corporations, and the artists were shortchanged. Because of what happened to him, other artists were afraid to speak up. But after the letter to Emily, the only people who got pissed off at me were just freeloading and not paying, anyway. So people got more comfortable with speaking out and it did have an effect on the dialogue.