How definite is the indefinite? Not very. Despite having declared a permanent hiatus following their November 8, 2011 show in Rio de Janeiro, the Canuck musical Justice League that is Broken Social Scene is reuniting for a summer fest celebrating the tenth anniversary of their record label, Arts & Crafts. The Field Trip Music & Arts Festival will take place on Saturday, June 8 at Fort York and Garrison Common in Toronto, and will also feature performances from Feist, Bloc Party, Ra Ra Riot, Cold Specks, Jason Collett, Timber Timbre, Zeus, and others culled from the Canadian imprint's indie-illustrious past.
"Field Trip was built around the themes of discovery and community," said Jeffrey Remedios, who co-founded A&C with BSS main men Kevin Drew and Brendan Canning. "In addition to world-class musical performances, the festival will incorporate local art, gourmet food and unique elements of Toronto's proud culture. Field Trip is a celebration – not just of Arts & Crafts' 10-year anniversary and our artists – but of Toronto, of community and perhaps above all else, of the collaborative spirit." And, of course, a reminder that 20-person rock ensembles once miraculously thrived in our midst.
Early bird tickets for the two-stage fest go on sale Wednesday, January 16 at 10:30 a.m. EST for $55 a pop. VIP passes will be selling for $120, and general admission (on sale January 18) are priced at $75. (Kids are free.) In addition to the main event, Arts & Crafts are plotting a handful of projects for their big year. We don't know the "when" yet, but the following "whats" are in the offing:
Arts & Crafts 2003-2012, a deluxe package of "hits," rarities and B-sides; Arts & Crafts X, a collection of collaborations between artists from the label's roster; a photo exhibition celebrating A&C's past and present by shutterbug/friend Norman Wong; a for-charity fashion project helmed by designer Jeremy Laing with input from A&C artists; a short fiction contest inspired by BSS's classic You Forgot It in People; and an A&C pop-up shop/gallery to run late May through mid-June at a to-be-announced location.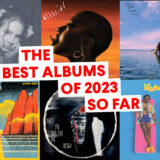 You bet we'll keep you updated if it's revealed Destiny's Child, David Bowie, Yeah Yeah Yeahs, the Knife, Phoenix, and/or Justin Timberlake are involved.