More than a year after Björk released Biophilia, her eighth studio album, and its accompanying interactive apps, the Icelandic artist continues to unveil new components to her multimedia project.
Yesterday (January 28), Björk launched a Kickstarter campaign to fund the development of a Biophilia app for Android and Windows 8 — it's already compatible with Apple's iOS devices — to make it more accessible for the Biophilia Educational Program. As SPIN previously reported, Biophilia's educational workshops grant children access to the apps and teaches kids about music, science, and technology.
"[The Biophilia Educational Program] has met with success in many cities, sparking interest from kids and educators all over the world, from South America to East Asia to Africa," the Kickstarter page reads. "We have received lots of international requests for alternate versions of the app, many of which have come from areas with families on low incomes and schools with low budgets. So we want to make the app available to as many teachers and children as possible by making the app available on as many devices as possible."
"The dream was always to make it available on all smartphones and all touch screens," the 47-year-old singer says in the Kickstarter video, which can be viewed up above. "This is a dream we haven't been able to fulfill yet."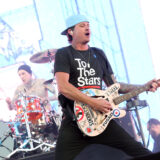 Since the Biophilia Educational Program is a volunteer-based nonprofit, the campaign is hoping to raise £375,000 by February 27. People who pledge money to the project are eligible to receive a number of items, including the Biophilia app itself, an exclusive T-shirt, a 12-inch picture disc, a lithographic print, a DVD documenting the making of Biophilia, and a "thank you" credit within the Android app. The bigger the donation, the bigger the prizes.
"It's all about exploring the areas where music, nature and technology meet, showing people how sound can work in nature while at the same time exploring the infinite expanse of the universe, from planetary systems to atomic structure," the Kickstarter page reads. "It's clear that learning and teaching using touch screens enables students of varied levels to learn in an intuitive way, and to contribute equally. The Biophilia app allows them to explore their creativity and develop their musical imagination, without them needing advanced technical and academic skills to do so."
According to the Kickstarter campaign, the app has also been greatly effective for students with attention deficit-hyperactivity disorder (ADHD). "We witnessed children with ADHD and similar behavioral disorders excel to produce comparative work to their peers," the campaign organizers write. "The tactile quality of the app encouraged the students to engage, to take their teaching into their own hands, literally, and this stopped them fidgeting or becoming distracted."
The money raised will also go toward the creation of an open-source curriculum guide and the compensation of educational specialists that develop Biophilia lesson plans. Björk has already hosted free interactive science and music workshops for schoolchildren in several cities — New York, Manchester, Reykjavik, Oslo, and Buenos Aires — and in February, she will bring the experience to students in Paris. The multifaceted mother of two will also perform a six-date residency in Paris, beginning February 21 and ending March 8. Later this year, the Biophilia live experience will stop by Los Angeles, San Francisco, and Tokyo. Anyone who donates £320 or more will receive a ticket to one of those shows.
Watch an introduction video to the Biophilia Educational Program below.
https://youtube.com/watch?v=659qlBbOVl8