It's a good time to be in the market for used vehicles associated with dead grunge-rock frontmen. If you missed your chance last year to buy the Melvins' first tour van, which was decorated by a somewhat notable doodler named Kurt Cobain, consider buying a car once owned by late Alice in Chains singer Layne Staley. As Blabbermouth notes, Staley's 2000 Pontiac Firebird Trans Am is for sale over at the band's fan messageboard.
The user selling the car, unless it's some strange hoax, is longtime Alice in Chains roadie Tavis LeMay, who as far as we know isn't related to indie rocker and music critic Matt LeMay. Tavis says Staley's estate asked him to sell the car, and he figured he'd give the fans first dibs. He asks anyone interested to send him private messages through the board, so no eBay free-for-all on this one.
"It is fully loaded with T-Tops and the Ram Air and WS6 package upgrades with dual leather electronic controlled bucket seats, stereo upgrade package with a trunk mounted 12 disc changer," Tavis wrote of the vehicle, which has 26,000 miles on it. "6 speed Transmission. there are many options on this car that Layne personally ordered from the factory."
Photos of the car are available here. The personalized license plate number, which might post-date Staley's 2002 death, is "CHAINZ." We think we know at least one rapper who might be interested.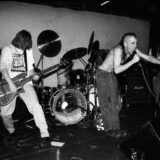 Coincidentally, Staley enthused about the Pontiac once in a 1999 radio interview. You can hear him talking about it around the three-minute point below. "I wasn't even really planning on buying a car," he jokes, saying of the salespeople, "I just wanted to boss 'em around."
https://youtube.com/watch?v=7D6zB-5mOLw%3Ffeature%3Dplayer_embedded