In 2012, the seeds of Alt R&B reached full flower. Usher's "Climax," a forever-teasing slow burn with the slightest hint of dubstep has the stamp of Tesfaye all over it, for sure. Drake's Take Care riffed on the the Weeknd's more insufferable suffering, and its strangest single, "Crew Love," includes Tesfaye on the hook (its second strangest features production from Jamie xx). Justin Bieber's "As Long As You Love Me" has been labeled a Justin Timberlake approximation, but he wouldn't be channeling the Timbaland-produced FutureSexLoveSounds if it weren't for House Of Balloons' significant cult following (Bieber also has sung snippets of Ocean's "Thinkin' 'Bout You" in concert).
The rap album of the year, Kendrick Lamar's good kid, m.A.A.d city, is rife with ghostly vocals and warm Alt R&B production that brings to mind House of Balloons. 2 Chainz's "Like Me" samples the Weeknd, and Tesfaye is featured on "Remember You" off Wiz Khalifa's new album O.N.I.F.C.. At the end of November, the Weeknd ran a victory lap by repackaging all three of their free 2011 albums as a CD collection called Trilogy.
And consider Jay-Z and Kanye West choosing Frank Ocean to sing a couple of hooks on last year's Watch the Throne, a telling example of two ambitious, though increasingly detached MCs reaching for relevancy. That they sought out an R&B singer instead of a fellow rapper showed where cool was now located. This year, the Throne's "No Church in the Wild," featuring Ocean, became action-movie trailer music, and soundtracked a Dodge Dart commercial. In May, Maybach Music Group leader Rick Ross recruited R&B vet Omarion — who Ocean, actually, sounds a lot like — for his luxury-rap crew. Fred Tha Godson's minor hit "Monique's Room," features a watery Frank Ocean "Swim Good"-esque beat and a vocalist named Remo the Hitmaker impersonating Ocean on the hook.
The most tangible result of Ocean and the Weeknd's influence on the industry may be the emergence of Miguel, who spent 2011 playing PBR&B catch-up as the stranger singles from his late 2010 album All I Want Is You moved across the radio, standing out for their sense of patience and sly experimentation. "All I Want Is You," with its Amy Winehouse thump; "Sure Thing," a slow burner soaked to the bone in DJ Screw syrup; and even, "Quickie," a reggae-tinged sex jam, all arrived just a tad early for the Alt R&B moment.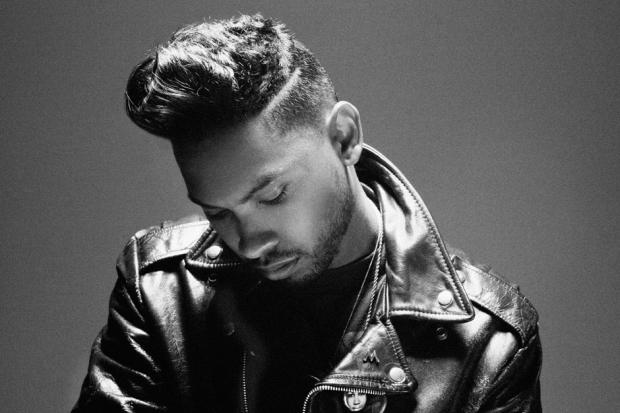 But in 2012, Miguel fully channeled Ocean and the Weeknd's approach, releasing three free EPs in three months, titling them Art Dealer Chic. That nod to the dealer, the curator, who is there to select and cash-in on what's tasteful and hot, is crucial.
There's no way, without Nostalgia, Ultra or House of Balloons, or without an industry wondering how they whiffed on all this stuff, that Miguel would have been able to explore a more adventurous direction. That doesn't mean his accomplishments should be downplayed at all, just that he's a rare talent who has a savvy, chameleonic ability to recognize the next big thing.
Miguel released the album Kaleidoscope Dream in September, delivering on the promise of his freebie EPs, and thanks to the single "Adorn," first heard on volume one of Art Dealer Chic, he got his breakthrough hit. Miguel's story is the kind of plateau-jump that music listeners love — the swift sea change that happens when an artists finds his or her voice, taps into the zeitgeist, and just goes for it. Miguel has reestablished himself as a star-ready auteur who broke free of major labels' obsession with market-testing artists into mediocrity. Contrast "Adorn" with perfunctory album cuts from 2010's All I Want Is You, or better yet, his 2006 song "Getcha Hands Up," which debuted on BET and then went nowhere. Just six years ago, a rap and bullshit single was the only way Miguel could have broken through.
Different ears will pull different sounds out of "Adorn" — a little bit of Marvin Gaye's "Sexual Healing," some classic '60s Motown when Miguel harmonizes with himself, very light touches of EDM — and that's what makes it so refreshing. Miguel's post-hip-hop sense of recombining sounds and emotions permeates Kaleidoscope Dream. On the title track, Miguel sings over the drums from Labi Siffre's "I Got The…" (best known as a sample on Eminem's "My Name Is") and the production sonically quotes both Shuggie Otis and the Brothers Johnson versions of "Strawberry Letter 23," creating a clever tangle of R&B history.
"Kaleidoscope Dream" is evidence of Alt R&B's more open-eared, adventurous approach. The music is not content to settle into some subcategory, be it baby-makin' music, retro-soul, or glitzy fist-pump pop, and they're conducting a music-nerd conversation with the past. On "Super Rich Kids," Frank Ocean's piano pounding invokes Elton John's "Bennie and the Jets," while the satirical lyrics have enough bite that, perhaps, there's some of Biz Markie's kooky cover of "Bennie" in there too. At one point, Ocean sings Mary J. Blige's "Real Love" for a bit. The Weeknd's deft use of a sample from Cocteau Twins' "Cherry Coloured Funk" on "The Knowing" and Aaliyah's "Rock the Boat" on "What You Need" is a sly shouting-out of influences.