The sheets of cheers coming from the first seven-or-so makeshift rows at Frank Ocean's Lollapalooza performance this past summer were practically the Beatles at Shea Stadium. It was the closest to an unbridled can't-hold-it-in embrace of a musician by his or her fans that I've ever witnessed. Ocean's nighttime set began with an acoustic cover of Sade's "By Your Side," moved through songs from last year's debut free download Nostalgia, Ultra and then the newly-released channel ORANGE, at his own deliberate pace. He stopped to praise the city of Chicago's architecture, warned mind-altering newbies that they should take it easy, and held up one of the green-friendly cardboard cartons of water that were scattered all over the festival grounds and said they were "something else." Then he worried aloud if that qualified as an endorsement.
The set ended with the 10-minute "Pyramids," which conflates Sun Ra, Stevie Wonder's Innervisions, Michael Jackson's "Remember the Time" pop-Egyptology video, plus R. Kelly's or T-Pain's stripper jams, and is the centerpiece of Ocean's album channel ORANGE (released in July), SPIN's best of the year. While channel ORANGE undoubtedly signifies as R&B, it deftly bobs and weaves around the genre's traditional expectations. Performing just a couple of hours before Ocean was fellow R&B boundary-pusher the Weeknd, a.k.a., Abel Tesfaye, who presented his risqué, heretofore anonymous R&B on one of the festival's main stages — where, later in the night, the Red Hot Chili Peppers would unleash their weathered dude-funk.
Ocean's performance came just a month after the singer-songwriter, 25, detailed his first love (to another man) in a Tumblr post, deading whispers about the loaded "he" pronoun on the channel ORANGE track "Bad Religion." At Lolla, every song, every self-conscious joke, even a coy reference to the infamous first-love note, brought screams from Ocean-obsessives who had pushed to the front of the stage earlier in the evening to ensure a spot.
Though Lollapalooza 2012 mostly facilitated the raw power of whatever's left of music with guitars plus an assortment of dubstep throwdowns, the "alternative" warhorse also featured several acts on the fringes of R&B. Beyond Frank Ocean and the Weeknd, there was sleek soulster Aloe Blacc, whose European chart hit "I Need a Dollar" (featured in the HBO series How to Make It in America) gave him cult status in the States; British producer SBTRKT, with his dubstep-tinged vocal house; and Santigold, a precursor to the polyglot pop that we're now corralling under the tag "Alt R&B." Most notably, there was Toro Y Moi, a funky chillwaver flaunting a George Duke obsession, who, had he arrived two years later, would exist in the same category as acts like lo-fi, blue-eyed crooner How To Dress Well and hooky futurist Steven A. Clark.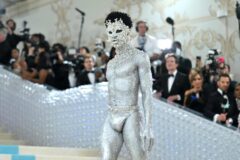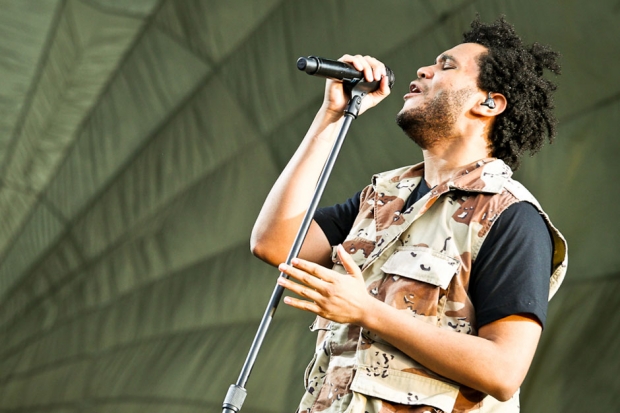 But it doesn't stop there. The Alt R&B umbrella also covers U.K. bass-music diva Jessie Ware; sonic dot-connecting production duo Nguzunguzu; friend of Grizzly Bear with a love of freestyle Solange Knowles; post-dubstep slow jammers Holy Other; post-punk funkers Petite Noir; experimental electro-pop duo AlunaGeorge; inc., a pair of smoked-out dudes in love with Aaliyah, and many more. All of these artists, though they have culled sounds from music collector-like dives into the past, in addition to grabbing from a number of subgenres swirling around at the moment, are at their core R&B acts.
It would be no surprise next year if Miguel, who has been a dominating radio presence throughout 2012 with his single "Adorn" (from his surefooted album Kaleidoscope Dream), finds himself in the Ocean or Weeknd spot at Lollapalooza. That Ocean could sit at a piano on a Saturday night, and be showered with applause for his performance of new songs from his restrained yet ambitious album, and the Weeknd could bring his cryptic end-of-the-night vibes to a festival in broad daylight (transforming from Internet creature into real-live mystery man), confirmed that R&B was no longer in a codependent compromise with hip-hop and EDM, and finally was charting its own path, once again.
R&B is a genre that has, despite massive success in the '80s and '90s, remained critically marginalized, especially since soul gave way to disco and quiet storm. Tellingly, '80s R&B gamechangers like Prince and Sade were shoved into other genres; The Purple One had to become a rock star; Ms. Adu's crew were sold as sophisticated, post-new-wave pop. By the '90s, R&B had been absorbed by other genres considered cooler or more profitable, or both. First, by being balled up into hip-hop as radio-friendly New Jack Swing and eventually into what De La Soul once tagged as "rap & bullshit." Recently, it's been smooshed into the unforgiving EDM, as Rihanna and Calvin Harris topping Billboard with "We Found Love" attests.
These forced fusions eventually created a desire for R&B that, well, still sounded and felt like R&B. It wasn't that R&B lacked singular individualists (R. Kelly, D'Angelo, Lauryn Hill, T-Pain, The-Dream) or willful experimenters (Missy Elliott, Sade, Maxwell, Erykah Badu, Aaliyah, Bilal) but that, increasingly, these performers seemed like anomalies. Particularly lost in the shuffle were multifaceted male artists, who were usurped by youth-marketed sensitive thugs, or simply put out to pasture with the over-35 crowd. The neo-soul movement, which was, in its own way, a "rap & bullshit" off-shoot, and the backpack hip-hop it was tied up with, shared an important late-'90s moment, but gradually turned into a series of predictable throwback facsimiles. With the rules so rigid for R&B, everything that wasn't charting was stuck together into this nebulous "black music not on the radio and not hip-hop."
R&B's marginalization is the story of post-2000s pop music, in general: All the interesting stuff got squeezed out as record sales dwindled and the bottom line became even more of a factor. Many artists — thrown together in the not-on-the-radio and not-hip-hop category — reveal the roots of today's Alt R&B: the Foreign Exchange, wrestling with the small details of married life over John Carpenter-meets-Mr. Fingers production; Cody Chesnutt's quirky, lo-fi soul on The Headphone Masterpiece; Ryan Leslie's wounded-bro balladry on 2009's self-titled and Transition albums; a Los Angeles scene that stretches from Sa-Ra and J*Davey to, more recently, Dam Funk, Nite Jewel, Thundercat, and KING. Janelle Monáe's cyborg R&B opera, The ArchAndroid. Yes, something is happening in R&B right now, but it's also been happening for about a decade.
The Alt R&B that broke through this year seriously began with the story of Frank Ocean, formerly an industry songwriter named Lonny Breaux, who became connected with rap collective Odd Future, and released Nostalgia, Ultra for free on the Internet in February of 2011. A little more than a month later, Toronto's Abel Tesfaye, better known as the Weeknd, debuted the Drake-co-signed album, House of Balloons, also for free on the Internet. The Weeknd, a singer still cloaked in secrecy who works with a group of producers (though mostly Doc McKinney and Illangelo), tweaked the arch, loverman tics of The-Dream and R. Kelly, with a devilish, not-ready-for-radio side that consistently wandered into darker issues (of consent and existential dread), investigated abrasive bass, and indulged the odd, choice post-punk sample. Throughout 2011, the Weeknd released two more free albums, Thursday in August, and Echoes of Silence in December.
In many ways, the genre's recent rebirth is hip-hop's Internet mixtape revolution come to R&B. In the past few years, rap has experienced a creative renaissance thanks to the Internet, which gave rappers shut out of, or long abandoned by, the industry a chance to shine on their own. Drake, benefactor to the Weeknd, built his own buzz via free mixtapes. The tipping point for Internet rap as a new model, in and of itself, was the success of Odd Future, who broke through by ignoring virtually all industry rules. Labels looking for cool cred and rappers reaching for relevancy came to Odd Future leader Tyler, the Creator, not the other way around. Ocean, with the collective's support, released Nostalgia, Ultra during OFWGKTA mania.
The appearance of Ocean and the Weeknd, along with a bubbling indie-rock interest in R&B that stretched back to the xx covering Aaliyah's "Hot Like Fire" in 2009, How to Dress Well's Ready For the World-as-art-songs album Love Remains in 2010, and an Internet culture of '80s babies hitting their twenties who were mining their '90s elementary and middle-school musical dance memories, led music critic Eric Harvey to quip on Twitter that we had a new genre on our hands: "PBR&B." That is, R&B for hipsters. It was a funny pointed observation that arrived after two years marked by absurdist buzz genres like "chillwave" and "witchhouse." All of these tags began as larks, but were soon used in earnest.