Contrary to the innumerable levels of obfuscation that separate listeners from the process of making and performing electronic music, particularly as the stages get bigger and the fireworks brighter — How was it made? What tools were used? What ghostwriters went uncredited on the recording? What knobs is the DJ twisting up there? Why does the CDJ appear to be unplugged, and yet sound is coming out? — Snaith's Daphni project presented a single, snaky line from the studio to the dance floor. When you heard it, you could imagine it being made; as a squirrelly acid line modulated, you could picture Snaith's wrists twisting in real time. (The Bulgarian producer KiNK went one better with a video that laid bare the vinyl-sampling techniques behind his appropriately titled track, "Hand Made.")
I hate to fall back on realness, but Daphni's output felt refreshingly direct, ego-free, and unmediated by industry bullshit. And the fact that he proved able to hold down his idiosyncratic style for eight hours at a stretch was a welcome, additional dose of realness in a year where the DJ's tools were too often reduced to USB sticks and a space bar.
What animated Daphni's music was its carefree collision of styles, and it was that spirit that was the defining characteristic of the best electronic music in 2012. Often, in keeping with the past few years' descent into sepulchral splendor, those collisions took on a dark, spooky cast, such as in the gritty techno/bass deconstructions of Actress, Lukid, Joy Orbison, Blawan, Untold, and Pearson Sound. Ron Morelli's L.I.E.S. label (and, to a lesser extent, Bill Kouligas' PAN) pushed house and techno to the extremes where they linked up with the noise underground — a free-for-all of broken-down hardware, fucked-up timekeeping, and fuzzbox overload that you could still dance to. But there was also the odd ray of sunshine, as in the insouciant dance-pop of the 2 Bears or Totally Enormous Extinct Dinosaurs. (Speaking of worlds colliding, one of the year's strangest pairings came about when Robbie Williams tapped Todd Terje's "Eurodans" for the melody to his single "Candy.")
TNGHT, the pairing of Hudson Mohawke and Lunice, only put out a single, five-track EP — just 16 minutes of music, in fact — but there was little that felt more au courant, or thrillingly visceral, than their three-minute, no-holds-barred fusions of juke, grime, techno, and trap. TNGHT also exemplified one of 2012's most promising trends in electronic music: Collaboration. As much as Daphni may have represented electronic music's best impulses this year, the story was bigger than him; it was bigger than any individual. Maybe being constantly jacked into the social matrix has its upside: Our growing leeriness of being alone led to a flourishing of in-studio kinship.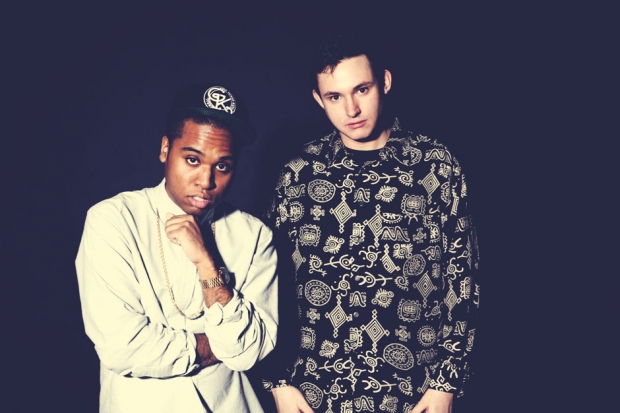 Boddika and Joy Orbison's three 12-inches for their sub-rosa SunkLo label offered a twisted, uncompromising riposte to the U.K. "bass music" scene's ongoing infatuation with house and techno; on their best track, "Faint," Pearson Sound came on board to round out a three-way meeting of the minds. When he wasn't turning out blistering techno anthems like the Fugees-sampling "Why They Hide Their Bodies Under My Garage," Blawan hooked up with Italy's Analogue Cops for a moody, murky fusion of back-to-basics styles; the Cops also joined forces with Panorama Bar resident Steffi to form Third Side, a hardware-oriented act paying homage to classic Chicago house, while Blawan and Pariah egged each other to noisier and noisier extremes in their duo project, Karenn.
Everywhere you looked, there was a new super-group (or at least super-duo) taking shape: Burial and Four Tet, Terre Thaemlitz and Mark Fell, Kyle Hall and Funkineven, Alva Noto and Byetone's Diamond Version, Move D and Juju & Jordash's Magic Mountain High, Moomin and Christopher Rau's Roaming, Superpitcher and Rebolledo's Pachanga Boys, Donato Dozzy and Neel's Voices from the Lake… The list goes on and on. Even original Depeche Mode members Vince Clarke and Martin Gore managed to bury the hatchet for their VCMG project, a surprising (if somewhat disappointing) foray into purist techno. But the best thing about this trend is that it rarely seemed calculated. In contrast to pop music's ubiquitous features, designed to meet the focus-grouped needs of multinational corporations, these joint efforts offered more than merely the sum of their constituent parts. They cracked open the solo electronic musician's lonely cul-de-sac, providing hidden passageways to collective action at a time when "scenius" was too scattered to lead.
Occasionally, collaborations even crossed generational boundaries. Chris Carter and Cosey Fanni Tutti — a.k.a. synth-pop pioneers Chris & Cosey, members of industrial heavyweights Throbbing Gristle — joined forces with Nik Void, a member of the young London band Factory Floor, for the excellent Carter Tutti Void LP on Mute, recorded live at a sold-out Roundhouse performance. Given Chris & Cosey's overwhelming influence on Factory Floor], there was a risk that the whole endeavor might have been superfluous. Instead, the trio came up with a wild, feedback-laden foray into skeletal machine rhythms and sooty tribal frug, equal parts spooky and shimmering. In a year that saw scads of artists burrowing deeper into electronic music's dark side — Andy Stott, Emptyset, Vatican Shadow, Raime, Evian Christ, Holy Other, Vessel — Carter Tutti Void offered a delicate balancing acts between post-punk affect and MIDI-enabled futurism.