Down By Law: The Year Downloading Took a Dive
How streaming music services are beginning to win the battle for the hearts and minds (not to mention wallets) of music fans.
By mid-2012, a reported 36 percent of Internet users were listening to music through streaming services (including YouTube), up 5 percent from a year earlier. Compare that to the 32 percent of people who were listening to downloaded music files — a number that has fallen by 5% in the last two years. Streaming music's rise has been made possible, in part, by advances in the nation's digital infrastructure. Improvements in 3G and 4G coverage have made these services more than just something you can enjoy while hunched over a computer, nestled in the warm embrace of a nearby Wi-Fi hotspot. Now you can take them anywhere.
These trends have not gone unnoticed. Rhapsody, the long-running digital music service with roughly one million subscribers, recently announced it was dropping downloads from its offerings completely.
"It's really just of our 'all in' belief on an access model over ownership," says Paul Springer, a Rhapsody senior vice president. "Customers were paying for an MP3 just so they could take it with them. But once we got caching into all of our mobile products, songs can be played even in an offline mode. And the proliferation of 3G, 4G, and Wi-Fi coverage really enables this ubiquitous on-demand, instant access to your whole catalog. Now we're seeing more than 50 percent of our playback in mobile devices."
In July, Beats by Dre, the high-end audio company founded by Interscope-Geffen-A&M honcho Jimmy Iovine and Dr. Dre, also placed its bets on streaming when they bought MOG. MOG reportedly has less than 200,000 subscribers and it seems likely that Beats will begin to impose its own brand on the service by gearing it toward audiophiles and hardcore music fans. MOG has both a free ad-supported service and a paid subscription service, but in order to thrive the company eventually will need to convince enough consumers that it's worth parting with $10 a month — which seems to be emerging as the accepted price point — for access to a virtually unlimited catalog. As Beats' chief operating officer Luke Wood points out, it's not that big of an ask.
"Look at your premium cable bill, which is about $120 a month," he says. "Plenty of people can go on the Internet and get all those shows, but the quality of the product, the convenience of it, the experience is so easy, so good, so strong, you happily pay the money. People spend five dollars every day at Starbucks for their cup of coffee. You could make coffee at home, but it's a good experience."
Spotify, which debuted in the U.S. in mid-2011, has quickly established itself as the benchmark against which other streaming services are measured. With 20 million active users worldwide, five million of whom are paying subscribers — one million in the U.S. — it's already the most popular choice (aside from YouTube). But still, it has yet to turn a profit.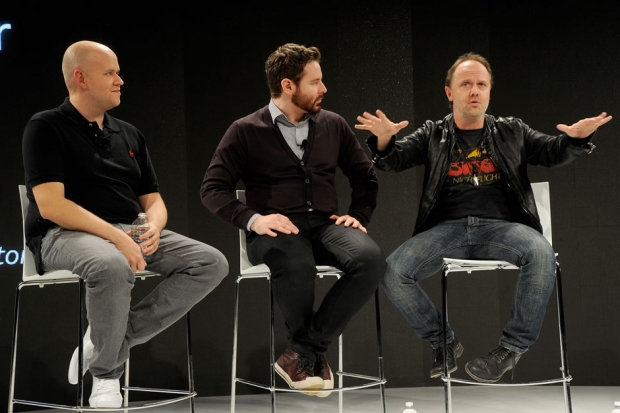 "We're a company in a growth phase and our business is all about reaching as big an audience as possible," says Ken Parks, Spotify's chief content officer. "We think we have a sustainable business model and certainly all those other things like profitability will come, but right now we're just focused on making this thing the biggest music service on the planet."
Parks believes that Spotify, and streaming in general, has reached a critical mass and now it's just a matter of monetizing the product. "If you consider that half a billion, maybe a billion people are listening to music online on places like YouTube, streaming really is the way that people of a certain generation consume music," reasons Parks. "iTunes skews much older, but what Spotify has done is capture a lost generation of users who don't buy music, but have been engaged and now see the value in the experience we provide. Millions have come in from the dark corners of the web, from pirate services."