The surviving members of Led Zeppelin will appear on tonight's episode of Late Show With David Letterman. But Robert Plant, Jimmy Page, and John Paul Jones already spent time with Letterman, President Barack Obama, and other grandees over the weekend at various events commemorating this year's Kennedy Center Honors. Meryl Streep and Hillary Clinton snapped an iPhone self-portrait. President Obama paid tribute to Zeppelin, cracking wise about forcing the famously hotel-trashing rockers into a space tightly controlled by Secret Service members.
Zep, blues innovator Buddy Guy, Soviet-Russia-born ballerina Natalia Makarova, actor Dustin Hoffman, and late-night TV host David Letterman received their Honors medals at a State Department dinner on December 1. Obama gave his remarks during a White House reception yesterday. And last night, a star-studded show honoring the awards recipients took place at the Kennedy Center.
The Kennedy Center awards show will air on CBS on December 26 at 9 p.m. EST. Here's what music listeners should look for, based on reports from the Washington Post, the Los Angeles Times, Reuters, and Rolling Stone:
1. Foo Fighters. Dave Grohl, who joined Zep bassist John Paul Jones in Them Crooked Vultures, relinquished his routine frontman duties to play drums on renditions of "Black Dog" and "Rock 'n' Roll." According to Rolling Stone, usual drummer Taylor Hawkins was on vocals. It's too bad Grohl's recent recording buddy Josh Homme of Queens of the Stone Age wasn't available, but either way this performance should be one to watch.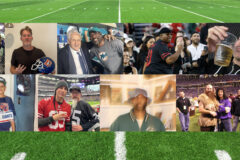 2. Kid Rock. Yes, that Kid Rock. Despite publicly championing Obama's opponent, Rock graciously showed up and, according to the accounts so far, put on a strong performance in covers of "Babe, I'm Gonna Leave You" and "Ramble On." Rock told CNN he said to the president, "No hard feelings." With a conciliatory attitude like that, maybe Detroit's own reformed rap-rocker can help Congress resolve its fiscal deadline.
3. Gary Clark Jr. Who better to pay tribute to blues past than one of the most impressive hopes for its future? Clark and fellow blues guitarist Jimmie Vaughan reportedly covered Guy's "The Things That I Used to Do." Tracy Chapman performed "Hound Dog," which Guy used to play with Big Mama Thornton. Morgan Freeman spoke to open the Guy segment of the evening, saying the honoree "mastered the soul of gutbucket" blues. Ah, classic Freeman narration.
4. "Sweet Home Chicago" superjam. You knew it was coming. After Jeff Beck played guitar on Guy's "I'd Rather Go Blind" and Bonnie Raitt handled "My Time After Awhile," Raitt led Beck, Chapman, and others in a rendition of "Sweet Home Chicago" — a song Guy once helped coax even the president to sing.
5. "Stairway to Heaven" superjam. You really knew it was coming. Comic actors from Ray Romano to Jack Black helped set the stage for the evening's Zep tribute, which also included Lenny Kravitz singing "Whole Lotta Love." For the grand finale, though, original drummer John Bonham's son Jason backed Heart's Ann and Nancy Wilson on Zeppelin's sprawling signature song. Per Black, Zep "sang songs about love, about Vikings, about Vikings making love, and Lord of the Rings." It'll all be on TV on Boxing Day.