'Django Unchained' and Its Riotous Press Conference By the Numbers
Samuel Jackson: "You want me to be the most despicable negro in cinematic history?!"
Ever since director-writer-auteur Quentin Tarantino made his first splatter in Hollywood with the bloody 1992 heist flick Reservoir Dogs, he has defined himself by uniting bleak humor, bloody horror, and B-movie badassery. He stays his course in his latest film, the ultra-violent Django Unchained — a Western set in the pre-Civil War South about a freed slave named Django, played by Jamie Foxx, who gets revenge on some heinous plantation owners who use the N-word more than prepositions.
The film, which opens December 25 and derives its name with a brutal 1966 spaghetti western called Django, costars Christoph Waltz, who won an Oscar for his role in Tarantino's 2009 Nazi-slaying epic Inglourious Basterds, as a German dentist-turned-bounty hunter and mentor for Django. "How do you like the bounty-hunting business?" Waltz's character asks. Django replies, "Kill white folks, and they pay you? What's not to like?" As the pair makes its way onto the plantation of a particularly odious slave-owner, portrayed by Leonardo DiCaprio, Foxx and Waltz traverse some particularly silly settings, including a run-in with Jonah Hill as a bumbling Klansman. As each racist oppressor meets his fate, Tarantino's trademarks — witty dialogue, plot twists, and unstoppable soundtrack choices (this time: new music by Rick Ross, John Legend, and spaghetti western king Ennio Morricone) make it even easier to cheer at the demise of some of the our country's real-life villains.
Happy hooting and hollering erupted often in the audience of press and industry types at the pre-release screening SPIN attended. It was a joyous feeling, and it's one that surfaced again at a press conference Sunday held by Tarantino and cast members Foxx, DiCaprio, Waltz, Kerry Washington, Hill, Samuel L. Jackson, Don Johnson and Walton Goggins. To hold on to that feeling a little longer, we've compiled some of Django Unchained's highs and lows (we promise no spoilers!), as well as some notable moments from the press conference.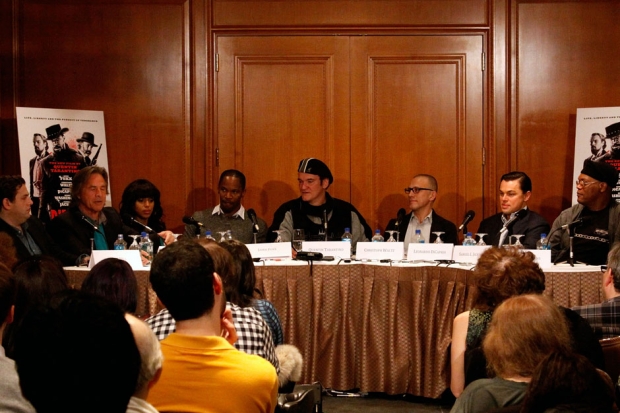 Number of N-words spoken in the 165-minute movie, according to the script: 144 (Approximately one every 69 seconds.)
Percentage of sympathy SPIN felt watching slave owners blown to smithereens for two-and-a-half hours: 0 percent
Number of Frank Ocean songs politely rejected for use on the soundtrack by Quentin Tarantino: 1 (read about it here.)
Number of strange accents used by Quentin Tarantino in his cameo appearance in the film: 1 (somewhat English, New Zealandish, maybe Australian.)
Number of heartfelt reunion scenes made perfect by soaring Ennio Morricone-scored audial bliss: 1 ("Un Monumento," which originally accompanied the maestro's 1967 soundtrack to original Django director Sergio Corbucci's I Crudeli)
Approximate decibels created by the industry audience applauding at the press screening when one magnificently detestable character bites it: 78
Approximate number of journalists in attendance of the Django Unchained press conference: 100
Number of actors who, when they walked by SPIN, had a smell so pleasant we actually wrote a note about it: 1 (Leo, you dreamboat!)
Number of Kangol hats and sweatshirts that Quentin Tarantino wore that looked similar to the Wu Wear one he donned at the 12-12-12 Concert even though the press conference room was a balmy 80 or so degrees: 1 (This time the sweatshirt brand was Dada.)
Number of questions directed specifically to Foxx, Washington, and Jackson that Tarantino interrupts: 1 ("Black question!" Tarantino exclaimed to uproarious laughter by the panel.)
Number of managers Jamie Foxx claims to have fired when he realized he hadn't been offered the role of Django, ostensibly because the industry wasn't ballsy enough to offer him slave parts: 1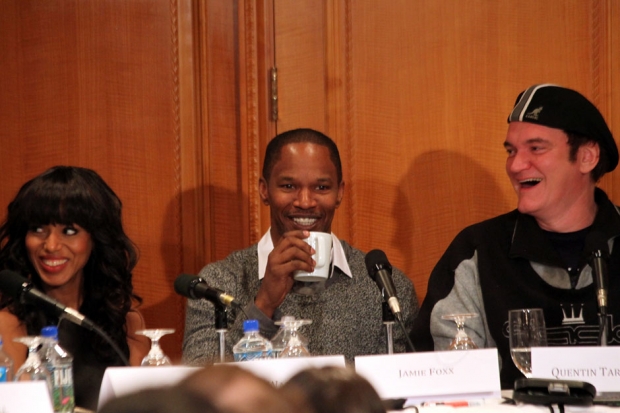 Number of offended questions Jackson asked Tarantino before accepting his role: At least 1 ("You want me to be the most despicable negro in cinematic history?!")
Number of arcane cultural references Tarantino pulled out in the hour-long press conference: 2 (Stan Laurel, about Washington's adlib that while many of her fellow actors were from the south she was from the South Bronx; Burt Reynolds as Navajo Joe, in regard to how Foxx looked while riding a horse with a gun.)
Number of eyebrow raises an admittedly very sleepy DiCaprio makes before answering a question: 2
Number of nevertheless funny interjections DiCaprio offers up to the statement, "Leo, this is the first film you've been in in quite a long time where you're not the only name above the title": 1 ("And it sucks!")
Number of times Waltz referred to himself as a fungus during the press conference: 1 ("There was no [reunion with Tarantino after Inglourious Basterds]…That was just another mushroom of the fungus that has grown subcutaneously in me all of the time.")
Number of times Tarantino compares his writing to poetry: 1
Number of times Hill wondered aloud why he was worthy enough to be included among the people at the panel: 1
Number of times DiCaprio questioned the extremity of his character's villainy: 1 ("Do we need to go this far at times? Does it need to be this violent? Does it need to be this atrocious to other human beings? I think it was Sam and Jamie who both said, 'Look, man, if you sugarcoat this people are going to resent the hell out of you.'")
Number of famous actors Tarantino said are "like a father" to him and encouraged him to make the flick: 1 (Sidney Poitier)
Number of cakes presented to Hill, Johnson, Foxx, and Jackson for having birthdays around the same time: 3
Number of birthday boys who took an iPhone photo of the cake:1 (Jackson)
Number of whole birthday cakes left behind by the actors as they left mere minutes after being serenaded "Happy Birthday" by the press: 3