DJ Shadow received a public apology from Miami venue Mansion Nightclub Friday (December 21), after a promoter for the club cut short the instrumental hip-hop trailblazer's set on December 15. The reason for the rude interruption? Apparently, Shadow's sound was "too futuristic."
Now, the operators behind the South Beach space are trying to put their best foot forward with the following statement: "We offer our most sincere apologies to DJ Shadow and his fans for his set being cut short at Mansion this past weekend. This error should not have happened and will not happen again, especially as we pride ourselves on creating an environment that cultivates and respects innovators such as DJ Shadow. We have learned a lot from this error and made changes within our organization to ensure that Mansion's vision, and the vision of our guests, will never be compromised again."
DJ Shadow (real name: Josh Davis) was spinning Krampfhaft's elliptical buzzer "Spit Thunder" when a promoter whispered into his ear to complain about the tunes, according to Miami blog New Times (via Pigeons and Planes). "I've waited a long time to play here," Davis told the crowd, who began booing after the music stopped. "But they said this shit's too future for all of y'all." This incident, of course, raises an important question: Have the people booking artists at Mansion Nightclub ever actually listened to DJ Shadow?
Shadow didn't take the disinvitation to heart, though, sending out the following tweets after the show: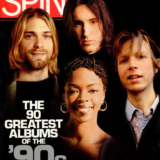 I don't care if I get kicked out of every rich kid club on the planet. I will never sacrifice my integrity as a DJ…ever #AllBassesCovered

— DJ Shadow (@djshadow) December 16, 2012
I appreciate everyone's support. Obviously I should have never been booked there in the first place. Square peg in a round hole, etc #iDoMe

— DJ Shadow (@djshadow) December 17, 2012
Mansion has a bit of a reputation for booting DJs from the booth. Back in February, the hot spot pulled the plug on Dennis Ferrer because he wasn't playing "commercial enough," the New Times reported. In a subsequent interview, Ferrer, who did not receive an apology, explained that recent personnel changes at the venue were to blame for the interference. Well, if the phrase "made changes within our organization" indicates anything, then Mansion is probably undergoing another round of layoffs at the moment.
Watch a fan-shot video of DJ Shadow's plug being pulled below.
https://youtube.com/watch?v=g3sO0Se-NT0