Depeche Mode are set to embark on a world tour next year and the gloom-pop icons will have a new album to take along with them. The English synth-rockers announced today (December 11) that their 13th studio album will be out in March 2013 via Columbia Records. As Slicing Up Eyeballs points out, the upcoming release marks the end of the band's relationship with EMI, which acquired the group after purchasing Mute Records in 2002. Details on the as-yet-untitled record — a track listing, an exact drop date — are forthcoming.
"I am very happy with how the album turned out," Depeche Mode's Martin Gore said in a statement. "The music has a similar vibe to Violator and Songs of Faith and Devotion and I think the songs on the album are among some of the very best we've done." The follow-up to 2009's Sounds of the Universe will contain songs written by Gore and singer Dave Gahan, who said, "The album has a very organic and direct feel to it. It's not a blues record, but it definitely has a soulful vibe. During the recording process we really tried to get the elements of performing and the live show into the album more."
Despite speculation that ex-member Alan Wilder might rejoin his former bandmates, the recording lineup for the new material consisted of Gore, Gahan, and Andy Fletcher. The European leg of Depeche Mode's world tour kicks off on May 7 in Tel Aviv, Israel. Check out the video for a still-untitled new track and full tour schedule below.
Depeche Mode 2013 European tour dates: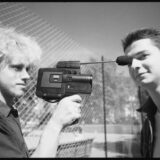 May 7 – Tel Aviv, Israel @ Hayarkon Park
May 10 – Athens, Greece @ Terra Vibe
May 12 – Sofia, Bulgaria @ Georgi Asparuhov Stadium
May 15 – Bucharest, Romania @ National Stadium
May 17 – Istanbul, Turkey @ Kucukciftlik Park
May 19 – Belgrade, Serbia @ USCE Park
May 21 – Budapest, Hungary @ Puskas Ferenc Stadium
May 23 – Zagreb, Republic of Croatia @ Hippodrome
May 25 – Bratislava, Slovakia @ Inter Stadium
May 28 – London, England @ O2 Arena
June 1 – Munich, Germany @ Olympic Stadium
June 3 – Stuttgart, Germany @ Mercedes-Benz Arena
June 5 – Frankfurt, Germany @ Commerzbank Arena
June 7 – Berne, Switzerland @ Stade De Suisse
June 9 – Berlin, Germany @ Olympic Stadium
June 11 – Leipzig, Germany @ Red Bull Arena
June 13 – Copenhagen, Denmark @ Parken
June 15 – Paris, France @ Stade De France
June 17 – Hamburg, Germany @ Imtech Arena
June 22 – Moscow, Russia @ Locomotive Stadium
June 24 – St. Petersburg, Russia @ SKK Arena
June 27 – Borlänge, Sweden @ Peace & Love Festival
June 29 – Kiev, Ukraine @ Olympic Stadium
July 3 – Düsseldorf, Germany @ Espirit Arena
July 7 – Werchter, Belgium @ Rock Werchter Festival
July 11 – Bilbao, Spain @ BBK Festival
July 13 – Lisbon, Portugal @ Optimus Alive Fest
July 16 – Nimes, France @ Antic Arena
July 18 – Milan, Italy @ San Siro Stadium
July 20 – Rome, Italy @ Olympic Stadium
July 23 – Prague, Czech Republic @ Synot Tip Arena
July 25 – Warsaw, Poland @ National Stadium
July 27 – Vilnius, Lithuania @ Vingus Park
July 29 – Minsk, Belarus @ Minsk Arena