SPIN's 10 Best Reissues of 2012
If you saw our favorite records of the year, then you'd know our 2012 saw lots of watery techno, mystical metal, Afro-pop genre hybrids, and insular, future-shocked R&B. In turn, our look at the best reissued and rediscovered music features plenty of watery techno, mystical metal, Afro-pop genre hybrids, and insular, future-shocked R&B. There's no box sets, but one pizza box.
1. SPIN's 10 Best Reissues of 2012
1/11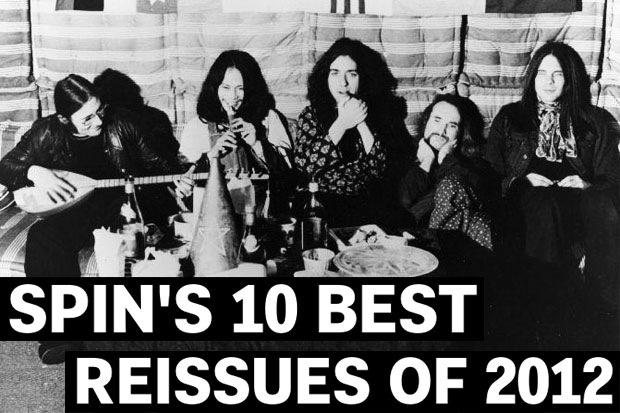 2. FAT BOYS - FAT BOYS (GET ON DOWN)
2/11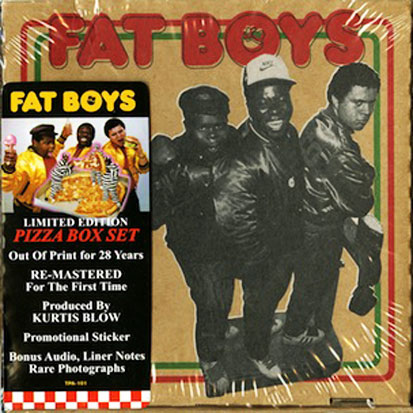 Excepting early stuff touched by Russell and Rick's Midas fingers, the Fat Boys' 1984 debut is the greatest full-length from recorded rap's pre-Raising Hell half decade. That's an important point that got lost somewhere after the group settled for life as hip-hop's corniest wedding band ("Sex Machine," "Wipeout" "The Twist") right as the Terrordome was opening its doors. So, yeah, they're mostly remembered for oversized personalities and a certain oversized gimmick — and, lo, if they had stuck with the plan to be called "The Disco 3," they would have never lived to see the first episode of Miami Vice. But Fat Boys, long unavailable, has much more than burger jokes. Buffy beatboxes "My Country 'Tis of Thee" and the Pointer Sisters' "Yes We Can Can" and "Shave and a Haircut." Producer Kurtis Blow unleashes disorienting flange and proto-Schoolly D pummel and sugar-sweet soul harmonies and hypnotic slapbacks. "Jailhouse Rap" features all the gunplay, prison anguish, sinner's remorse of your favorite contemporary MC, just framed under robbing a pizza joint of all its dough. The appended flop single "Reality" isn't "The Message" or "It's Like That," but it's exponentially funkier than either. And in a marketing coup to memorialize a band that mastered marketing coups: This one comes in a little pizza box. CHRISTOPHER R. WEINGARTEN
3. FRANCIS BEBEY - AFRICAN ELECTRONIC MUSIC 1975-1982 (BORN BAD)
3/11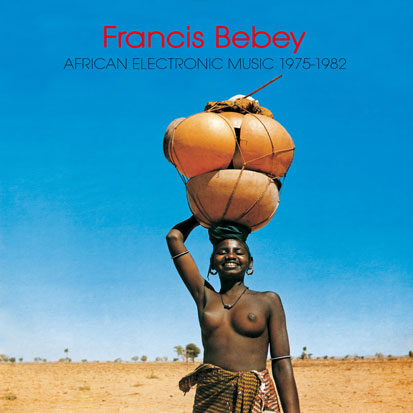 Cameroonian journalist-novelist-sculptor-musician Francis Bebey had been recording acoustic music since 1969 when he hunkered down in his Paris home studio with an early synthesizer and primitive drum machine in '75. The results, as this compilation attests, were as provocatively perplexing as his self-characterized amaya — "African, modern, and yet authentic" — aesthetic might suggest. Something of a swinging cosmopolitan neo-griot, Bebey mostly talks and chuckles on top of his jams — riffing on gender roles, recounting stories from his novels, and interpreting pygmy family life like a West African Serge Gainsbourg. "New Track" and "The Coffee Cola Song," however, are particularly funky-flippant calls to action, like Godard with a side of Franz Fanon. Listen even harder, however, and you can hear the nascent Makossa power of Manu Dibango, the overdriven PA and shamanic electric mbiras of Konono No. 1, and the schizo-traditionalism of young South African hip-hoppers like Dirty Paraffin in this deceptively breezy batch. RICHARD GEHR
4. LAURIE SPIEGEL - THE EXPANDING UNIVERSE (UNSEEN WORLDS)
4/11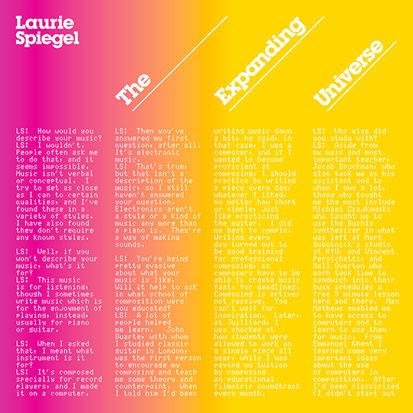 Back in the 1970s, when "personal computer" meant a machine the size of a $600,000 Williamsburg condo, composer Laurie Spiegel was enacting computer music that transcended the technological limits of her time. She even escaped the Earth's gravitational pull, as her musical realization of Johannes Kepler's "Harmony of the Spheres" was included on Voyager I & II's "golden record" and shot into space. But until this year, you had a better chance of hearing Spiegel's music outside of our solar system than within it. That changed when her synth noise scored a bloody battle sequence in The Hunger Games and this two-disc set compilation of her early work finally saw reissue. With Spiegel's ancient computing machines, she melded a love of Appalachian banjo ditties, African rhythms, astronomical wonders, and alien-baiting drones into something approaching cosmic bliss. ANDY BETA
5. DREXCIYA - JOURNEY OF THE DEEP SEA DWELLER I AND II (CLONE)
5/11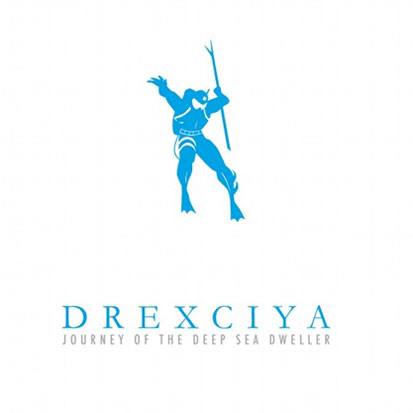 In 1995, the same year a web-footed Kevin Costner chugged his own piss in Waterworld, an even more dystopian tale from a topographic ocean was being conceived in middle America. Drexciya was the work of James Stinson and Gerald Donald, two landlocked electronic music producers in Detroit, who dropped their Aquatic Invasion EP that year, a mutant blend of bends-inducing funk and whiplash-electro with croaked koans like "You must face the power of the black wave of Lardossa before you become a Drexciyan wave jumper." (The "Drexicyans" themselves were water-breathing progeny spawned from the pregnant slave women chucked overboard during the Middle Passage.) With Stinson's sudden passing in 2002, Drexciya's music and influence sank without much of a trace, a trend remedied with Clone's planned four-volume set (I was technically released late last year, III will be out in January). With needling drum machines, hovercrafting synths, and Obi-Wan-like lyrics, Drexciya's oeuvre is warp-speed and hazy at once, an outsider electronic music that was transformative for current producers ranging from Ital to Hieroglyphic Being to New York's L.I.E.S. crew. A.B.
6. HANK WILLIAMS - THE LOST CONCERTS LIMITED COLLECTOR'S EDITION (TIME LIFE)
6/11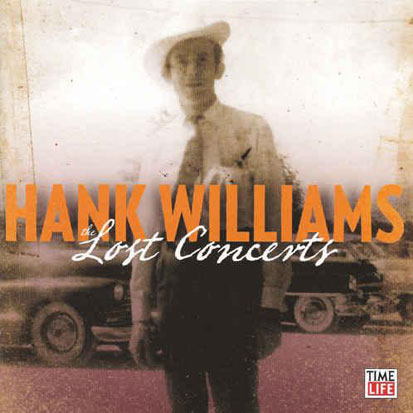 The first-ever release of actual concert recordings by country music's livest, wiriest live wire is a revelatory jolt. Compiled from two 1952 shows taped just before Williams' death, the music is familiar classics ("Lovesick Blues," "Why Don't You Love Me," "Cold, Cold Heart"), but the performances are exceptionally fiery, soulful, and almost arrogantly breezy. Williams commands the stage with his iconic, raspy croon — the wounded wail of a man who was too much of a crafty badass for his own good — but there are also examples of his sly, cornpone banter, delivered with a seasoned hustler's sentimental glint. His band, the Drifting Cowboys, tenderly wreck your heart or tear ass at breakneck speed, especially fiddle player Jerry Rivers, whose astounding blur on "Orange Blossom Special" could shame any death-metal guitarist into hanging up his horns. Also included is a rare, intriguing 1951 radio interview. All in all, an unexpected fresh look at one of pop's greats at his poignant, masterful peak. CHARLES AARON
7. CAN - THE LOST TAPES (MUTE)
7/11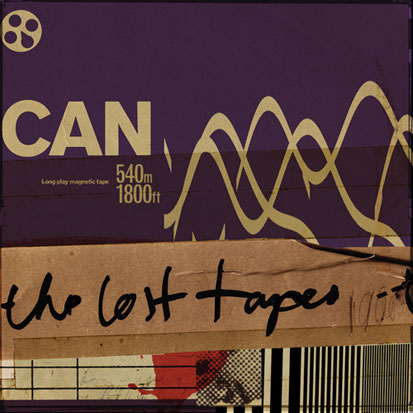 Can have always been indie rock's most ideologically sanctioned jam band. This 200-minute collection, distilled from 50 hours of forgotten material, has the type of tightly knot chaos that demonstrates precisely why Stephen Malkmus was compelled to cover 1972's mystically delicious Ege Bamyasi this year. And that's only the Krautrock kings' latest ripple: Can vocalist Damo Suzuki inspired many a free-associater, and the detuned flights of Sonic Youth lie nascent in this set's 17-minute live version of "Spoon," spun off from its three-minute studio version. And while Can at their core was Velvets-plus-Stockhausen, the deployment of African-ish rhythms, as in "The Loop" and "Dead Pigeon Suite," suggested a long-lens approach to the music that paved the way for Vampire Weekend or Dirty Projectors. Like a Bitches Brew for the anti-virtuoso set, The Lost Tapes' dark magic is very much of both its time and ours. R.G.
8. TIM MAIA - THE EXISTENTIAL SOUL OF TIM MAIA (LUAKA BOP)
8/11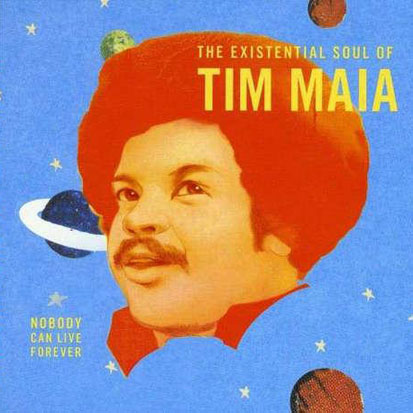 From the early-'70s to the mid-'80s, Tim Maia was a pop star in Brazil — one of the focal points of the Black Rio scene, which brought together the sounds of Brazilian and American soul. This anthology of his '70s recordings, richly sung in both Portugese and English, suggests what Curtis Mayfield or Bill Withers might have sounded like if they'd grown up on bossa nova and tropicália. Its highlights, though, come from the 1974-76 period when Maia joined the UFO-obsessed Racional cult, convinced his band to paint all their instruments white, and recorded tracks like the 12-minute funk stroll "Rational Culture," in which he implores listeners to read the sect's text, Universe in Disenchantment. Maia picked up his ideas about plaintiveness and groove by staying on top of American sounds that were easy to love, but he made his most urgent art when the message he wanted to get across wasn't an easy one. DOUGLAS WOLK
9. VARIOUS ARTISTS - PERSONAL SPACE: ELECTRONIC SOUL 1974-1984 (CHOCOLATE INDUSTRIES)
9/11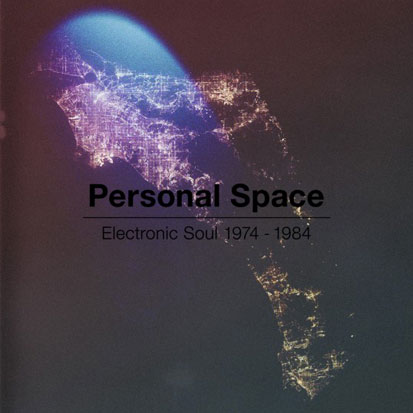 There was a sweet spot, just a few years long, when electronic instruments were starting to be cheap enough that un-famous musicians could get access to them, but still new enough that there wasn't any kind of consensus on what they were supposed to sound like — a moment, in other words, when drum machines and effects boxes were the sound of the uncertain future. That's half the force of the private-press and tiny-label electro-soul tracks assembled here by crate-digger extraordinaire Dante Carfagna. The other half, though, reflects the solitude the title suggests: most of these songs sound like they were assembled by a single person trying to document something they didn't know if anyone else would ever hear. Some of the performers murmur seductions into the void; some of them scream into it. But every one of them is staring straight at it, armed with nothing but their future machines. Thirty-five years ago, these songs were failed experiments. Now, they're astonishing paths not taken. D.W.
10. VARIOUS ARTISTS - MAN CHEST HAIR (FINDERS KEEPERS)
10/11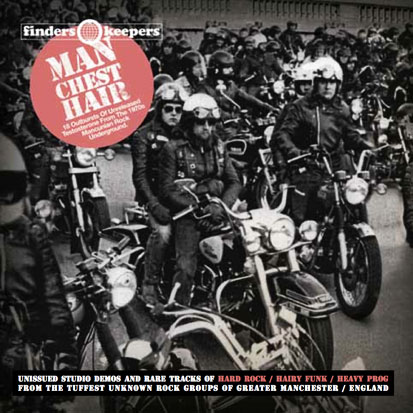 Do you know what happened in Manchester in the decade between Herman's Hermits and Joy Division? We sure don't! But if this collection of "hard rock, hairy funk, [and] heavy prog from the toughest unknown rock groups of Greater Manchester, England" is your roadmap, then the Mancunian streets were simply overflowing with barrel-chested frontmen, blazing sax solos, and fat, wet, funky, horn-soaked grooves that make Aerosmith sound like Kraftwerk. Here is an alternate universe where choogle is the national language; where the funky boogie of Babe Ruth and Ram Jam was as famous as Bad Company; where the best Led Zeppelin song was "The Crunge," where every phlegmy, clenched note was ultimately anticipating Electric 6; where bands only emerged from the British National Zoo for Fat Animals (see: Urbane Gorilla, Greasy Bear, and Savoury Duck). The brassy J.C. Heavy looks hauntingly forward to our current crop of witch-metal bands like Royal Thunder and Christian Mistress. The rest looks forward to monster trucks. C.W.
11. VARIOUS ARTISTS - COUNTRY FUNK 1969-1975 (LIGHT IN THE ATTIC)
11/11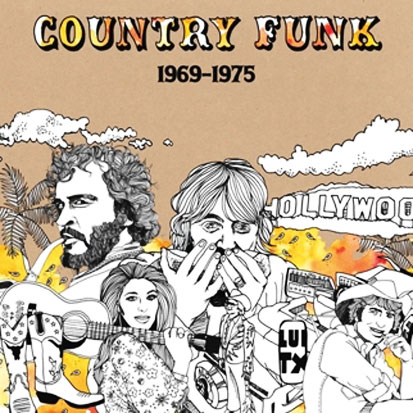 "Country funk" wasn't an actual movement or genre with a bin card and scene bylaws and over-arching aesthetics — not something nearly as organized as, say, seapunk. So it's hard to pinpoint exactly what this 16-track comp is celebrating. The twilight years of the AM radio melting pot? A collection of too-twangy-for-prime time, crate-digger dead-ends? (The opening five seconds of Johnny Adams' "Georgia Morning Dew" is practically begging to be flipped.) The genesis point for Beck's Mellow Gold or Bubba Sparxxx's Deliverance or Big & Rich's Horse of a Different Color or Buck 65's Talkin' Honky Blues or Imani Coppola's "Cowboy"? Or just the warped whimsy of the three record nerds (Light in the Attic's Matt Sullivan, Patrick McCarthy, and DJ Zach Cowie) who compiled it? The Country Funk comp lives at the middle point of some insane Venn diagram where you could somehow cohesively join experiments from gospel-soul lifer Adams going headknock, blues guitarist Johnny Jenkins out-grooving a Dr. John cover, country star Bobbie Gentry getting moves like Jagger, and aging rockabilly icon Link Wray going funky apocalypse. Everything is somewhere between CCR and Sly Stone and often the artist was only trying for one or neither. C.W.