Peak '90s nostalgia and freely flowing art world money converged last night in Miami for KURT, a night of multimedia art and performance loosely inspired by the late Nirvana frontman Kurt Cobain. The three-act event hit the city's 86-year-old Gusman Center for the Performing Arts as part of the hubbub surrounding Art Basel Miami Beach, a week nominally about art sales but ultimately about surreal confluences. So why not show a short film called KURT in which Cobain himself never technically appears? Why not mount a piece of contemporary choreography featuring dancers in flannel? Why not fly in Thurston Moore to play noise and read poetry in the city he was born, a place in which he hasn't played with Sonic Youth in more than 20 years?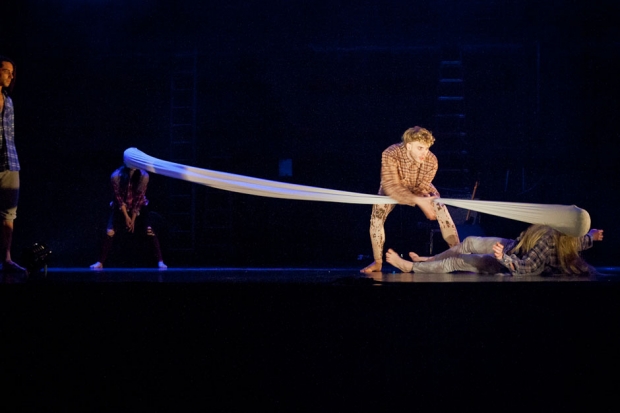 Each of the program's three segments related little to each other except in source material. Diehard Nirvana fanboys in the audience expecting anything approaching a biographical song-and-dance would left disappointed, as Cobain turned out to serve mostly as a thematic springboard. Take, for instance, the first segment of the evening, KURT, the short film by Adarsha Benjamin, an artist who's recently collaborated with James Franco. "It's about the unspoken," she said in her brief introduction. "It's about feeling." Indeed, the five-minute clip treated its subject with the same kind of imagined nostalgia of any Nirvana fan too young to actually have experienced the band's heyday.
Filtered shots of Aberdeen, Washington gave way eventually to fuzzy images of stylized versions of "Kurt," an actor donning facsimiles of famous Cobain outfits. Over this, a narrator intoned lines from "Smells Like Teen Spirit" as though it were a dramatic monologue, and later, a chorus swelled over the soundtrack. This was a film about mood and sentiment rather than narrative, and one not so wrapped up in historical baggage — filmmaker Benjamin was only nine years old when Cobain died.
Ryan Heffington's modern dance piece, up next, bore even less obvious links to Cobain's oeuvre, save for the five performers' plaid shirts. Instead of, say, dancing to his music or referencing famous videos, they writhed, wriggled, shuddered, and spasmed to a soundtrack of rhythmic gasping created by the Entrance Band's Guy Blakeslee. Building on a sense of anxiety and tension, the performers gasped, struggled, and at one point, grappled with a long loop of nylon caught on and stretched between two of their heads. Eventually Blakelee himself appeared in a spotlight, armed with a guitar. Often reaching Jeff Buckley-esque registers, he wailed and yodeled through a few original songs exploring attachment and fear. The entire piece was arresting and unusual, and related to Kurt Cobain in only the most subtly psychological ways.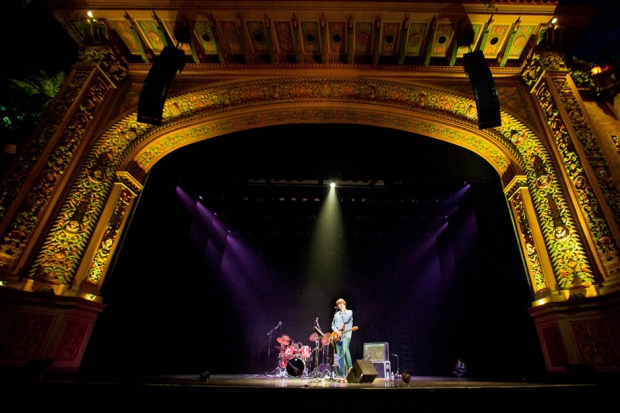 So did Thurston Moore's closing act, a highlight of the evening for its further refusal to pander to misty-eyed Cobain lore. In fact for the first 10 minutes or so, Moore chose instead to reminisce about his childhood in '60s Miami, full of society dinners and Catholic school nuns wielding holy soap for foul-mouthed students. (Moore may officially be the only cool celebrity export of slightly stodgy Coral Gables, Miami's peach-stuccoed answer to the Upper East Side.) Eventually, he caught himself. "I should stop talking. This is becoming like a Henry Rollins thing," he said, before circling back to Cobain. As a hat tip to the evening's ostensible subject, he first read the poem "Olympia," a sort of short elegy written after Cobain's death. Then, joined by buddy Steve Bristol on drums, he charged through the title track of his 1995 solo album Psychic Hearts, one he described as an "abstracted take on friendships from the Pacific Northwest scene."
After this, though, Moore veered entirely in his own direction, taking a page from friend and noise-scene legend Rat Bastard of Laundry Room Squelchers, who sat in the audience. Again accompanied by Bristol on drums, he launched into a free-jazzy 15-minute exploration into discordance. Finally, it was time for another poem, one ending with the didactic line, "Be a warrior and love life." And, that was it. No "songs that were influential to Kurt," no "weepy anecdotes about Kurt in cornball storyteller style." Cobain, ever the willful contrarian and conflicted spotlight-shunner, probably would have appreciated it.