If the deluge of holiday-music hokum is driving you to suicide-by-fruitcake, here are the 25 weirdest, darkest, awesomest Noël-wave oughta-be classics you'll never hear in a mall this season. By Charles Aaron, Chuck Eddy, Steve Kandell, David Marchese, and Douglas Wolk
Dana Dane – "Dana Dane Is Coming to Town" (1987)
https://open.spotify.com/embed/track/21LDDHNY1AYRVuughLN2Wi
A stylishly garbed kid from Brooklyn's Fort Greene projects, Dana McLeese started out as a member of Slick Rick's Kangol Crew, adopting Ricky's British accent and indulging his own knack for fanciful storytelling. In this typically windy tale, produced with a drum-machine flourish by Hurby "Luv Bug" Azor (Salt-n-Pepa, Kid 'n Play), Dana visits three wise men, traverses the desert in his Bally loafers, invades a palace, and saves the Christmas spirit by vanquishing — who else? — a sucker MC.  C.A.
El Vez – "Feliz Navidad" (1994)
https://open.spotify.com/embed/track/79HjzWum0xKMnUSZvytgmM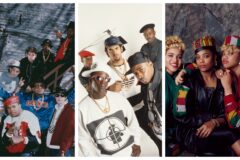 There are Elvis impersonators, and then there's the mighty El Vez: the Mexican punk-rock Elvis. (When he takes off the '68-comeback-special jumpsuit, he's Robert Lopez, of L.A. punk vets the Zeros.) El Vez's juiced-up version of the insipid José Feliciano holiday standard "Feliz Navidad" first appeared on his Merry MeX-mas album and has since become the theme song of his holiday-season tours. The secret ingredient: the sour riff from Public Image Limited's 1978 slam dance "Public Image," which keeps turning up whenever the well-wishing starts getting a little too cheery.  D.W.
Spinal Tap – "Christmas With the Devil" (1984)
https://open.spotify.com/embed/track/7tuO9p4tvMLKPOirkJa6S8
It's no accident that a lot of the songs Christopher Guest, Michael McKean, and Harry Shearer wrote as their faux-metal alter egos have turned out to be more enduring than the ones they were ostensibly lampooning. (And really, is "Big Bottom" any more or less of a joke than "Whole Lotta Rosie"?) This single, which they debuted on Saturday Night Live in May (!) of 1984, features leather-clad elves and chained-up angels and offers a more extreme alternative to fireside revelry. And what ode to Lucifer would be complete without some eerie backward masking buried at the end? "This is Spinal Tap, wishing you and yours the most joyous of holiday seasons. God bless us, every one." So evil!  S.K.
James Chance – "Christmas With Satan" (1982)
https://open.spotify.com/embed/track/7F8CtglB1RCfnB72jveECd
In 1981, dance-oriented NYC new wave label Ze put together the hippest holiday compilation ever to lack Phil Spector — from Was (Not Was) mourning Detroit to the Waitresses forgetting cranberries, A Christmas Record was a hoot. Noise-funked saxophone sadist James Chance (a.k.a. James White) was absent at first, but when a slightly altered version appeared in '82, he was there for six minutes — arriving at Beelzebub's eggnog party even before Spinal Tap. Not to mention honking the living skronk out of Christmas-carol fragments, while detached disco dollies behind him explained, "There's no angels or wise men, and certainly no virgins."  C.E.
Fucked Up – "David Christmas" (2007)
https://open.spotify.com/embed/track/3L0KPm2AlMVMOGVfGLxqTJ
Canadian hardcore frontmen don't come much jollier-looking than Damian "Pink Eyes" Abraham, but caroling along with this charity single's anthemic A-side will warrant need for a lozenge. The all-star B-side, "Stars on 45," features holiday wishes from the likes of James Murphy, Nelly Furtado, Davey Havok, Black Lips' Cole Alexander, and 90210's Shenae Grimes. So close was this to an arch cover of Band Aid's "Do They Know It's Christmas?" that they actually recorded one with their pals for another charity single two Christmases later.  S.K.
Clarence Carter – "Back Door Santa" (1968)
https://open.spotify.com/embed/track/0s8XHbX2z7vNIbOyqKk5YB
A blind Alabama belter, Clarence Carter recorded some of the 1960s' most boisterous soul sides ("Slip Away," "Snatching It Back," "Too Weak to Fight"). He also had a signature devilish chuckle and a proclivity for double entendres, so this salacious Christmas blues was not out of character. Notably, the narrative is not confined to the holiday season; Carter's "Santa" brings the ladies good cheer 365. As he slyly puts it, "Well, I ain't like the Old Saint Nick / He don't come but once a year." The bawdy horn riff was later sampled on Run-DMC's "Christmas in Hollis."  C.A.
Joe Pesci – "If It Doesn't Snow on Christmas" (1998)
https://open.spotify.com/embed/track/5OXMJJyeKTqYjgMPL5BohL
Based on a Gene Autry standard, this goombahtization is peppered with copious F-bombs (Santa equals "fat fuck"), courtesy of Pesci at his post-GoodFellas/My Cousin Vinny peak. Since Joisey Italian-American clichés are so in vogue now in pop culture, this one seems game for a revival.  S.K.
David Banner – "It's Christmas Time (Jingle Bells)" (2003)
For four songs near the end, TVT's elbow-heaving Crunk and Disorderly sampler turns miraculously into a Christmas album. Banner's contribution, set to the same midnight-massed "God Bless Ye Merry Gentleman" gloom beloved by dark-metal bands, is the most moving and confounding: It opens with somebody shivering in the snow; then Mississippi's best-educated rapper takes the role of an out-of-work ghetto resident who robs to feed his kids and put gifts under their tree. A bogus justification, and Banner's smart enough to know better, but its class resentment rings true. Before it's over, you'll shiver, too.  C.E.
Esquivel! – "Jingle Bells (Greetings From Esquivel!)" (1996)
https://open.spotify.com/embed/track/39F7sZbzxENIOmsMGLoy6Z
Juan Garcia Esquivel, the natty Mexican composer, pianist, and bandleader, innovated a dazzlingly goofy style of jazzy instrumental pop in the 1950s that later came to be known as "space-age bachelor pad music" and helped soundtrack the retro-chic movement that peaked around the 37th time Vince Vaughn called someone "money." This playfully disorienting track, produced by cocktail revivalists Combustible Edison, was one of Esquivel's final recordings and led off Merry Xmas From the Space-Age Bachelor Pad. It also features spoken-word patter from Esquivel himself, who departs with his timeless hipster flare, quipping, "Feliz Navidad, baby!"  C.A.
Robert Earl Keen – "Merry Christmas From the Family" (1994)
Texas troubadour Keen warbled this dysfunctional drink-along on his Gringo Honeymoon album, and it's become enough of a white-trash standard since that both right-leaning Montgomery Gentry and lefties Dixie Chicks have covered it. A partial rundown: Little sis brings her new Mexican boyfriend, who belts out "Feliz Navidad"; thrice-married bro Ken brings his brood plus latest chain-smoking, AA-spouting spouse; convenience-store-run lists include extension cord, ice, bean dip, Marlboros, Midol, Pampers, and/or tampons. Sound familiar? If not, are you even American?  C.E.
Red Swan – "You Son of a Bitch, You Stole My Woman, Now I'm Gunna Burn Down Your Christmas Tree Farm" (2003)
https://open.spotify.com/embed/track/4nDBhH885IYSu3404qU5iu
Jealousy, revenge, and arson do not take time off for the holidays — certainly not in the frostbitten coniferous Michigan backwoods. Tom Muth huffs and puffs frantically about dousing rags in gasoline, filling knotholes with kerosene, lighting it all with a Lucky. The chestnut roast harks back to Killdozer or Big Black, whose Steve Albini produced three other songs on Red Swan's After the Barn Goes debut, from whence this comes.  C.E.
Sparks – "Thank God It's Not Christmas" (1974)
L.A.'s weirdo Mael brothers had just relocated to England when they put out Kimono My House, which made them stars in Blighty. This track's poperatic, proto-goth, prog-glam, piano-cabaret avoidance of seasonal affective disorder is still endearing to those among us who would just as soon jump ahead to January and circumvent all the stress or loneliness. "Caroling kids, a trifle premature," Russell Mael hiccups. "Will the mood allow one dissent?" Sparks disciples Queen, who put out a single called "Thank God It's Christmas" a decade later, maybe thought not.  C.E.
Jacobites – "Teenage Christmas" (1986)
https://open.spotify.com/embed/track/1zXKvks4fMle9anZvvD0EM
Nikki Sudden and Dave Kusworth were two velvet-jacketed, scarf-wearing English dandies whose band, Jacobites, traded in the kind of romantic ramshackle rock that posits all music men as tragically flawed mountebanks and women as their brokenhearted saviors. Which made them naturals to write a kick-ass Christmas song. When these cutout-bin Glimmer Twins yelp, "Santa Claus is coming / With parcels full of joy," as Chuck Berry riffs slash alongside tinkling sleigh bells, it sounds like they're awaiting the kinds of gifts only very naughty little boys would even think to ask for.  D.M.
Anti-Heros – "All Hail Santa" (2000)
Anyone can grumpily object to the forced good cheer of the holiday season. But only these Atlanta aggro-punks went as far as to brand St. Nick a child-molesting, arms-profiteering skinhead with manipulation skills that Himmler would envy. And that title is a little misleading: The chorus actually goes, "Ho ho ho / Sieg heil to Santa / The fight has just begun."  S.K.
James Brown – "Hey America" (1970)
https://open.spotify.com/embed/track/47MJtUUKoWC9fWkoYyrM6b
Between 1966 and 1970, the Godfather of Soul made a string of Christmas records, some of them funky ("Santa Claus Go Straight to the Ghetto"), some of them deep (a spectacular soul version of "The Christmas Song"), and some of them totally bizarre. This one is the weirdest: a churning, overwrought orchestral groove, over which JB apparently improvises a totally incoherent rant about Christmas, peace protesters, God, partying, and (tellingly) wine. By the end, he's quoting "Hava Nagila" and "Volaré." The original single included an instrumental version labeled "Sing Along With James," as if that were possible.  D.W.
Crass – "Merry Crassmas" (1981)
What were the gleefully blasphemous British anarcho-punks Crass (who also brought us Christ—The Album) doing making a Christmas record? Having a laugh, as usual. "Merry Crassmas" is a chirpy instrumental medley of holiday favorites: "Jingle Bells," "Rudolph the Red-Nosed Reindeer," "Nagasaki Nightmare," "Punk Is Dead"…most of Crass' early repertoire, in fact, gets the twinkly Casio treatment between snatches of Christmas carols. The record's sleeve offered a competition to identify all the Crass songs included herein: "First prize, bath salts. Second prize, one Exploited single. Third prize, two Exploited singles."  D.W.
Check out the song on YouTube.
The Fall – "No Christmas for John Quays" (1979)
Frankie Lymon's final Christmas was 1967; two months and two days later, he died of a heroin overdose at 25. In this rant about junkies (say "John Quays" fast) who don't have time for myrrh or mirth, art-punk legend and crank sage Mark E. Smith calls out Lymon by name, then twice screeches a line from "Why Do Fools Fall in Love." The drone is a sort of stunted rockabilly, six notes repeated for four and a half minutes, repetition as weapon and shield.  C.E.
Pansy Division – "Homo Christmas" (1992)
https://open.spotify.com/embed/track/0GBNZzY48JTQyNQL4ujfLJ
The B-side of a three-song Lookout! Records 7-inch (along with "Smells Like Queer Spirit"), this celebratory sacrilege features frontman Jon Ginoli cooing over jangly pop punk: "Licking nipples / Licking nuts / Putting candy canes / Up each other's butts." Ginoli even saw the song as therapy of sorts: "Christmas can be stressful, especially since it's a 'family' time, and I wrote [the song] thinking that it would give certain people hope on a day that sometimes sucks, especially when the person you really want to be with doesn't fit into certain definitions of family." C.A.
Snoop Doggy Dogg, Feat. Dat Nigga Daz, Nate Dogg, Big Tray Deee, Bad Azz – "The Ghetto" (1996)
Inspired by the earnest James Brown original from his Funky Christmas album — in which JB implores Santa to please pay a visit to the "soul brothers" — Snoop and his Dogg Pound elves fly through the night in their '64 Impala sleigh, elucidating the yuletide realities of the "needy and greedy." But amid all the gangstas and dope fiends, the song is really about the power of Christmas to evoke feelings of innocence and family, even if you've gotta harvest your turkey down at the church shelter.  C.A.
Merle Haggard – "If We Make It through December" (1973)
If anything can put a damper on shopping season, it's getting shitcanned, so this hardscrabble honky-tonk lament might feel even timelier now than when it was released, amid the oil crisis and market crash of '73. One of the 20th century's most commanding voices sings of being laid off at the factory, figuring if his family survives until spring they can move someplace warmer. It topped the country chart as a single, then showed up as the title track of Hag's 1974 album.  C.E.
Beck – "Little Drum Machine Boy" (1996)
"Little Drum Machine Boy" never appeared on a proper Beck album — it came out half a year after Odelay, on the alt-leaning Geffen compilation Just Say Noël. But this might be the most convincingly audacious cut-and-paste experiment of his career. Its self-proclaimed "holiday robot funk" goes for seven minutes, which lets Beck stuff lots of goodies into your stocking: medievalesque minor-key melodies, freakazoid 808 beats, random vacuum-cleaner-like noises, cowbells and sleigh bells, and Caribbean schnitzels with rain-forest noodling. Not to mention plenty of seemingly stoned asides about Hanukkah pimps, and a chance to rhyme "menorahs" with "lawyers."  C.E.
T. Rex – "Christmas Bop" (1975)
By 1975 the glam kids over which Marc Bolan once ruled had wiped the glitter off their cheeks, making it hard to hear the funk-indebted misfires of mid-'70s T. Rex as anything other than crises of confidence. But as Chinese-restaurant owners know, Jews have a knack for adapting Christmas to their own needs, and with "Christmas Bop," the man born Mark Feld delivered a holiday R&B bubblegum burst, singing about cold being bold over disco hi-hat, choppy rhythm guitar, and backup beauties wailing "T.-Rexmas." Too bad the song wasn't officially released until 1982, five years after Bolan's death.  D.M.
Culturcide – "Depressed Christmas" (1986)
Everyone gets a little blue this time of year; these nihilistic Houston punks took that sentiment to its logical conclusion. Culturcide's most notorious album, Tacky Souvenirs of Pre-Revolutionary America, consisted of the band singing rewritten lyrics over various hit records (totally unauthorized, of course). That same proto-karaoke approach worked for their Christmas single, an easy-listening piss-take of "White Christmas," overdubbed with a slurred voice mumbling, "My slit wrist glistens…as I listen…to the last Christmas song I'll ever hear." The kicker: There is no singing at all in its second half. (The single's flip side is "Santa Claus Was My Lover," a hilariously sordid tale of degradation sung along to Michael Jackson's "Billie Jean.")  D.W.
De La Soul – "Millie Pulled a Pistol on Santa"(1991)
From Macy's Santaland comes an even more disturbing story than any in David Sedaris' diary. De La's Posdnuos and Trugoy the Dove (with assistance from producer Prince Paul) unveil the elaborate picaresque of Millie, a Brooklyn-via-Philly girl who's a bruised victim of the "touchy-touchy game" — at the hands of her father, Dillon, a social worker all Millie's friends think is the "coolest elder in the school." Nobody believes her cries of abuse, so Millie plots revenge, toting a pistol into the department store where Dillon is working as one of the Clauses; she "bucked him, with the quickness it was over." Ho ho, bang bang.  C.A.
Fear – "Fuck Christmas" (1982)
If the key to timelessness is simplicity, how come Lee Ving isn't Burl Ives? For the frontman of John Belushi's favorite punk band, misanthropy and mistletoe seemed a natural fit. On Fear's second single, which was appended to the CD reissue of their debut album, The Record, Ving keeps things concise enough — a four-sentence verse followed by the title shouted a dozen times in 45 seconds — to make "Fuck Christmas" one for the canon. "Finally, someone had the intestinal fortitude to stand up and say something definitively negative," recalls Ving. "But if you had enough money to do some goddamn Christmas shopping, you had nothing to complain about."  S.K.