Where were you when Nirvana reunited, fronted by Sir Paul McCartney, at the biggest concert in the freaking world? Well, if you had the pleasure of being at New York's Madison Square Garden for 12-12-12: The Concert for Sandy Relief, we hope that you weren't the guy trying to keep his composure on national TV with his face two feet from Jon Bon Jovi's tuchus while the Jersey icon did "It's My Life" in the crowd. SPIN, on the other hand, was everywhere: posted up in the building, hob-nobbing with celebs (we see you, Susan Sarandon), and watching dutifully from our respective homes. Here are the 36 (that's 12+12+12, duh) most important things we saw.
1. Paul McCartney plays "Helter Skelter," a couple of Wings songs and "Blackbird" before pausing to explain what we all know is coming: "So I showed up like you do, ready to jam, and in the middle of it, these guys kept saying, 'Well, we haven't played together for years.' So you know, the penny finally dropped and I finally understood that I was in the middle of a Nirvana reunion."
2. So he brought in not just Dave Grohl, not only Krist Novoselic, but Pat Smear too, and Sirvana ripped through their one and only (as far as we know) original song which is called "Cut Me Some Slack" (by the way) even though Macca kept howling (awesomely) while holding his own in shredding duels with Novoselic amidst the fantastic pummel laid down by Grohl and Smear on drums and guitar, of course. As predicted, the song was indeed heavy. It freaking slayed, in fact, and once it was played, nothing else mattered.
3. The first to arrive in the backstage press room is Martha Stewart, who is wearing a brown cardigan and has her hair in a usual Stewart-y way. After a pregnant pause from the press, the questions start flowing. Who is she most excited to see? "Oh gosh, Eric Clapton!" And is she excited to see Diddy? "Oh, we're still friends." And then she's gone, leaving the stage as neat as it was when she arrived.
4. Bruce Springsteen and the E Street Band blow the show wide open at 7:30. There's the eternally bandana'd Little Steven doing his best guitar sol-'O'-face while shredding away on his tiny instrument — what is that, an electric uke? — during the opening number, "Land of Hope and Dreams." Accompanied by gospel singers and a fiery horn section, Bruce's presence is a force to be reckoned with.
5. The Boss shouts out the gay community for helping to bring a renaissance to Asbury Park and the boardwalk therein. He also hollers at the rich and the poor, the black, brown and white, retired policemen and firemen. "Jersey Shore has always been inclusive," he says. "I pray that character remains."
6. Backstage, someone asks Jimmy Fallon whose shoes he's wearing. He joked, "my wife's." This was literally as exciting as it got back there.
7. Jon Bon Jovi struts out to join E Street for a dueling duet of "Born to Run. For a hot, awkward moment, he fist-pumps the sky and kinda air-humps Bruce. For the rest of the song, he scratchily sings and waves his arms around as if he's a cleaned-up, leather-bedecked Gandalf casting spells on the MSG crowd.
8. Billy Crystal opened with a vanilla dad joke like, "I can't believe that Bruce Springsteen is my opening act" but then skewered Mayor Michael Bloomberg (to paraphrase: "Giuliani was on the lookout for terrorists, while Bloomberg is on the lookout for 18-ounce sodas.") and Governor Chris Christie who "threw politics aside and actually did something for the people of his state." And then he makes Christie get up and wave. Burn.
9. Susan Sarandon intros Roger Waters and promises a guest appearance from Eddie Vedder. But the Pink Floyd mastermind first shows up with long-haired anonymous session dude Robbie Wyckoff and pretty much everyone past the first 12 rows (and everyone everyone on Twitter) assumes it's the Pearl Jam man singing "Money" with uncharacteristic smoothness. Note to the folks at home: Upgrade to HD before you tweet.
10. Um, did anyone else see the amazing youth dance squad that appeared in the middle of Waters doing "Another Brick in the Wall, Part 2"? Like, six girls with perms and dreads doing Step Up-style moves to an British psych-rock epic about fascism? And then the guy in the Casper the Ghost mask wearing Mickey Mouse gloves moonwalked across the stage? No? Just us?
11. Waters must have eaten the brown acid since he spent the majority of Eddie Vedder's "Comfortably Numb" performance wandering the stage, staring at the lights and spreading his arms as if to embrace God himself. Once Vedder wrapped, Waters joined him for a drawn-out bro-hug.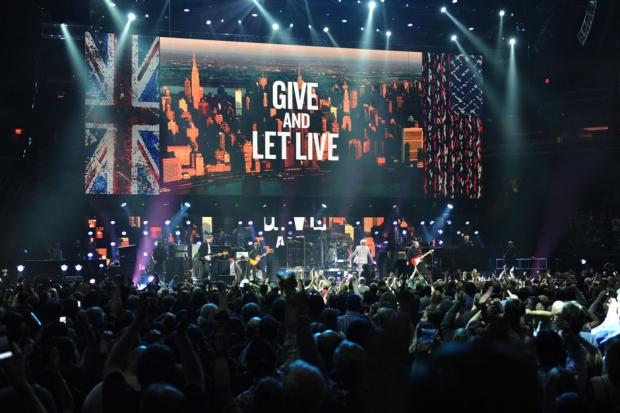 12. Viewers at home came back from a break to find Adam Sandler tuning a guitar. For a moment, it seemed we'd be spared, but not having a schweet axe to shtroke didn't stop the human ham from delivering the worst ever performance, parody or no, of Leonard Cohen's already-too-often-covered "Hallelujah." Paul Schaffer backed Sandler as he rhymed the title with "Sandy, screw ya," and — it was inevitable — the word, "poo-ya."
13. Photographers have a knack for saying things to get celebrities' attention for that perfect shot. But when Chelsea Clinton came backstage, one started calling her the "Honorable Miss Clinton." She laughed and said, "Oh please!" Then another dropped a humdinger: "Do you prefer the Honorable Miss Clinton or 'Babe?'" With trademark poise, she smiled and ignored him.
14. Bon Jovi, in a pre-recorded video segment, used air quotes to belittle former "hurricanes" and "storms."
15. Bon Jovi's duck face and fist pump combo as "It's My Life" kicks off with him standing on a tiny riser in the middle of the crowd. (No amount of money raised will be as priceless as seeing a dude in a suit trying to act cool when JBJ's ass is two feet from his face.) For the record, once the man picked up an acoustic guitar for "Wanted Dead or Alive," all of that endearing cheese melted away.
16. The guy in the crowd texting during the stadium sing-along to "Livin' on a Prayer," quietly mouthing the lyrics while literally everyone around him is screaming to the proverbial rafters. Fair to say dude is only halfway there.
17. Back in the phone banks, Brian Williams calls Jeremy Piven "the Pivmeister" before visiting Whoopi Goldberg, who made sure the Samsung Galaxy in her hand was always facing the camera.
18. What exactly did happen during Vedder's version of "Comfortably Numb"? Back in the press room, Roger Waters — shockingly buff for his 69 years — explained with a shrug: "I think I stopped singing at one point to kiss him! Which is weird! It's very rare I do anything like that. It was a great experience." And lest that not serve as testimony enough to the Pearl Jam singer's ability to sub for David Gilmour, Waters underscored, "Eddie was absolutely amazing. That was a dream come true."
19. After all of the emotional testimonies, musical bluster, and doofy Jon Stewart jokes, Eric Clapton pulls out a stool and an acoustic guitar to score a highlight of the show via the old blues standard, "Nobody Knows You When You're Down and Out."
20. Although he didn't field any questions from the press, Tony Danza made an appearance backstage for a photo op. He outstretched his arms and offered a big smile to the shutterbugs, just in case any Springsteen fans were left asking, "Who's the boss?"
21. Mick Jagger who, after ripping through the Rolling Stones' 1994 single, "You Got Me Rocking," said what was on everybody's minds: "This has got to be the largest collection of old English musicians ever assembled in Madison Square Garden." Then, he put all of the old guys to shame by strutting circles around the seemingly mile-wide stage while his band played "Jumpin' Jack Flash."
22. After he spoke earlier in the program, Billy Crystal made a somewhat pensive appearance backstage talking about Governor Chris Christie's partisanship and how he felt to see the area he grew up in ravaged by Sandy. But there was one moment of levity: Does he have any advice for Seth MacFarlane when he hosts the Oscars? "After the monologue, switch to sneakers."
23. Alicia Keys kicked off a stunning performance of her piano ballad "No One" in the weirdest of ways, pouring every ounce of vocal ability into solicting the crowd to "put your cell phones in the air."
24. When he was done intro'ing Keys onstage, Diddy made his way to the back room. After being introduced to the press as "Sean Combs" to howls of "Who?" he came out to pose for some pics. He called in actress Olivia Wilde from the side, but she was hounded by photographers shouting, "Right here! Right here!" Not one to be disrespected, Puff shouted, "I'm gonna do one more with just me then you can have her all to yourselves!" Diddy did just that and exited, threw up the metal horns, and threw Wilde to the photo wolves.
25. Steve Buscemi's small frame got enveloped by the barrel-chested blue-collar badasses known as the Graybeards, who risked life and limb to help out after Sandy's swath of destruction. The Boardwalk Empire star passive-aggressively padded for time after the Rolling Stones ended their set abruptly — "You could have heard one more Stones song, but no." The fellas got ever rowdier, with one cocktail-clutching dude running up, wrapping a huge arm around Steve's skinny neck, and shouting into his ear: "Let's go, Buscemi! I love you!"
26. Backstage, writers examined the official run-of-show for the concert, which had the Stones down for 15 minutes. But upon finishing "Jack Flash," they were off in a jiffy, leaving seven-or-so minutes of their set to chill, we assume, in a Voodoo Lounge. When pressed for comment, the show's flack had no explanation as to why Stones fans would not receive full satisfaction.
27. Pete Townshend furiously pinwheeled his arm during a magnificent shred-fest at the end of the Who's "Who Are You." It was enough to summon Keith Moon from beyond the grave to sing, via a video projection, his parts on "Bell Boy."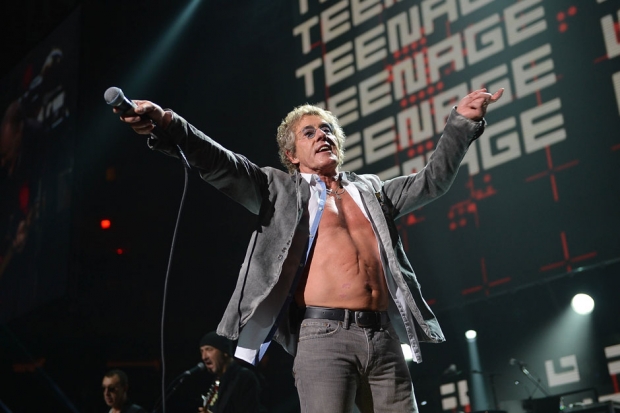 28. Roger Daltrey's stomach — part Hulk, part ill-carved jack o'lantern — should be the subject of someone's college thesis.
29. Pete Townshend yelled "HAVE A FUCKING BEER!" on national television. In response, Brian Williams bungled, "Kids in the audience, that was your uncle Keith Moon. You're going to learn a lot of new words tonight." He also called Jack McBrayer "Kenneth" and said the words "Big Pussy" since the Sopranos dude was answering phones.
30. Chris Rock on Staten Island: "The good part, not the Wu-Tang part."
31. After an almost wall-to-wall lineup of aging British folk playing a single here, a single there, Kanye West came out and crushed a 10-song medley of instantly recognizable hits. He went way back for "Jesus Walks" and "Gold Digger," and included his brand spanking new remix of Rihanna's "Diamonds," which includes some Sandy-related couplets. The King Crimson-sampling "Power" seemed particularly relevant considering the aforementioned old Brits in the house.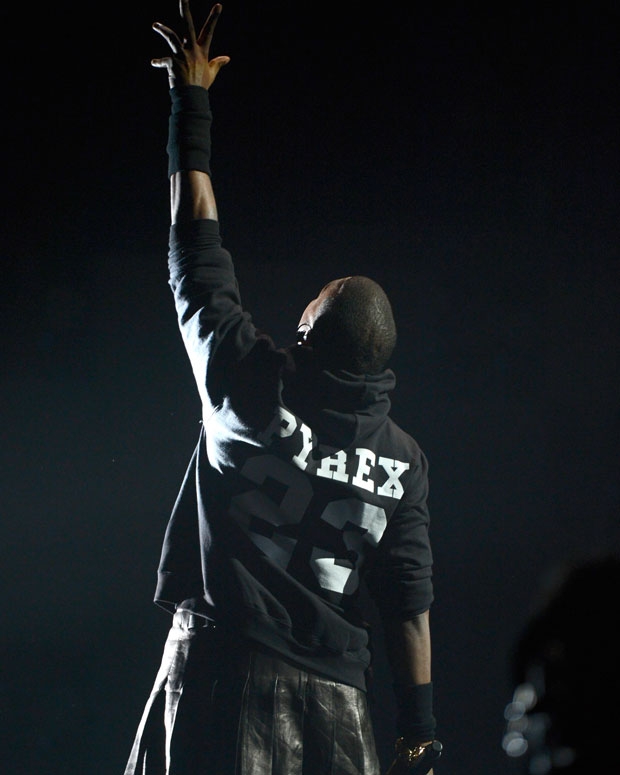 32. Kilt.
33. Speaking of in-song hurricane nods, Billy Joel reworked the lyrics of "Miami 2017 (Seen the Lights Go Out on Broadway)" to include, "Queens got washed away."
34. Quentin Tarantino wore a backwards Kangol, and a vintage(?) Wu-Wear sweatshirt, loosely fitting, awkwardly bunched up above his belt, with his access pass proudly displayed, and shouted a bunch of stuff about hurricane relief.
35. "I know you really wanted One Direction," joked Chris Martin, "but it's way past their bedtime. That's why you have one-quarter of Coldplay." And after making another aw-shucks joke about PSY, he brings out Michael Stipe for a duet of "Losing My Religion." The charming Coldplay singer was so touched by the team-up ("This is really happening.") that he could barely stop grinning.
36. Donate, ffs.