Behind Yoko Ono's John Lennon-Inspired Opening Ceremony Line
Lennon and Ono had a special connection, and the collection reflects that: She was into his butt and balls, apparently, and the scoop of flesh around his waist.
Nothing says "I love you" like a soft cotton codpiece with an LED light right on the front like a wink, no? Yoko Ono seems to think so. In 1969, the artist sketched out a line of clothing that expressed her love for John Lennon, creating typical conceptual art pieces that emphasized parts of his body that she most adored. They were never constructed, however, until now, 43 years later, in a collaborative collection with Opening Ceremony called "Fashions for Men: 1969-2012," which launched last night at the store's NYC hub with Ono, Sean Lennon, and OC founder Humberto Leon in attendance.
As you might have gleaned, consummate artists Lennon and Ono had a special connection, and the collection reflects that: she was into his butt and balls, apparently, and the scoop of flesh around his waist. A soft, ink-black wool blazer has cut-outs right where the love handles would be, while a matching trouser features a mesh peek-a-boo panel in the rear, to expose a plumber's dose of buttcrack. (Never fear, Beatles completists: the nude bums on the garment tag are not photos of John Lennon's bare derriere.) A perspex chestpiece with hotel-style, "ring for service" bells where the nipples settle is entitled Ring for Your Mommy, while a matching leather cummerbund holds just a single bell and inches towards S&M. (Sean Lennon, testing out the styles, rang the bell and giggled, "Next!") Those elements plus the black, white, and neon pink colorways might read on paper as very La Cage aux Folles, but in the context of Ono's art, it's all very much on the continuum of her unique sense of the corporeal, her generosity coming through where others might see exhibitionism. (That might depend on who's wearing the bamboo jersey tees with the nipples cut out, though.)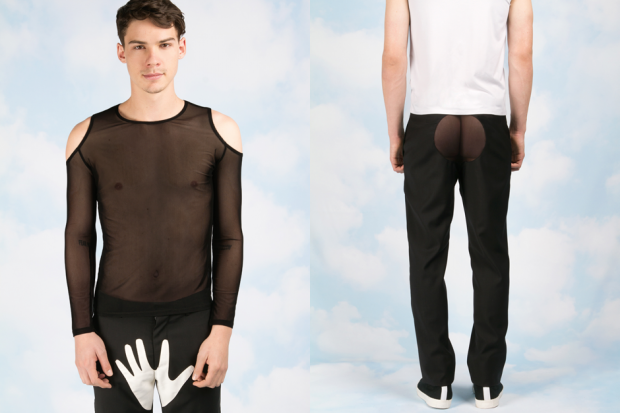 So it's art, but is it wearable? Some pieces in the unisex collection might take more cojones than others—the asscrack pants come to mind, plus wool jodhpurs with cut-outs right at the thigh meat. But the construction is typically excellent, and the best looks are the ones bleeding with love and whimsy. A hot pink trouser with two black hands symbolically grabbing at the crotch is lovely with its matching blazer, one sleeve pink mesh, one sleeve brushed black wool. My favorite piece was a leather kneeboot in a fairly typical shape but for the working incense holder attached to the toe. (There was an actual incense cone in there, too.)
The best part, though, was that when Ono showed up, she seemed to be wearing the feminine counterpart to her John creations: a blazer and pants with a black bra and white girdle-like camisole as a top, plus a headpiece of her own creation: a double top hat with porcelain monkeys perched on the brims. She was only signing books and posters from the collection, but we did have a brief chat with Opening Ceremony's Humberto Leon about the pieces.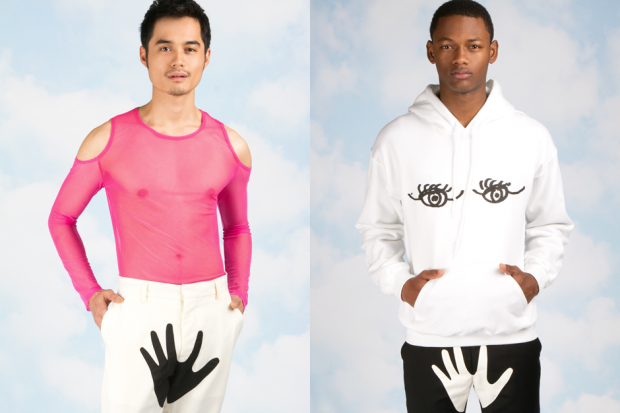 How did the collaboration come about?
I met Yoko about three years ago when we opened our Tokyo store and she came; it was really exciting. She'd mentioned to me, 'I drew this men's line in 1969 for John and I've never shown anybody, I'd love for you to see it.' One day she showed it to me and when I saw the drawings I was so excited about them I said, 'Let's make these.' We really worked on these together and 43 years later, these pieces are coming to fruition.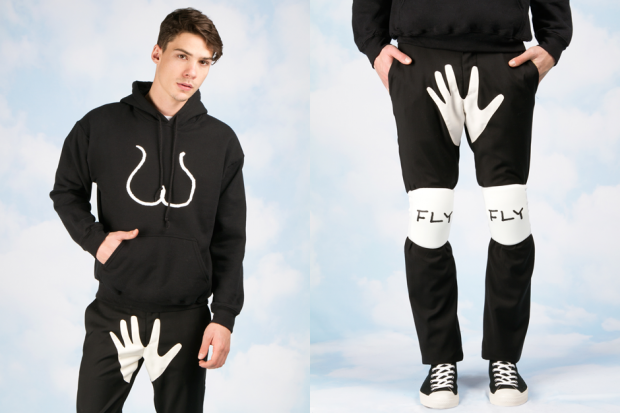 Did you alter any of the sketches?
Nope! They were obviously line drawings so we constructed the pieces so they would work on the body, but it was all done with her. She was a part of every single process, every fitting, every detail. I think for me, every time we do a collaboration or a partnership we always want it to be about the person we're doing it with. I think this collection really exemplifies how real and authentic we kept it.
I like how the collection emphasizes body parts that many people are maybe less comfortable with.
I think it's interesting, because this is 43 years ago. She, in a very simple manner, wanted to celebrate the body parts of John that she felt were exciting to her. So yes, they are elements that people could be shier about, but I feel like that's kind of the beauty of it. It's very bold, it's trying to show the things that are slightly more intimate, some more than others. We really wanted to play around with that. In so many ways these are expressions of her as a conceptual artist and there's a reality as well as an art side that I really appreciate.
How does that fit in with your vision for Opening Ceremony? Most of the stuff you carry does have an art side to it.
I think that we love culture. We love celebrating authentic culture. That can go into the form of art, music, film, as well as fashion. I think we treat all of those elements equally. Yes, people can come in and say we are known as a clothing store, but we also do really interesting art collaborations and I think this is a good example of how we like to represent that — the people we love, the people we fan out about, the people we're obsessed with. We're huge fans of Yoko's work and what she stands for and I think this collaboration exemplifies all of that in one shot. Or maybe more than one shot.
Hopefully! You're only making 52 of each piece?
There really are only 52 of each. But we only made 18 drawings, there are more drawings. If you look in the book, there are a lot more that got explored, and I think we only wanted to touch upon a bit this time. There could be more, it could be different. But we had so much fun working on this together that we definitely want to explore what else we can do.