A post-script. I was told to do three things before I boarded my flight home: see the Great Alaskan Bush Company (a command reiterated by a waitress at Humpy's, a fish restaurant that sold human head-sized halibut tacos); eat moose; and hike to a glacier.
The first two tasks were accomplished with only slight revelation. The girls at the Alaskan Bush Company were both imported from warmer climates and carefully shorn — an outcome verified ahead of time by the Humpy's waitress, who had formerly given Brazilian waxes to the strippers. I can also vouch for moose's status as an exotic delicacy in the vein of buffalo and ostrich. You start to understand why Jack London said that the aim of life is meat.
The glacier was more difficult. During the summer, the state parks are miniature civilizations. After the first snow of fall, they become ghost towns, with no services, rangers, or cell-phone service for dozens of miles. Those with a rudimentary knowledge of mountain safety insisted that I couldn't get to Portage Glacier, 60 miles south of Anchorage off the Seward Highway. The Byron trail was closed and blocked by heavy snow. But going to Alaska and not seeing a glacier is like going to L.A. and not seeing the beach. Besides, I had to justify renting the Dodge Journey.
Until I did the drive, I wasn't sold. The music had been good and the people had the sincere generosity that you rarely see outside of grandmothers who volunteer for Greenpeace. But why would anyone willingly subject themselves to such isolation and seasonal volatility? Yet it's these extremes that create the wormhole, the opportunity for total psychic dislocation or fleeting seconds of transcendence. Spiral in any direction long enough and you will pass a progressively staggering series of snow-capped mountains, tangerine sunsets, and water so sparkling that it looks pitch-black. It feels like you're staring back to the beginning of time, perfect prelapsarian seclusion, allowing you to always start from scratch.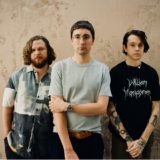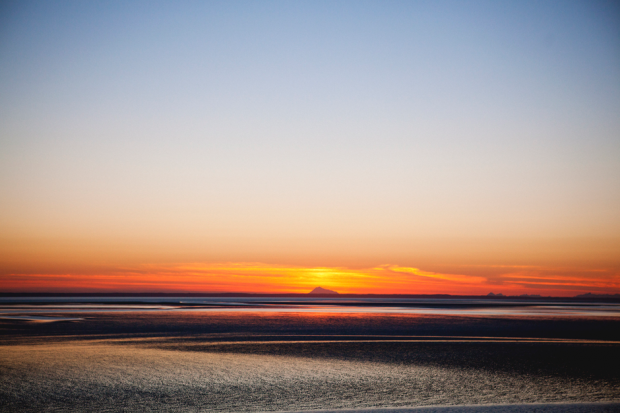 I hike the mile up the frozen trail, alongside the banks of a rushing river, atop the primeval rocks, past thickets of skeletal branches candied with snow. Because I will never learn, I keep taking photos every three meters in a vain attempt to capture the ineffable. Finally, the cold short-circuits my phone and I am forced to stop processing. Everything was turquoise blue and ghostly white, unpolluted, slowly melting.
On the flight home, I flip through the book of Eskimo tales that I bought my first day in Anchorage. I keep returning to the proverb that it starts with: "All true wisdom is only to be found far from the dwellings of men, in the great solitudes; and it can only be attained through suffering."
But that seems a little obvious. Anyone with an SUV and a credit card can seek wisdom in some remote corner of the world. What good are illuminations if you have no one to share them with? Just because you want to escape, doesn't mean you have to suffer. Just because you're on the edge of the earth, doesn't mean you can't be heard.