The road to "Garageapalooza" is fraught with forests. I'm talking animistic timberland filled with Bob Ross spruce (an afro'd Alaska native) and spindly witch doctor birch. All sides of the highway are flush with caribou, deer, and bears. Driving on Saturday to the aforementioned festival, I make a wrong turn and am suddenly high beam-to-antler with a 2,000-pound moose. Remember, too, that this is the only terrain in America where you can nonchalantly tell your neighbors that you're going to aerially assassinate wolves with a rifle and no one will call the authorities.
Garageapalooza is a once-a-year, beer-beef-band fest held at the end of a dirt road, past McMansions and log cabins, in the 1,800 square-foot hangar of a sprawling two-acre estate owned by Marty Severin, the bassist in the Meg Mackey Band and the alt-country group Jack River Kings. A Salinas, California-via-New York City transplant, Severin had played in New York bands for years but moved to Anchorage because of the allure inherent in the first sentence of this paragraph.
He repeats a mantra I hear from several others: "The isolation brings out creativity. It gets the voices out of your head and allows you to find clarity," Severin says. "When you're in the city, it gets muddled. It's was also nice to be able to crank up your Marshall at 2 a.m. if you want."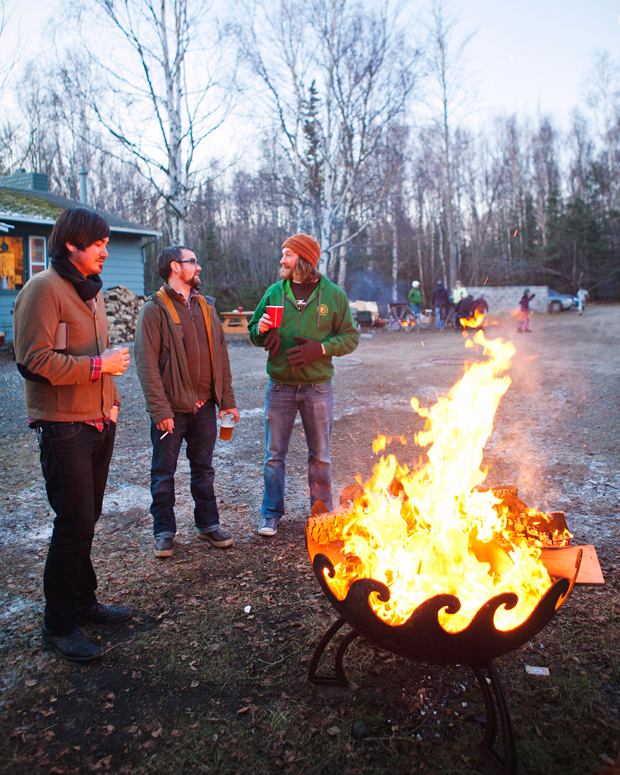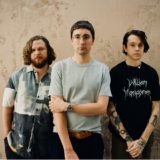 You can't deny that the metropolitan avalanche of streetlights and skyscrapers can blind atavistic third-eye powers. But even Bon Iver had to crawl out of that cabin sometime. In the back of my mind, there is the fear that Garageapalooza could turn into some backwoods Waiting for Guffman, where I'll be expected to take everyone to Blogway. After all, it's called Garageapalooza. If you Google the word "Palooza" in 2012, the first results include "PowerPoint Palooza," "Giggle Palooza," and "Boobie Palooza."
This logic is irrelevant. No one here gives a fuck about being cool, they're more interested in trying to be good — which de facto makes them cool. There are kegs of Hard Apple ale cider and Northern Lights amber, pots of chili and pretzels. Most of the members of the Anchorage rock scene drop by at some point in the night and little kids and dogs run around a crackling log fire.
Garageapalooza functions as basically a bluffer's guide to the city's music: Jack River Kings, Meg Mackey Band, indie thrashers Ghost Hands, a slashing synth-pop group called Modern Savage, and Historian, who remind me of a psychedelic Billy Idol, but are significantly better than that sounds. Everyone shares instruments. Most of the groups have formed in the past two years. The exception is the Whipsaws, a '70s groove-rock-slanted band celebrating their tenth anniversary, making them the scene's eminence grises. Or something. I'm told that they are "Alaska's band," the one that fishermen play in their boats. Whipsaws lead singer Evan Phillips is a chief nexus for everyone here. He produced Mackey's record and runs the Monolith Agency, a booking firm that handles many local acts. Phillips, in his mid-30s, stresses that the talent level and sense of community is the strongest it's ever been.
We've reached the point where you're probably wondering if these bands are any good? Or did I just travel 3,400 miles to tell you how reindeer tastes? The answer is yes and yes. Reindeer is sumptuous, and at worst, any one of these bands could entertain you on a Thursday night in Echo Park or Williamsburg. Ghost Hands and the Whipsaws rifled off guitar shots that would make J Mascis applaud. The Sweeteners do blistering blues-rawk with gusto. The Modern Savage bridged Cyndi Lauper and Ra Ra Riot with sturdy cables. Historian frontman Nate Hurst has a damaged archangel yawp, one of the best new rock voices since Jim James.
I could quote more interviews, but they start to blur. The stories of how everyone got here are different, but the musicians all come from similar stock. Stateside city living has allowed us to make an art out of the complaint. There is too much traffic, too little space, and abnormal natural disasters that lead you to believe that the Mayan prophets understood global warming. There is frantic competition for resources, managers, and practice spaces. No one in Anchorage will deny that they want tour dates, label deals, and substantial careers. But they all insist that the most rewarding thing has been supporting everyone else's evolution.
What the evolution is remains vague and no one can explicitly articulate it. To paraphrase Woody Allen, Anchorage indie rock has gone from a notion to an idea. And there is the general (and not implausible belief) that one or more of these bands has a chance to break "outside." There is a nascent professionalism whereas everything before was amateurish. This is exactly what you'd expect the city's residents to tell a writer touching down for a few days during a stretch of unseasonably good weather. But if that's the case, then the party line is remarkably consistent.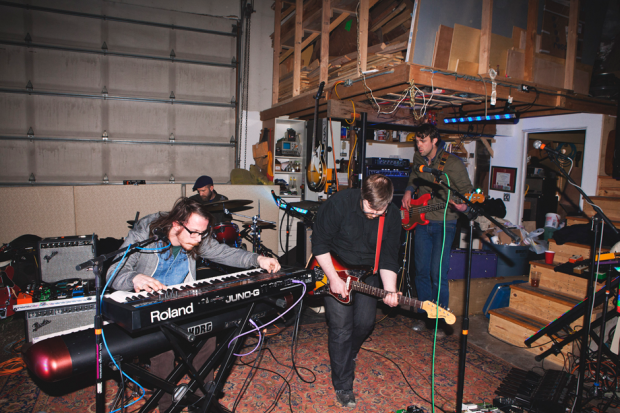 The musicians are students, geologists, film-production grips, minor-league baseball players, and engineers. They're musicians by passion, not profession. They arrived from South Dakota and Aberdeen and Portland and Alaskan bush towns. The summers are sleepless, an infinite surplus of sun, and camping, fishing, climbing, and drinking. The winters are spent shrouded in darkness, drinking and shivering over drum kits and guitars, waiting for the incandescence to return.