It's Thursday night at 9:30 p.m. and the parking lot of the Tap Root Public House is packed. This isn't some claustrophobic metropolitan squeeze — everything here is Alaska-sized — still, no spots to stand. People are already spilling out of the 360-capacity space with cherry-wood walls, smoking Marlboros in the 20-degree chill, wearing skimpy fleece thermals and jeans. Behind them, an oblong white marquee ticks off that night's performers, some of the city's most promising prospects: the Meg Mackey Band, the Sweeteners, and Fairbanks' Young Fangs.
The Tap Root offers a prime example of the metamorphosis. Two years ago, this converted roadhouse was "Player's House of Rock," a diamond-plated alleged coke-front in the sluggishly gentrifying neighborhood of Spenard. It's now the only spot in Anchorage to hear live music seven nights a week, offering more than 40 brands of bourbon and 22 tap lines of artisanal Alaskan micro-brews.
"Where are you from?" A girl wearing a Check Your Head denim jacket asks as I order a Kassik's Nut Brown (est. 2004, Kenai Peninsula; verdict: chocolate and caramel-laced, nutty, delicious).
"How can you tell I'm not from here? Maybe I fish."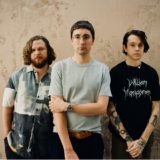 She is stylish and pale with a pixie haircut. She looks like the sort of girl who Kreayshawn would hang out with if she lived in Anchorage. I do not look like a fisherman.
"Your coat."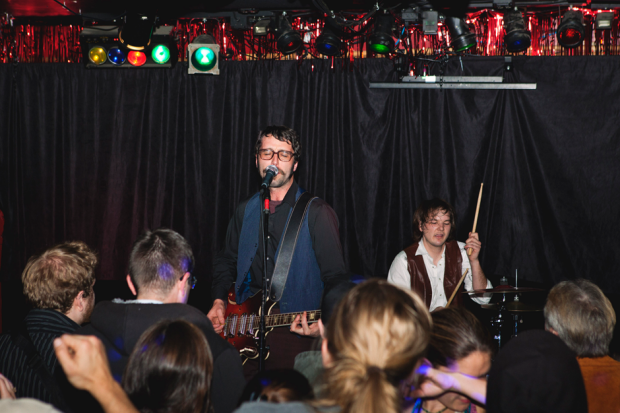 Rookie mistake. In a feeble effort to combat generations of sub-tropical existence, I packed a raccoon-trimmed Eddie Bauer parka snagged several years ago mainly because it looked like something Ghostface Killah would've rocked circa '97. In Los Angeles, it looks so patently absurd that a doorman once cracked "Hey buddy, Sundance isn't for another two months." But surely, this was an Alaskan coat.
"No one wears coats like that until it gets below zero," the girl says. "Unless you're not from here."
I tell her where I'm from and she smiles and tells me that she has cousins who live in L.A., well, really Oxnard. She tells me I should go fishing while I'm up here — if I really do fish. Then she goes to dance and I take off my coat.
Most of the room is either dancing or hungrily focused on the music. There are the usual iPhone drones and awkward bar flirtations, but there is a conspicuous joy that you don't often see in New York or Los Angeles, unless some blog-braised band that invented a new haircut comes to town.
"I'd been in Philly working [for the World Café Live radio broadcast] and a two-week trip turned into two months," Ellie Stefano, the booker at the Tap Root and the manager of the Meg Mackey Band, tells me earlier in the day. "I fell in love with Alaska. I'd traveled all over the lower 48 and I've never seen people want to go to shows like they do here, even if it's 30 degrees below zero. They spend money for shows, buy [bands'] albums and merch."
Stefano nurtured Tap Root's expansion from a 66-capacity coffee shop reeking of patchouli to its current art-lumberjack trappings. Old Belgian beer tins, brightly colored Buddhist flags, and framed paintings of spiders and roses adorn the walls. In any other city, MBAs would call this a hipster bar. But "hipster" hasn't become a clichéd pejorative in Anchorage. So the Palin voters brand this "the hippie bar." At one point, someone tells me that my banana and tomato-shaded polo shirt reminds them of California. The patrons' beards, meanwhile, are capable of inspiring envy in Rick Ross.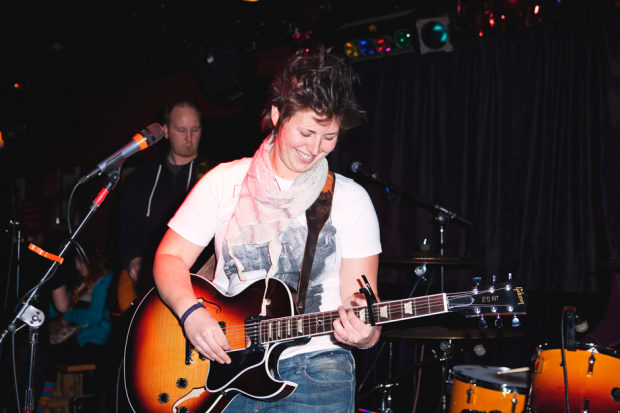 The Tap Root is the incubator, the place where bands cut their teeth and try to acquire a small cult. The Internet might be a flawless transmission tool, but it's not a foundation. From the Smell in Los Angeles to Plastic People in London, most scenes still need a physical tabernacle. And it might as well offer handcrafted Alaskan ale.
That's not to tell you that Anchorage is the next Portland, Montreal, Austin, or Seoul. It's just that none of those other cities can produce a band with a story like Meg Mackey's: fronted by a 28-year old former dog musher from Juneau via Guam, with spiked hair and a soul-quaking voice, backed with a pyroclastic beat by an Eskimo drummer, James Dommek Jr., who grew up in a tiny native village 40 miles north of the Arctic Circle.
"There was only one radio station, so they had to play everything: Johnny Cash followed by Boyz II Men and then Pearl Jam," says Dommek Jr., describing his childhood in Kotzebue, a town accessible only by plane. "There was one store that sold cassette tapes locked up in chains. American pop culture on the edge of nowhere, at the twilight of the Stone Age, is powerful. It was a release."
Dommek Jr.'s grandfather was a village elder who grew up in a traditional sod house with whalebones for wall support and helped compile Eskimo myths for a seminal anthology. The grandson grew up obsessed with Michael Jordan and gangsta rap, but absorbed the native idea that the best way to heal the sick or injured was to surround them with the sound of drums. Nirvana helped too.
"You don't get stuck here," Mackey tells me when I spoke with her and the band a few hours before their show. "People who don't want to be here leave. If you stay, it becomes a very big part of your identity. We're all here basically by choice and that contributes to the camaraderie."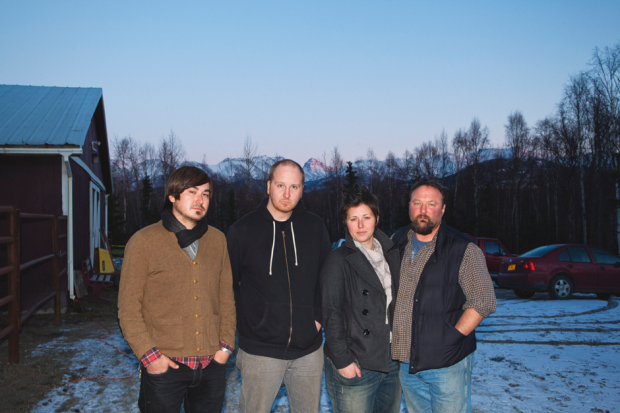 Maybe this sounds cheesy to you on paper. But you have to understand that this isn't about people clasping palms and singing psalms to ward off frost bite. There is a legitimately weird voltage on this polar night in the middle of nowhere. The dance floor is lava — a girl in a teal skirt limberly does the hips-don't-lie dance to Mackey's glacial soul-rock, which sounds something like if Karen O from the Yeah Yeah Yeahs produced 4 Non Blondes.
The man next to me wears a cowboy hat and sideburns that could hide the lost city of Atlantis. He's headbanging and wailing along to every word. Then the girl in the teal skirt starts dancing with a friend in a rainbow tutu and moon boots. Kreayshawn's Alaskan BFF sways in time with her arm around a girlfriend.
I want to conclusively prove to you that at this exact second, the Tap Root was the best spot in a 500-square mile radius. But Alaska isn't prone to compulsively collect moments or categorize the subjective. The elements are too severe for that neurosis. Every band has its own ReverbNation, Facebook, and Soundcloud page, and believes that if the music is catchy enough, it will spread. There is little thought given to buzz or co-signs, labels or licensing endorsements. That is noise, not music. It never really needs to get more complicated.