"The Yukon is the place for us! That's where we want to live. Up there, we'll get to yell and cuss, and act real primitive" — Calvin & Hobbes, "The Yukon Song"
"This is not flippin' easy." — Sarah Palin
If you're in Alaska, there's a reason you're in Alaska. It's not a destination; it's a conclusion. Much of the state is only accessible via single-engine bush plane, geriatric cruise, or umiak. The Great Alaska Highway slashes north or south, offering two options: flee to Canada and the lower 48 or vanish to the end of the earth — a Stone Age midnight of polar bears, Eskimos, and glaciers melting into the Arctic Ocean. This is Texas in the tundra, thickly mythologized and a permanent frontier. Alaska is four times the size of California with a population comparable to Fresno. Each of its 600,000 residents receive a yearly dividend from the Alaska Permanent Fund, ranging from $500 to $4,000, depending on the price of petroleum and the population flux.
It's unclear if there's a good reason for me to be in Alaska in mid-autumn. But the red-eye has been wrangled, the rental car booked, and the instructions are crystalline: Explore the incipient Anchorage music scene and discover whether the Internet has made geographical isolation irrelevant for the city's bands. But the ontological question looms: Is there an Alaskan music scene? After all, this is the abridged list of replies given when I tell people about my mission: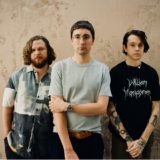 "Does the Alaskan music scene consist of Sarah Palin beating a drum?"
"Christian Rock about glaciers is the original chillwave."
"Holler at Jewel."
"Say what up to Vladimir Putin if he rears his head."
"Bring a fucking jacket."
Alaska has produced three nationally recognized bands in its 53-year statehood: psych-pop jammers Portugal. The Man, folkies Builder and the Butchers, and 36 Crazyfists. Wikipedia describes the latter as "Groove/heavy metal with a bit of Rapcore." You do the math. All the aforementioned bands now live in Portland, this generation of Alaskans' answer to Seattle — the place where bands go to "make it."
"When I was growing up, there was the sense that you could only get so big in Anchorage," Zachary Carothers, the bassist for Portugal. The Man, tells me via phone, prior to my departure from Los Angeles. "You can open up for the few big shows that come through and that's about it. You can't really tour from Alaska."
That's another thing to understand. The Alaskan notion of space and time is skewed. Eight-hour drives are veritable Sunday pleasure cruises. Bands from Anchorage (pop. 296,000) don't flinch at gigging 360 miles north in Fairbanks and shakily gunning the van home that night. Fairbanks (pop: 31,000) is the state's next largest city, home of its main university, and a numinous vantage for seeing the Northern Lights. It's also cold as a gulag — people don't really start to bundle up until it hits 50 below.
"We call it Square Banks," scoffs my seatmate on the flight up from L.A. Kyle, a 24-year-old urban hick, is chugging Bud Light at seven in the morning. Bootleg snapback Dodgers cap. A jarhead, he's chortling at a Tucker Max broman a queef entitled Sloppy Seconds. "No hos in Square Banks," he says. "Nothing to do except freeze. It's all about Anchorage, bro. I've lived here since I was six. But don't get too stoked: an Anchorage 10 is an L.A. 6.5."
Kyle gives an elbow nudge. "We didn't feel the recession in Alaska," he continues. "Tons of money fishing on the Kenai peninsula. Halibut's like white gold. The North Slope pumps out 600,000 barrels a day, too. You graduate from high school, take a job working for an oil company or construction and start out making 80 grand a year. You barely have to know shit."
Kyle tells me that he barely knows shit about Anchorage indie rock or rap or dubstep. (The city remains a trap-free zone). He mainly listens to "classic rock shit" like Sublime, Metallica, Zeppelin, and "Rage." We talk for a while about what I should see while I'm in Anchorage, but everything he suggests involves a subarctic road to nowhere and assumes a desire to learn how to field-dress a moose. He does impart one crucial command: "Make sure you go to the Great Alaskan Bush Company," he says drawing out each syllable. "It's a strip club, but there's no bush."
Then Kyle returns to Sloppy Seconds.