Soundgarden's King Animal is getting a little fiercer. The rockers' first album of new material in 16 years is due out on November 13, via Seven Four Entertainment/Republic Records, with prices for the basic music alone ranging from $12.99 for a standard CD to $24.99 for a double 180-gram vinyl edition, according to Soundgarden's website. As Blabbermouth points out, the band has also revealed the details for various "deluxe" options, including a box set.
The 12-inch by 12-inch package sells for $99.99, or $119.99 if you add a T-shirt. That's not Rihanna's $250 Unapologetic box set, but then again, this one doesn't come with a custom ViewMaster displaying 3D images of Chris Cornell and Kim Thayil (that we know of!). What the King Animal box set does include is the vinyl double album, a 16-track CD with three King Animal demos, and a DVD of the band's recent Hyde Park performance. Also thrown in are five lithographs, one for each member plus one of the album cover.
Box-set buyers get an instant download of ground-rattler "Been Away for Too Long," along with an instant album download on the release date. The whole thing is set to ship by January 31, 2013.
Those not willing to shell out a hundred bucks for a new Soundgarden album can still access some of the deluxe features. The iTunes deluxe version of King Animal runs 17 tracks, including not three but four album demos, and the 16-track deluxe CD is also sold separately (or, again with one of those fashionable T-shirts!).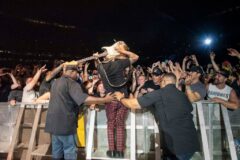 We hope this means Soundgarden won't fall on black days again anytime soon, although then again, that song was awesome.